CONCORD — Democratic presidential candidate Amy Klobuchar said her success at winning tough elections in America's heartland sets her apart from the crowded 2020 field.
The two-term Minnesota senator signed up to appear on the first-in-the-nation ballot Wednesday and spoke briefly at a rally outside the State House.
"Let's look at the other candidates. Who has won in this part of the country and not just in one fluke election or in one small community?" Klobuchar asked. "We have to win in those states; that is where I differentiate myself."
About three hours later, fellow Sen. Michael Bennet, D-Colo., signed up to be on the ballot and said he's got the most crossover voter appeal.
"I am the only candidate who has actually won two races in a purple state," Bennet said.
Klobuchar, 59, said she deliberately decided to file the morning after the 2019 elections and celebrated victories for Democrats, not just for municipal offices in New Hampshire but a governor seat in Kentucky and the House of Delegates and Senate in Virginia.
"That is just one tiny example of what we saw across the country last night," Klobuchar told reporters.
She took the high road when it came to criticism of Democratic opponent Elizabeth Warren's Medicare for All campaign. Former Vice President Joe Biden, a fellow Democratic presidential candidate, earlier this week described Warren's approach as elitist.
"I would not have used that word," Klobuchar said, adding that she is against the measure because it would strip 150 million Americans of their private health insurance coverage.
Klobuchar also said her record of accomplishment in Congress was without peer.
"I am a proven progressive; that means I get things done," she said. "Look at how many bills I have passed compared to the other candidates."
Klobuchar said Democrats must win the 2020 presidential election decisively.
"I am excited to be here on this historic day in this historic place to make this historic filing for President," she said.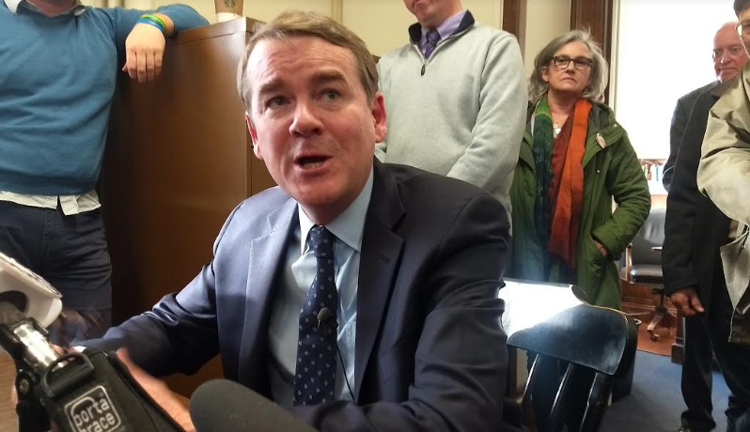 Bennet, 54, was one of the last candidates to get into the race, in part because he contracted prostate cancer.
Declaring he has a clean bill of health, Bennet said Democrats should be concerned by polling this week that shows President Donald Trump winning some of the key battleground states against the current top contenders — Biden; Sen. Bernie Sanders, I-Vt.; and Massachusetts' Warren.
Bennet said he doesn't believe the results reveal that many voters do not like the current impeachment inquiry into the President.
"I don't think so. I think it is more we are saying we are unconvinced by the other side," Bennet said.
Bennet has harshly criticized the single-payer Medicare for All legislation that Sanders and Warren have advanced in the campaign and said it could be a losing issue for down-ballot candidates in 2020.
"You can't run for Senate in Colorado and be for Medicare for All and win; the same is true in Iowa and I doubt very much you could win in New Hampshire," Bennet said.
Bennet reacted angrily when a reporter informed him that Trump's son, Donald Trump Jr., had released the name of the person Trump Jr. believes is the whistleblower who had lodged an ethics complaint against President Trump regarding his talks with leaders in Ukraine.
"I didn't see that but if that's true that is a terribly unpatriotic act. That's despicable. There is a reason there is a whistleblower law and that is people standing up to power, to authority," Bennet said. "The President of the United States of either party should never do that."