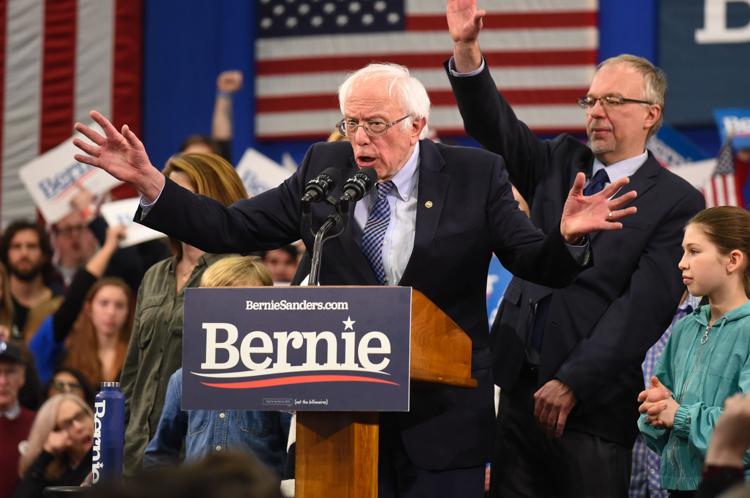 Unlike any first-in the-nation primary in recent history, third place was worth fighting for on Tuesday, and a surging Midwestern senator appeared to wrestle it from her rivals.
The 2016 New Hampshire primary winner Bernie Sanders, 78, declared his second straight victory in New Hampshire.
"Let me say tonight that this victory here is the beginning of the end for Donald Trump," Sanders told his supporters late Tuesday night.
Former South Bend, Ind. Mayor Peter Buttigieg, 38,c claimed a close second place showing.
"You asserted that famous independent streak and thanks to you a campaign that some said shouldn't be here at all has shown that we are here to stay," Buttigieg said late Tuesday before a cheering crowd at Nashua Community College.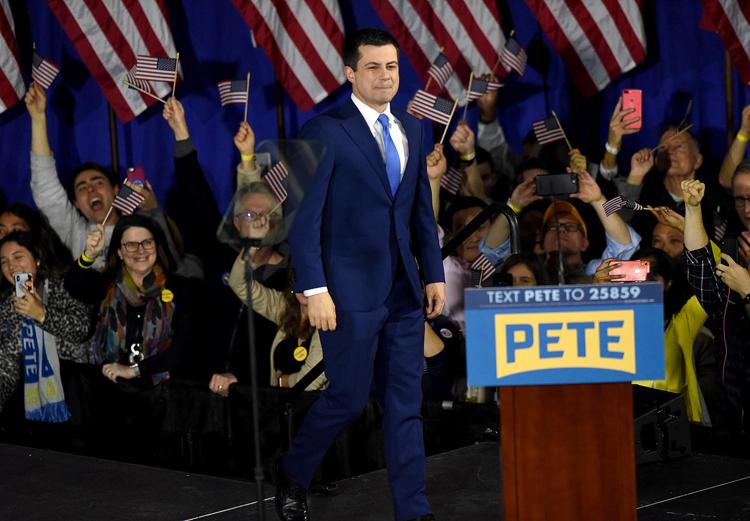 But Minnesota Sen. Amy Klobuchar, 59, had her own win: With a majority of the votes in, she solidly held down third, behind Buttigieg and Sanders.
"My heart is full tonight. While there are still ballots left to count, we have beaten the odds every step of the way," Klobuchar said.
During a loud rally at the Grappone Conference Center in Concord Tuesday night, Klobuchar declared a clear victory after a disappointing fifth place in the Iowa caucus.
"Tonight in New Hampshire, as everyone had counted us out even a week ago, thank you pundits, I came back and we delivered," Klobuchar said to cheers.
"You have learned this from me. I never give up."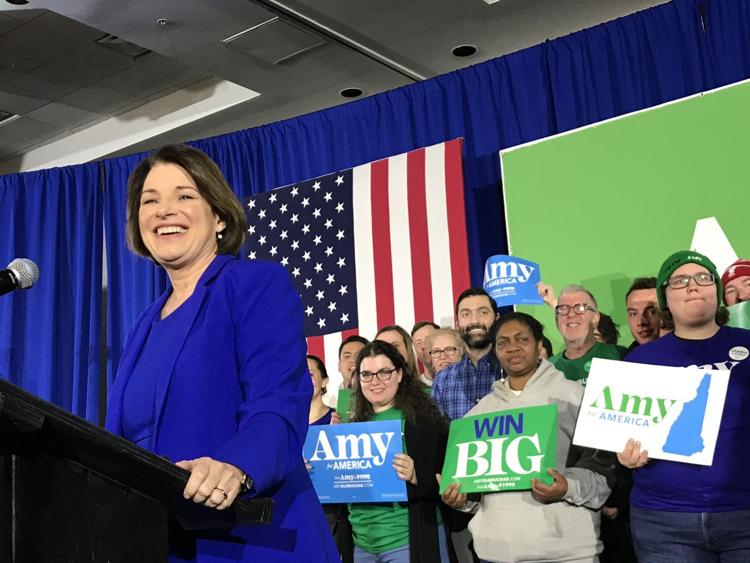 The moderate Democrat said her showing was a validation that she's a candidate who can win crossover support from independents and even moderate Republicans.
"Donald Trump's worst nightmare is that the people in the middle, the people who have enough of the name-calling and mudslinging have someone to vote for in November," Klobuchar said.
John Zogby, founder of the Zogby poll, said billionaire Mike Bloomberg's entry in this race after the early states in early March guarantees the campaign will go on months longer than usual.
"This is really going to be a very intense battle like we haven't seen in a long time," Zogby said during a telephone interview.
With three-quarters of precincts reporting, Sanders led Buttigieg by about 4,000 votes.
Sanders had 26 percent followed by Buttigieg with 24.3 percent and Klobuchar with 20 percent.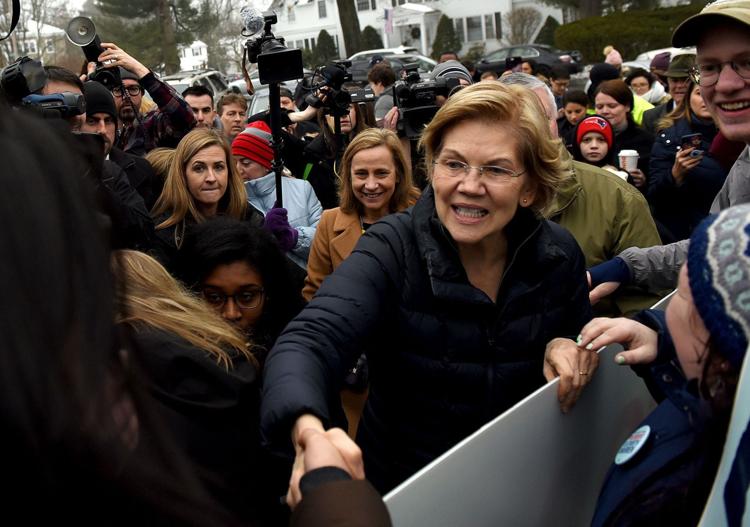 Massachusetts Sen. Elizabeth Warren, 70, topped the second tier with 9.4 percent, followed by former Vice President Joe Biden with 8.5 percent.
Warren came out early to congratulate the three ahead of her.
"Senator Sanders and Mayor Buttigieg had strong nights, and I also want to congratulate my friend and colleague Amy Klobuchar, who showed how wrong the pundits can be when they count a woman out," Warren said.
With all 12 wards reporting, Sanders had a solid win over Buttigieg in Manchester. He also won in Peterborough, Shelburne, Ossipee, wards in Keene, Claremont and Portsmouth, as well as Jaffrey.
Buttigieg broke through with wins in Loudon, Madison, Merrimack and Moultonborough.
Klobuchar's victories included Bedford, Candia and Epsom.
By 8:30 p.m., two of the also-ran candidates had suspended their campaigns — New York businessman Andrew Yang and Colorado Sen. Michael Bennet.
Bernie alternatives revealed?
"Third place is usually an asterisk, but it really is worth something this time," Wayne Lesperance, vice president of academic affairs at New England College, said in a recent interview.
The third-place finisher could claim enough of a boost to battle Buttigieg as the alternative to the socialist senator from Vermont.
Meanwhile there was little suspense on the Republican side, where President Donald Trump was cruising to an easy win over former Massachusetts governor and 2016 Libertarian vice presidential nominee Bill Weld.
Secretary of State Bill Gardner had predicted 128,000 would cast GOP ballots, which would easily set a record for the party of an incumbent president in the New Hampshire primary.
Weld did get the backing of former New Jersey Gov. Christine Todd Whitman.
"It's time to reclaim our party," Whitman tweeted.
While Trump drew 12,000 to his final rally on primary eve, Weld vowed that if his quixotic challenge comes up short, he won't be voting for the incumbent this fall.
"I might support a third-party candidate or someone else," said Weld, who criticized Trump for failing to reduce the national debt, going missing in action on climate change and not producing a plan for changes to the 21st-century workforce.
Klobuchar beats out Warren, Biden for bronze medal
Warren, 70, said she is used to being underestimated, as she was before defeating sitting Republican U.S. Sen. Scott Brown in 2012. She insisted she can bring the party together.
In his third presidential run, Biden said he has been a leader on the world stage and offers a return to eight years of President Barack Obama-brand policies.
By noon Tuesday, Biden announced he was leaving the state and would address his Nashua campaign rally from South Carolina by live stream.
When reporters told Sanders about Biden's move, the front runner paused and appeared befuddled by it.
"You have to ask Joe, I don't know," Sanders said. "All I can say is we will be here tonight."
A jumble of candidates
Former Democratic Party Chairman Kathy Sullivan, a Warren supporter, said it was possible the top candidates would be so bunched together that the takeaway is muddled.
"I really feel like we could have four candidates with at least 15 percent support," Sullivan said.
"This would be a closer, less decisive result than we usually have had."
New York City entrepreneur Yang, 45, kept up a frantic pace, visiting five polling places Tuesday after holding six rallies the previous day.
Also visiting polling places Tuesday trying to keep their supporters energized were Hawaii Congresswoman Tulsi Gabbard, 38; Colorado Sen. Bennet, 55; and former Mass. Gov. Deval Patrick, 63.
California billionaire activist Tom Steyer, 62, left New Hampshire Sunday to visit South Carolina and Nevada.
Billionaire businessman Mike Bloomberg skipped the first four contests but has spent $200 million on TV ads across the country.
Bloomberg got three write-ins from the five voters who voted at midnight Tuesday in tiny Dixville Notch, two from registered Democrats and one Republican.
Sanders and Buttigieg got one vote apiece in that town.
Gov. Chris Sununu, a two-term Newfields Republican, said Klobuchar is in a unique position to pull off a surprise.
"She has the opportunity not just to surpass expectations but come out of New Hampshire with delegates to get over the 15-percent threshold. If she gets 16, 17, 18 percent, wins delegates and Biden does not or Warren does not, that's the story," Sununu told MSNBC host Andrea Mitchell.
Dante Scala, professor of politics at the University of New Hampshire, said this race was dominated by one issue — and it's personal.
"Who can beat Trump? That's the single thing voters care most about," Scala said in a telephone interview.
According to media network exit polls released Tuesday night, 62 percent said defeating Trump was their main consideration in picking a candidate, and 34 percent said agreement on issues with the candidate was preeminent.
Sanders and Buttigieg
Supporters for Sanders packed Southern New Hampshire University waiting to hear from their candidate.
"It could be a momentous occasion," said Cieran Lavery of Alstead. He compared the feeling to going to a rally for then-U.S. Sen. Barack Obama in 2008.
"I remember going to Obama rallies, and it was very meaningful to be present. What you're hoping for is happening, and you're part of it."
Ian Moltenbrey of Bedford said, "I want to be able to tell my kids I was here."
Those backing Buttigieg at Nashua Community College also said their candidate had plenty to crow about.
"I think he can take it all the way," said an excited Amanda Swendson, of Salisbury. "He is the calm we need after the storm."
They also said he is a crossover candidate. "Pete is great with everyone. I like that he can play fair with both sides of the field," said Alex Johnson of Londonderry, an NCC student who was cheering among the crowd.
Klobuchar supporters celebrated her strong finish.
"It's not necessarily having to win it. It's the momentum," said Margo Burns, of Manchester.
Burns, director of the language center at St. Paul's School in Concord, said she has been supporting Klobuchar since she launched her campaign in a Minnesota blizzard one year ago.
A Biden adviser who asked not to be identified, said Klobuchar's rise can be traced to her strong performance in the final debate.
"The terrific closing from her when she said, 'I know you and I will fight for you' was like Bill Cllnton's speech that he'd be for the people of New Hampshire until the last dog dies," the Biden adviser said.
"It was poetry and it peeled a whole lot of soft vote from other candidates."
Union Leader Reporters Mark Hayward, Paul Feely, Josie Albertson-Grove and Doug Alden along with Correspondent Kimberly Houghton contributed to this report.