EXETER — Though the primary contest has not yet begun, some New Hampshire voters, like Shenandoah Ableman of Kingston, say they are considering the candidates with an eye to the November general election.
Ableman said she has supported Sen. Elizabeth Warren this year, but wanted to hear what Sanders had to say as he spoke to more than 1,000 people at Exeter High School on Saturday afternoon.
She worries about Warren's chances in the general election against President Donald Trump.
"Sexism is a real thing," she said. "Are her fellow Americans ready to vote for a woman?"
During last week's Democratic debate, Warren said Sanders had told her the country would not elect a woman — Sanders denied this, but said he was worried about sexism.
Warren is still Ableman's favorite candidate, she said, but she wonders if Sanders will fare better in a general election.
With policy proposals similar to Warren's, Sanders is more in line with her than the more moderate candidates in the Democratic field.
Heather Iworsky of Nottingham said she was interested in Sanders, saying she would likely vote for him. She also thought the Vermont senator would be more able to win the general election over the other Democratic candidates.
"I think Bernie's got a fighting chance," she said.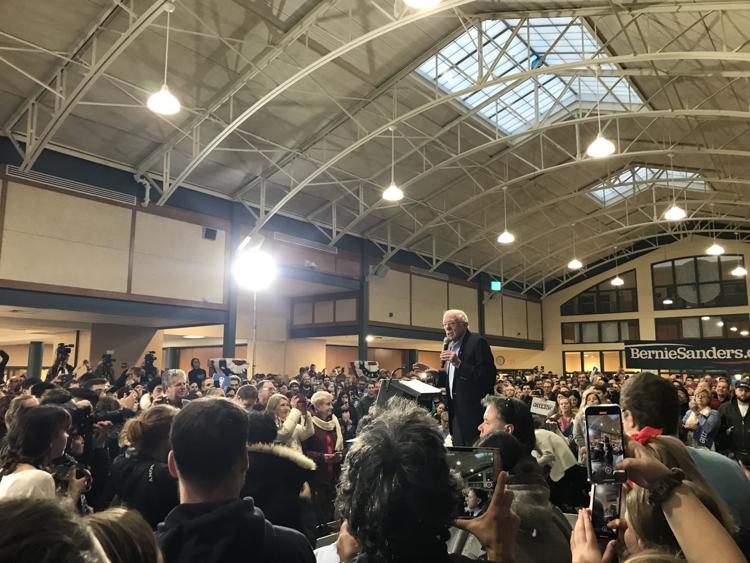 Sanders was barnstorming New Hampshire Saturday with actor John Cusack and author Naomi Klein. The senator's first stop of the day was in Portsmouth, followed by Exeter and then Manchester.
Sanders spoke about the fight ahead during his Exeter speech. He focused his attacks on President Donald Trump, and the ultra-wealthy who he believes created the conditions for Trump's ascent.
"They know this economy is rigged, and it is rigged big time," Sanders said, calling for higher taxes on wealthier Americans, a higher minimum wage and more robust funding for education. "It's time we stood with the working families of this country and took on the corporate elites."
But to make the changes Sanders wants to make, a new President has to be elected.
"Together we are going to do everything we can to defeat Donald Trump," Sanders said. His is not the only campaign that can do that, Sanders said. He said the Democratic nominee would need to draw on a broad coalition to win in November, rousing people who do not normally vote.
"No matter who wins this hotly contested primary all of us will unite—obviously I hope it will be me — but all of us will unite to defeat Donald Trump."
But before the primary, Sanders said, comes the impeachment trial. He will be on the campaign trail as much as he can, but he said the campaign needs his supporters to become more engaged.
"We need you to help carry the ball forward, and win in New Hampshire," Sanders said.