CONCORD — Democratic presidential candidate Tom Steyer said his personal commitment to climate change led him to refuse to fly in private airplanes during his entire 2020 campaign.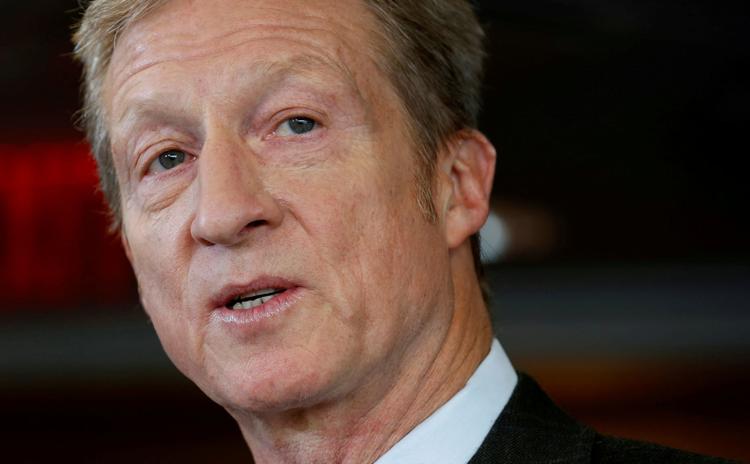 The California billionaire and former hedge fund executive said it was one concrete way he could demonstrate he was serious about the issue.
"If we choose not to lead on this, it will not happen," Steyer said during an interview on New Hampshire Public Radio Monday.
"We will never take a private plane. A friend of mine once said one takeoff in a private plane uses more carbon than you would ever use in a lifetime with a Prius. There has to be a statement where you have to walk the walk."
Steyer, an environmental activist, said he believes most of his Democratic rivals have used private planes.
As its manager, Steyer's former hedge fund invested hundreds of millions of dollars in coal-burning power plants built abroad but then founded NextGen Climate in 2013 pledging to seek reductions in the use of fossil fuels.
During the one-hour program, "The Exchange" host Laura Knoy and reporter Casey McDermott asked Steyer their own questions and others from listeners on health care, federal spending, the opioid crisis and gun control among other topics.
Steyer said the nation's gun makers are the biggest obstacles to gun control measures such as universal background checks or a ban on high-capacity magazines for personal use and not military weapons.
"You have to ask why after decades of mass shooting … why it hasn't changed and the answer, believe it or not, is the gun manufacturers," Steyer said. "The gun manufacturers control the NRA (National Rifle Association) and the NRA won't allow changes, even those that have the support of 90 percent of Americans."
Steyer said he'd accomplish this while former President Barack Obama failed by getting a national referendum law put in place that would allow no more than two proposals in each election on the ballot for voters to decide.
According to Advertising Analytics, Steyer's spending on TV advertising has now gone over $20 million. This is seven times more than President Trump has spent and 15 times more than the closest Democrat.
He's spent $7 million in New Hampshire while Sen. Amy Klobuchar, D-Minn. came in a distant second here spending just over $500,000.
Steyer said he's spent so much because he was the last major candidate to enter the race and was less known than senators, a former vice president and others running against him.
"Look I am not a famous person. I was the last person in this race. I think when people hear my message, they respond," Steyer said.
Steyer also founded NextGen America a group that since 2014 was dedicated to mobilizing young people to vote.
Steyer rejected a question about how he could appeal to Republicans as President when his group spent money on TV and online ads attacking the GOP.
"We haven't been running ads, what we do with NextGen is grassroots organizing," Steyer said.
NextGen does do grassroots organizing but according to Factcheck.org, the group spent $5 million on ads promoting Democratic nominee Hillary Clinton in 2016 and last September it spent more than $40,000 on digital ads targeting those using social media in New Hampshire.
Opensecrets.org, a campaign finance watchdog group, said NextGen spent $600,000 in "communication" spending against GOP candidates in 2018 and $18 million in 2014.
After the forum, David Emerson Stotler, a volunteer with NH Citizens Alliance for Action, said Steyer is in the running for his support.
"He had some good responses, ducked some questions, too," Stotler said.
"Usually you see candidates stay around after an event is over to take questions in person. He was in a hurry to leave; said he had to catch a plane."