MANCHESTER — President Donald Trump taunted Democrats at a major campaign rally in New Hampshire Monday night on the eve of the Granite State's first-in-the-nation primary.
"We have more people in this arena than all of the Democratic candidates combined," he said. "We have never had an empty seat since the day your future first lady and I came down the escalator. With your help, we are going to win in a landslide, New Hampshire."
Trump took the stage at Southern New Hampshire University Arena in Manchester for his fifth rally of the year, and first since being acquitted of impeachment charges.
He told the crowd last week's U.S. Senate vote was "a full, complete and absolute total acquittal."
Ahead of the president's appearance in Manchester, Trump campaign officials and supporters outside the arena said they expected him to come out swinging after the Iowa caucuses left Democrats "blaming each other" when no clear winner emerged from the Feb. 3 contest.
"They can't even run a caucus in Iowa," he said to cheers Monday night.
Trump made reference to New Hampshire's tradition of voters changing parties to make strategic choices in the primary.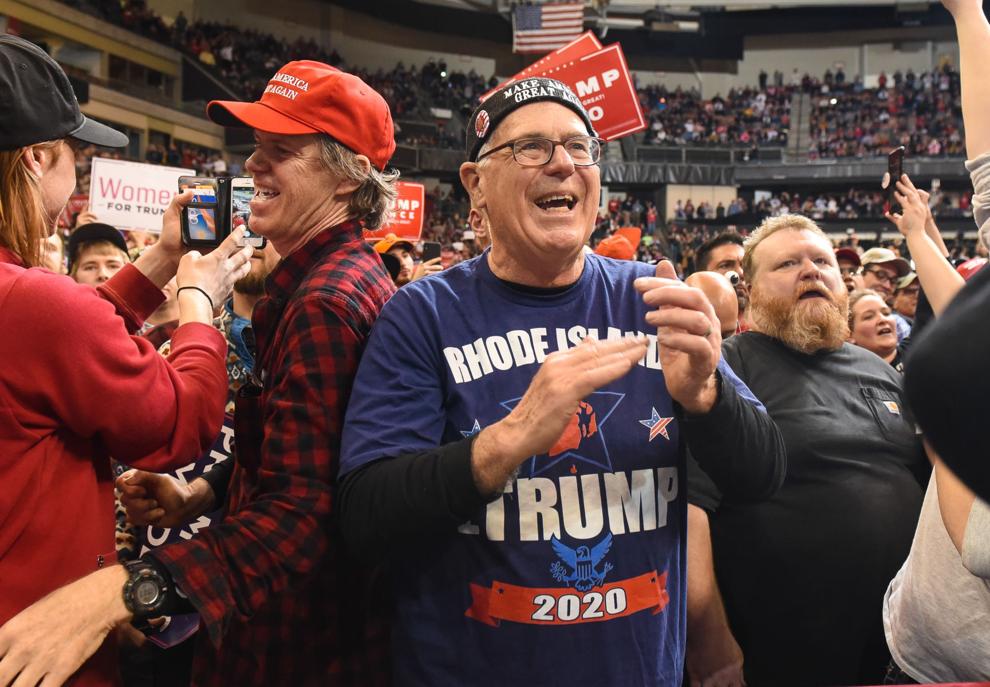 "We keep hearing that Republicans may cross over and vote for the weakest Democrat candidate," he said. "I have a hard time figuring out who their weakest candidate is. The Republicans are energized, and nine months from now we are going to take back the House of Representatives, hold the Senate and keep the White House."
Trump acknowledged a number of New Hampshire Republicans in the audience, including Gov. Chris Sununu and his former campaign manager, Corey Lewandowski of Windham.
Supporters of the president say New Hampshire's economy is booming under Trump, boasting one of the lowest unemployment rates in the country and nearly 19,000 new jobs.
"We are fighting for great jobs, great schools, and truly great opportunities for all," said Trump, a statement met with loud chants of "USA, USA."
Trump also addressed the opioid crisis in New Hampshire and the efforts of his administration to reverse it here and across the nation.
"You have one of the biggest drug problems in the country, and we brought it down 18 percent, but we have to do better," he said.
Prior to arriving in Manchester, Trump took to Twitter to needle Tuesday's Democratic primary, the media and his political rivals.
The rally itself, Trump said in a Tweet, is being held to "tweak" Democrats as much as it is to pump up his own supporters.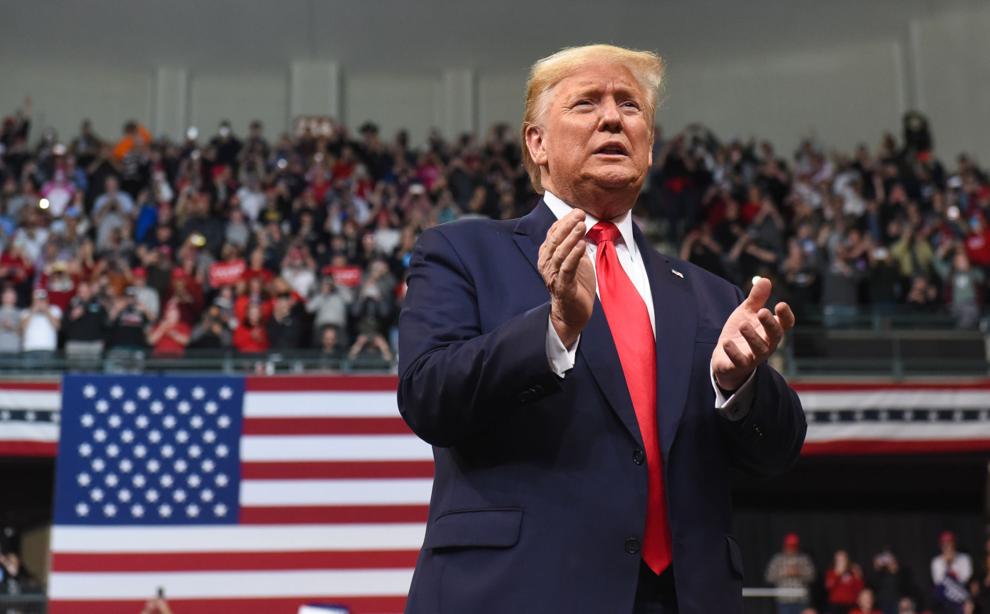 In addition to mocking Democrats for a "really boring" primary and Iowa caucus results, Trump also tweeted about his approval ratings, which he claims climbed after the "Impeachment Hoax." He thanked House Speaker Nancy Pelosi, the latest salvo in their ongoing feud that included her tearing up his State of the Union speech last week.
"95% Approval Rating in the Republican Party, a Record!" tweeted Trump on Monday. "53% overall (plus add 9 points?). Corrupt Democrat politicians have brought me to highest polling numbers ever with the Impeachment Hoax. Thank you Nancy!"
Ray Buckley, chairman of the New Hampshire Democratic Party, said Trump is turning his attention to the first primary election because he is "desperate" to flip New Hampshire for Republicans in November after losing the state in 2016.
"It's obvious that Trump and the RNC are desperate to put New Hampshire in play. He will lose here again in New Hampshire this November," Buckley said on a call with reporters prior to the rally.
"He seems determined to try and win NH and we are more than ready to expose his toxic record," Buckley said. "One thing is very clear. Our party, our voters are committed to beating Donald Trump."
In 2016, Trump won the Republican primary in New Hampshire in a landslide with 35.5 percent, with second-place finisher John Kasich receiving 15.8 percent.
But in the 2016 general election, he lost in the Granite State to Hillary Clinton by 0.3%, about 3,000 votes.
Outside the SNHU Arena, Trump was greeted by a large billboard emblazoned with an ad paid for by The Lincoln Project. The #IMPOTUS also ran as a full-page ad in the New Hampshire Union Leader and on its website.
"President Trump loves nothing more than his own image. Therefore, we commissioned new artwork bearing his likeness and reminding voters of his words and deeds," said Jennifer Horn, former New Hampshire GOP chair and spokesperson for The Lincoln Project. "The president is proud of his record, so The Lincoln Project is here in New Hampshire to proudly display it."
During his speech, Trump touted the U.S.-Mexico-Canada Agreement (USMCA) trade deal he signed recently to replace NAFTA, as well as the U.S.-China trade deal, specifically how it would help farmers in New Hampshire and across the United States.
He said the USMCA "will bring jobs back to New Hampshire that should never have left in the first place."
"The fact is America is respected again," said Trump. "Every time we gain respect, Democrats lose their mind."