MANCHESTER — While Democratic presidential hopefuls enjoyed much of the attention across New Hampshire over the weekend, President Donald Trump will command the spotlight Monday when he returns to the Granite State for a major rally hours before polls open in Tuesday's first-in-the-nation primary.
Trump and Vice President Mike Pence will address a capacity crowd of thousands of supporters during a campaign rally at Southern New Hampshire University Arena at 7 p.m. Doors will open at 3 p.m. Tickets had to be requested through the campaign website; the event will be general admission.
Trump supporters began staking a place in line outside the SNHU Arena as early as 8 a.m. Sunday. First on the scene was Libby DePiero, a 64-year-old retiree from New Haven, Conn., who said it will be the 59th rally event for Trump she has attended.
"It's a bit of an addiction," said DePiero, a member of the so-called "Front Row Joes," a group of Trump supporters who regularly claim the first spots in line at appearances.
"I can't wait for this one. He's going to be all pumped up, because the impeachment is all over with. He's already posted he's going to keep doing rallies after he becomes president, and I know he's gonna be our president again. This is nothing but good here. I became a citizen so I could vote for this president."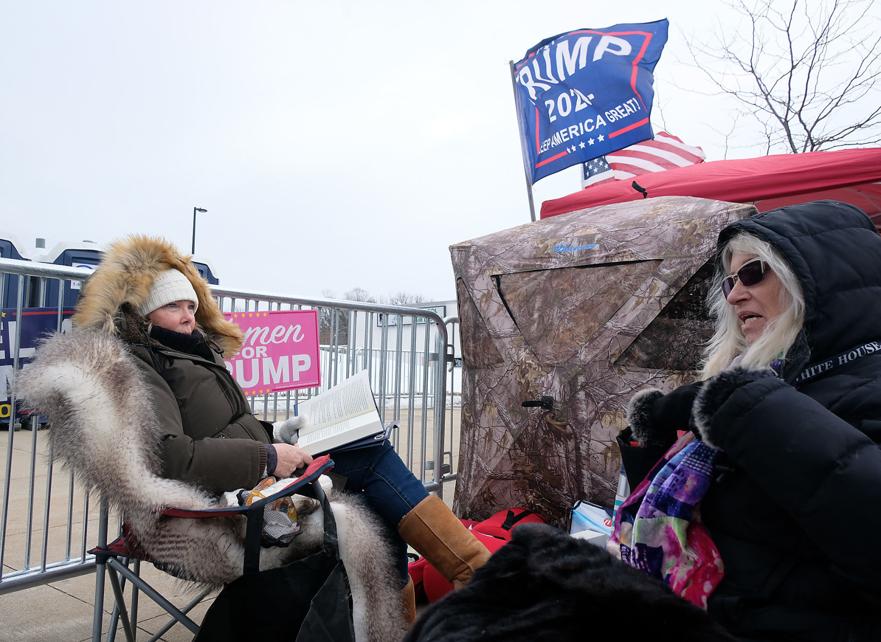 Trump's last campaign visit to the Granite State was Aug. 15, when he set the SNHU Arena attendance record of 11,500, surpassing the crowd of 11,400 at a 2001 Elton John concert.
Trump also held a campaign rally at SNHU Arena on Nov. 7, 2016 — the night before the general election. That appearance drew an estimated 11,000.
Second and third in line on Sunday were Jeffrey and Olivia Roy of Connecticut.
"We showed up around 8 this morning," said Jeffrey Roy. "I haven't been to one of his rallies yet. I'm here to support. This is his first rally after the events last week, and he is going to be off the charts. I can't wait."
"I just want to hear what he has to say," said Olivia Roy. "Health care would be nice (to hear), but we are here to support."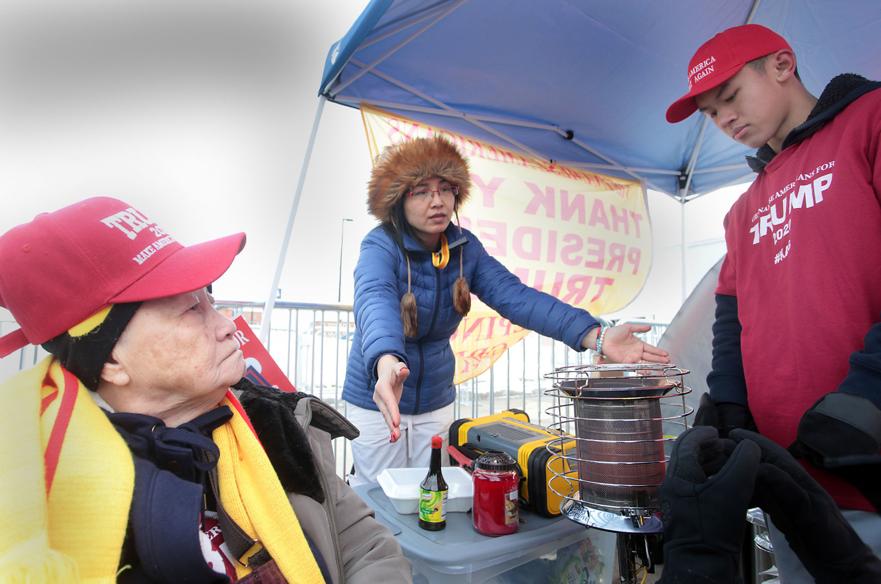 Dain Pascocello, a Trump Victory campaign spokesman, said last week's Iowa caucuses "debacle" left Democrats blaming each other after no clear winner emerged from the Feb. 3 contest. He touted the New Hampshire economy, which Pascocello said boasts one of the lowest unemployment rates in the country and nearly 19,000 new jobs under Trump.
"As President Trump prepares to deliver his 'Promises Made, Promises Kept' message to another sellout crowd in Manchester, the Democrats look poised to extend their worst week ever," said Pascocello in a statement.
New Hampshire Democratic Party communications director Holly Shulman fired back on Sunday, saying while Trump's visit to Manchester is a "logistical traffic-inducing nightmare for Manchester," the president's rally Monday is a "policy dream" for Democrats.
"Before voters go to the polls for our first-in-the-nation primary, they'll get another chance to see just how much is at stake in this election," said Shulman in a statement. "On one side they'll see Democrats campaigning across the state to raise the minimum wage, make college more affordable, address climate change, and lower health care costs and on the same exact day they'll see Donald Trump and Chris Sununu, who have broken every promise to Granite Staters and have only worked for special interests at everyone else's expense."
Manchester Alderman at Large Joe Kelly Levasseur, a longtime Trump supporter, will attend Monday's rally and said he hopes the president and vice president address how they are going to help get a Republican from New Hampshire elected to Congress to help stop the "nasty investigations, gridlock and witch-hunts."
"It never should have gotten started, voted on in Congress or sent to the Senate for dismissal," Levasseur said of impeachment charges against Trump. "It was a despicable display of partisanship and it should be expunged. (Mitt) Romney is our modern day Benedict Arnold. It kills him to see Trump in the White House, loved by salt-of-the-earth Republicans, and also doing exceptionally well. Romney looks like a broken man."
Manchester Ward 12 Alderman Keith Hirschmann, who was heavily involved in Trump's ground team in the Granite State in 2016, will also be at Monday's rally.
"The extremely partisan impeachment proceedings have been proven unfounded," said Hirschmann. "The president's team is ready to engage the country, as he unveiled "Keep America Great Again " at our last rally in Manchester. After the FITN Primary on Tuesday, I expect President Trump's record on the economy will propel him to the nomination quickly and to complete victory in November."
Vice President Pence will be in Portsmouth at the Sheraton Portsmouth Harborside Hotel Monday afternoon to accept the endorsement of the New England Police Benevolent Association, then head to Manchester to join Trump at the campaign rally.
Trump's reelection campaign announced that Donald Trump Jr., Eric Trump, campaign manager Brad Parscale, and National Chair of Trump Victory Finance Committee and Trump 2020 Campaign senior adviser Kimberly Guilfoyle will lead a group of over 20 surrogates in campaigning for the president across New Hampshire on Tuesday.
Included among the list of surrogates are Gov. Chris Sununu and Trump 2020 Campaign senior adviser and Trump 2016 campaign manager Corey Lewandowski of Windham.