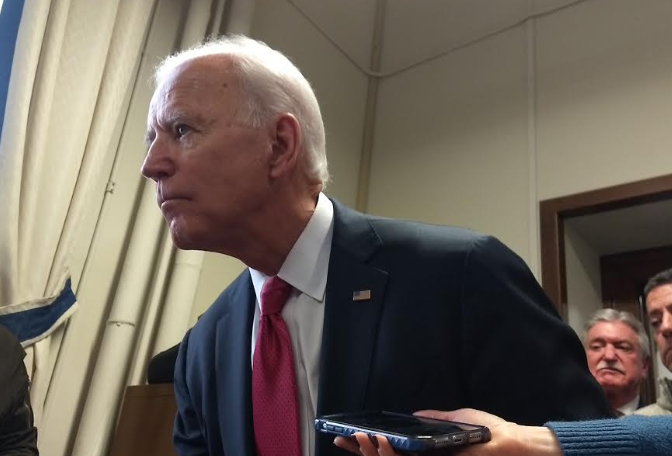 CONCORD — Former Vice President Joe Biden said he remains the Democratic frontrunner for 2020 and there was no reason for him to be a witness in a U.S. Senate impeachment trial of Donald Trump.
Biden and New York businessman Andrew Yang were at the State House Friday to file candidacy papers for the first-in-the-nation primary.
Earlier this week, Senate Republicans said if Trump's impeachment advances to a trial they would call Biden and his son, Hunter, as witnesses.
They want Biden to answer claims the former vice president got a Ukrainian prosecutor fired because that prosecutor wanted to investigate Biden's son.
Biden said Trump wants to change the subject, since this impeachment controversy is only about allegations the President sought a quid pro quo that would send U.S. foreign aid to Ukraine only if its leadership committed to investigate the Bidens.
"What this is about is Donald Trump, not about me. There isn't a single thing that has been demonstrated that I wasn't doing my job," Biden told reporters after he signed up to get his name on the primary ballot.
Biden denied he had called primary rival Elizabeth Warren elitist but was referring to many in her camp who dismiss those who have other views such as Biden does in opposition to Warren's Medicare for All health insurance plan.
"I wasn't referring to Elizabeth Warren as elitist. I say to the American people out there: They understand what is going on and they don't like to be instructed on what to believe and not to believe," Biden said.
"You can't label the American public if they disagree with you that somehow you are dead wrong. That's not how you get things done."
Biden reacted emotionally in response to the President's daughter, Ivanka, who said in an Associated Press interview Friday the Trump family did not enrich itself in office, while Biden "created wealth as a derivative" of serving as a senator and vice president.
"Tell her to look at my tax returns; I have laid it all out," Biden said. "The first time I ever made any money in my life, I wrote a book about my son. He was an incredible man, an incredible man," Biden, 76, said, his voice briefly shaking as he referred to his son, Beau, who died from brain cancer in 2015.
The support of the International Association of Firefighters for Biden helped produce one of the loudest crowds for any candidate thus far at the State House.
Former New Hampshire Gov. John Lynch warmed up a crowd that sat through freezing wind chill temperatures while Biden went inside and signed up.
"I trust Joe Biden is going to restore the soul of this country and the character of the White House. Wouldn't that be nice?'' Lynch asked to cheers from the crowd.
Biden said he would welcome into the primary race former New York Mayor Mike Bloomberg, who he praised as someone who's spent his personal fortune to advance gun control and climate change issues.
"The last polls I looked at I was pretty far ahead," Biden said when asked if Bloomberg's entry would threaten his candidacy.
Bloomberg filed to run in Alabama's primary and an aide issued a statement late Friday that he would skip the early states of New Hampshire and Iowa to focus on the Super Tuesday primaries next March.
"If we run, we are confident we can win in states voting on Super Tuesday and beyond, where we will start on an even footing," said Howard Wolfson, a Bloomberg spokesman. "But the late timing of our entry means that many candidates already have a big head start in the four early states, where they've spent months and months campaigning and spending money. We have enormous respect for the Democratic primary process and many friends in those states, but our plan is to run a broad-based, national campaign."
Yang: 'We' will surprise people"'
Earlier Friday, Democratic rival Andrew Yang said he'll "blow through" expectations the media has set for his candidacy.
"That's one of the fun things about the Andrew Yang campaign. We need to surpass expectations and I have a feeling we are going to blow through those expectations," Yang, 44, told reporters. "We need to surprise people and we will surprise people."
Asked what a surprise would look like, Yang said, "I'll leave it to you. I am very confident we are going to easily exceed the expectations the press set."
The New York entrepreneur also signed up to appear on the ballot Friday and joked that the $1,000 was "a perfect choice" since a centerpiece of his campaign is to offer all American adults a $1,000-per-month "freedom dividend."
Yang graduated from Phillips Exeter Academy and said he's felt at home throughout his 18-month campaign.
"Any time I am here in New Hampshire, the crowds get bigger, the energy is higher. We are going to do extraordinarily well," Yang said.
Young people have dominated the crowds at Yang's events and he predicted they would set records for voting in 2020.
"Young people realize they need to vote and take part in the process," Yang said. "They are very passionate about the bigger challenges of the day. My popularity among young people is a real point of pride for me and the campaign."
Yang agreed Bloomberg would "have a lot to offer" if he enters the 2020 campaign, but said a new candidate will have difficulty gaining traction in the early states.
"I do think he is going to have an uphill climb in the race in part due to New Hampshire," Yang said, adding that a media-heavy strategy by Bloomberg will not work in this state where voters demand to see a candidate. "I don't believe that is going to be possible with Mike. It seems like he might have a totally different approach with voters."
Earlier this week, Yang took to Twitter to urge people to contribute to primary rival Marianne Williamson, who was struggling to raise enough money to qualify for the next debate later this month.
Yang said the public doesn't realize the candidates get to know each other on a personal level and he admires Williamson for her passion on issues.