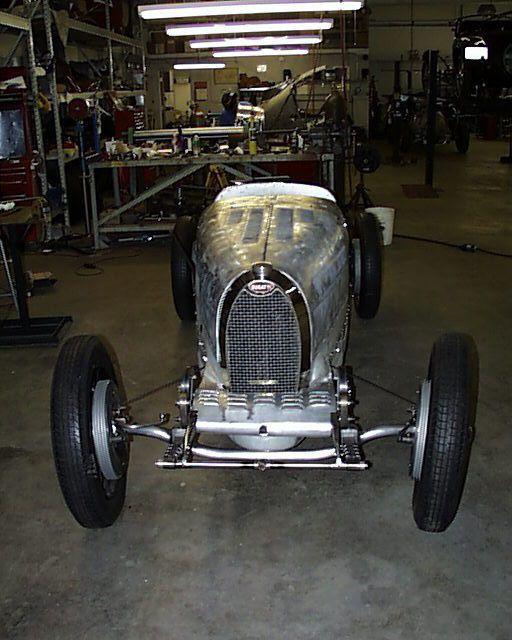 PORTSMOUTH — A rare and impeccably documented 1925 Bugatti Type 35A restored in Portsmouth i…
PORTSMOUTH — Expected to fetch up to $2.4 million at auction, a rare 1925 Bugatti Type 35A did not sell at Arizona Auction Week 2019.
The car, driven by racing legend Louis Chiron at the 1926 Provence Grand Prix at Miramas, received a bid of $1.3 million, which did not meet the reserve price of $1.8 million.
Worldwide Auctioneers had featured the Bugatti on their catalog cover prior to the Jan. 16 auction in Scottsdale, Ariz. Principal and Auctioneer Rod Egan said it was likely to be one of the most desirable cars offered by Worldwide this year because it was ready to "vintage race, show, tour and enjoy."
The car toured 4,600 miles through Europe in 2017, according to a news release issued prior to the auction.
Donald Koleman is president of Competition Motors on Longmeadow Road in Portsmouth. Koleman was commissioned to restore the car by David Carroll of Lexington, Mass., after he purchased it in 1997. The job was completed in late 2004.
"I wouldn't have predicted this. Car prices have gone up so much in the last four, five, six years," Koleman said.
He theorized bidders were not aware that when the engine was rebuilt during the restoration, the car was made more powerful.
Koleman also noticed that buyers at Arizona Auction Week were generally not bidding much on higher-end historic vehicles. Worldwide's highest sales were for a 1959 Mercedes-Benz 300SL Roadster at $990,000 and a 1935 Auburn 851 SC Boattail Speedster for $687,500.
According to industry reports, there was an 81 percent overall sale rate during Scottsdale's auction week.
"I think they expected the top sale to be the Bugatti," Koleman said of Worldwide Auctioneers.
Other bids that were rejected include $4.8 million for a 1964 Ferrari 275 GTB prototype at Gooding & Company, $4 million for a 1954 Ferrari 500 Modial at Bonhams and $7.5 million for a 1957 Ferrari 250 Gt Speciale at RM Sotheby's.
Koleman said typically when cars do not sell at auction, they go through a quiet period before they appear for sale again, but sometimes a private bidder comes along and makes a deal with the owner.
Because the 1925 Bugatti Type 35A is so closely associated with Chiron, it is scheduled to be placed on display at an upcoming exhibit to be held at the Phoenix Art Museum this year as one of the earliest Bugattis driven by the racing icon.
Competition Motors in Portsmouth has a 26,000-square-foot facility where they work on vintage cars and hot rods. According to their website, competitionmotorsltd.com, they have a restored 1937 Type 57C Bugatti for sale at $2.2 million.