She first heard the call when she was a young girl. It whispered to her over the years as she studied, worked and raised three sons.
The call grew more persistent, and at last she responded as the ancient prophet once did: Here I am, Lord.
The Rev. Kathy Boss was ordained as an Episcopal priest last month. She will serve communion for the first time this Easter Sunday to her parishioners at All Saints' Church in Littleton.
Last week, Boss said, she was feeling really excited but also "really grounded."
This moment of grace means even more after what everyone has been through over the past year, she said.
"I feel incredibly blessed and privileged to have this particular Easter … be the first time that I preside over the Eucharist," she said. "It's pretty powerful."
Boss will consecrate the Eucharist under the portico of her church, facing a parking lot where the faithful will gather either in their cars or on lawn chairs with bread brought from home. Then, she said, "We'll break bread together."
The child of academics, Boss remembers being intrigued with Bible stories and songs while growing up in Australia and later Nova Scotia. The stories about Jesus, "who loves everybody and spread the message of love," she said, "hit a place in my heart."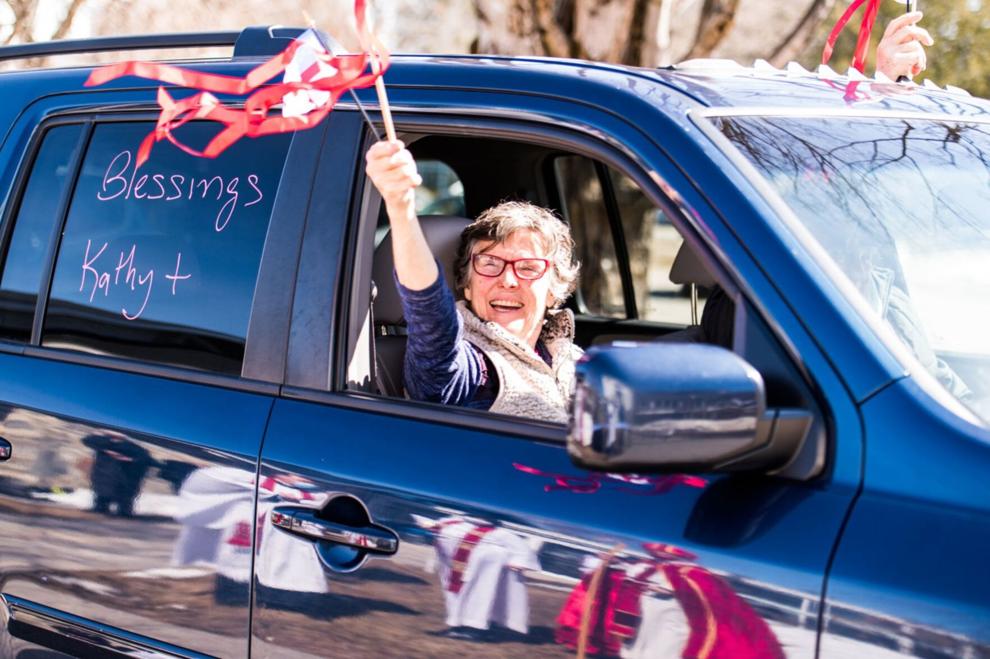 At an early age, her faith was rooted in the interconnectedness she found in the natural world, Boss said. She embraced Christianity as a teenager, and even thought about becoming a minister, writing in her high school yearbook that her ambition was "to serve God."
But then came "marriage and kids and divorce and life and everything," she said.
Boss worked for a time in the nonprofit world, then as an administrator at High Mowing School, a private Waldorf school in Wilton.
She loved her work but yearned for more.
'The real deal'
After her youngest son graduated from high school, Boss took a year off in 2016 and walked the Camino Frances (the French Way), a 500-mile pilgrimage over the Pyrenees mountains and across northern Spain.
"I think I was just looking for what was next," she said. "How was I going to follow this kind of yearning that I had in me, to be more myself and also to be more with other people?"
Walking the Camino, she said, "revealed a lot about myself, a lot about how I related to the world, and really about what it was I wanted for my life."
At one point along the Way, she visited a small chapel where her attention was drawn to the crucifix. The figure of Jesus was depicted not in agony but with a smile that to Boss seemed to offer infinite love and reassurance. "In that moment, there was in me something broken open and I said, 'That's the Christ I want to serve,'" she recalled.
When she returned to New Hampshire, she found a spiritual home at All Saints' Episcopal Church in Peterborough, and a mentor in the rector there, the Rev. Jamie Hamilton.
Boss, 56, entered divinity school at Boston University in 2017. At the time, she thought she might wind up running a retreat center or directing an arts organization with a focus on spirituality.
"There was always this sense of wanting to be in a position where I could love on people, and build community," she said. "Just create spaces for people to just be, and to celebrate each other and to be fully themselves."
But that call inside her persisted. So with encouragement from others, including Hamilton and Episcopal Bishop A. Robert Hirschfeld, in 2018 she began the process to become a priest.
In an email, Hamilton called Boss "the real deal."
"She invites folks to ground themselves in God's love affair with us," she said, "and is a wonderful guide to our deepest selves."
Boss finished divinity school last May, two months after the global pandemic locked everything down. She was ordained as a deacon, a transitional step to becoming a priest.
On March 20, Hirschfeld ordained Boss to the priesthood in the chapel at White Mountain School in Bethlehem, where she serves as chaplain for the students and faculty.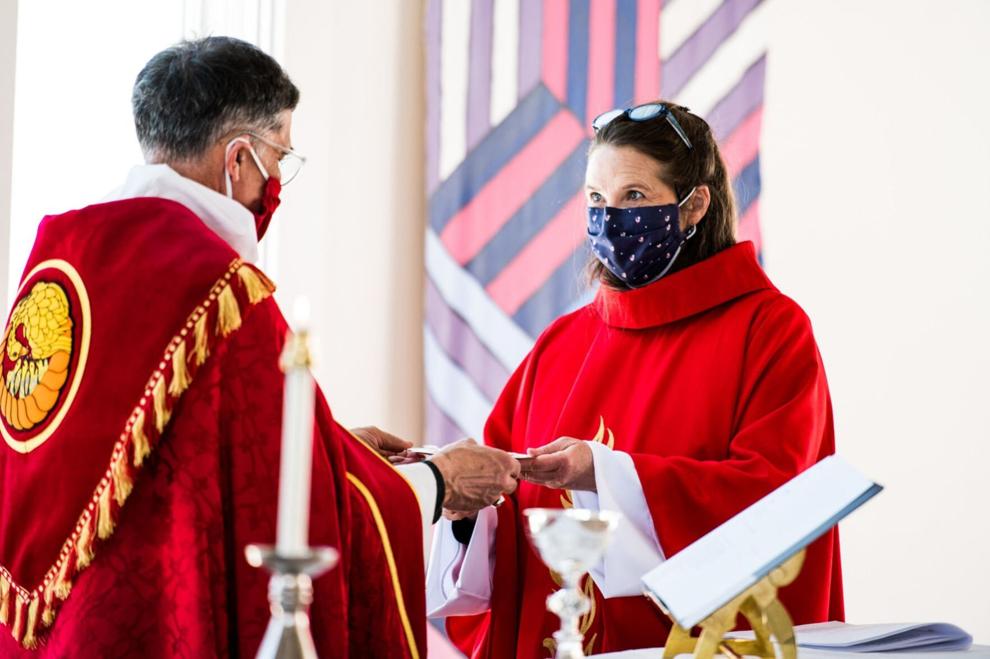 The bishop said Boss "has that quality of presence that invites one to go deeper, to ask questions of the spirit and soul.
"She brings the gift not of easy answers that are trite or shallow, but of spiritual companionship," he said.
'A natural progression'
Only a handful of people were allowed to attend the ordination, but her family and friends watched online. And as she left the chapel, her parishioners surprised her with a car parade, waving and handing her flowers and gifts as they drove by.
Boss said her three sons — Jonathan, 28, Adam, 26, and Noah, 23 — are very happy for her. Her youngest called her "Rev. Mom" after her ordination.
"I think they all see it as a natural progression of who I am as a person," she said. "They're very supportive, and very dear, and maybe a little bit bemused."
Becoming a faith leader in a time of pandemic has been challenging but also transformative, Boss said. "It has let me see how deeply the community of the church really runs," she said. "The church is about much more than its buildings. The buildings are very important, and the gathering, the community that we create in those buildings, are really important.
"But there is a hunger for what happens outside of the buildings, both in people's personal practices and in terms of who we encounter and interact with, the wider community of our parishes where our churches are."
Her parish, which has about 120 members, has been active in supporting the local community during the pandemic, offering tutoring to students, and memorializing those lost to COVID-19. It's about "getting out into the world and being the hands and arms and head of the body of Christ in the world," Boss said.
Here is perhaps an overlooked blessing to come out of the crisis, she said. "We often focus so much on how bad everything is, and miss how much beautiful light is happening, how much love is happening, how much connection is happening that maybe wouldn't have happened," she said. "And God is in it all."
'Good and hopeful'
The Episcopal diocese has ordained two priests and one deacon during the pandemic, with plans to ordain five more deacons this year. "It's a sign of the Holy Spirit's persistent faith in us that God calls a one like Kathy Boss and the others…," Hirschfeld said. "It's for such a time as this, Lent or not, that God is up to something good and hopeful."
Leading up to this Easter, Boss has been thinking about how Jesus' disciples must have felt after he was arrested and crucified. "This was not in any way the way they thought God was going to manifest in the world," she said. "They're devastated."
When they see him again after the resurrection, she said, "It changes everything for the disciples. They have to just find a whole new way to think about the world."
Boss hopes the same sort of transformation may lie ahead for our country and the world after the past year of pandemic, social injustice and economic hardship. "We're rising up out of this stuff in a slow way, but now what? What do we do with this?" she asked. "We need to create some new ways of being in the world."
Redemption is not easy, Boss said. "This is when the hard work begins, but this is when we begin to see the fruits," she said.
That's the real message of Easter, she said.
"It's resurrection, it's redemption, it's salvation," she said. "But salvation is also about how we then be in the world. How we shift how we think about the world, and how we be in the world knowing that."