DERRY — An explosion rocked a house at 151 Bypass 28 early Monday, resulting in a fire that destroyed the home where a local woman was found slain earlier this month.
Derry Fire Communications Center received multiple 911 calls reporting the blast about 1:55 a.m. By the time firefighters arrived just 2 1/2 minutes later, the home was fully ablaze, according to the Derry Fire Department.
"Due to the volume of fire, emergency personnel were committed to defensive operations for the duration of the incident," fire officials said.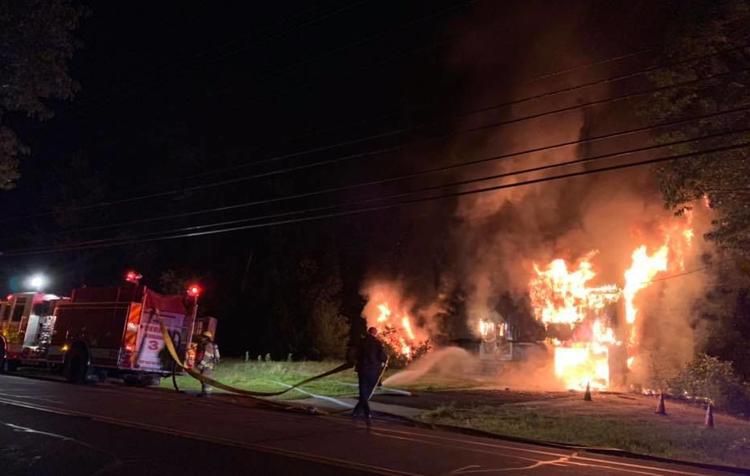 Ellen Munstis, 74, was found fatally shot at the house on the morning of Aug. 10. Authorities said she died of multiple gunshot wounds to the chest.
Her husband, Roderick Munstis, 79, was charged with second-degree murder. He has pleaded not guilty and is being held at Rockingham County House of Corrections in Brentwood.
Senior Assistant Attorney General Benjamin Agati said he was made aware of the fire Monday around 7:15 a.m.
"Derry is looking into it with the Fire Marshal's office, but I don't have any other information," he said outside a courtroom in Rockingham County Superior Court, where prosecutors and defense lawyers in the murder case gathered Monday morning to discuss whether Munstis would continue to be represented by a public defender. They met in judge's chambers, but no decision was made.
When asked if the fire would create significant problems for the prosecution since the alleged crime scene was burned, Agati responded, "Not necessarily so. Derry and the fire marshals have to take a look at this and see what's going on. It could be something connected. It could be something not connected."
Public defender Brett Newkirk also commented.
"It just seems to be one more tragic incident," he said of the fire.
Authorities have not hinted at a possible motive for the deadly shooting.
Next-door neighbor Kirsten Cote said she and her grandfather, Joe Cote, heard a series of loud pops they believed to be ammunition firing off inside the home over a two-hour period starting about midnight.
"You could literally hear the ammunition going off," she said
Joe Cote said he heard a police officer tell him to stay inside during the fire because of "the ammunition."
Two investigators from ATF were seen briefly at the scene, but authorities said they were not there in any official capacity.
"Two weeks ago, he just killed his wife, now his house is on fire," Kirsten Cote said. "Very weird."
Ellen Munstis was laid to rest last week in her hometown of Carraroe, Ireland, the Galway Daily reported.
Joe Cote said the last time he saw someone at the house was on Aug. 12; a car was there last Thursday, but there have been no visitors since.
In all, 27 firefighters worked to contain the blaze Monday, with resources from Windham and Londonderry assisting Derry at the scene. None were injured fighting the fire, which is being investigated by the state Fire Marshal's office, Derry police and local Fire Prevention Bureau.
The building suffered significant damage and partially collapsed, with fire officials deeming it a total loss.
Deputy State Fire Marshal Keith Rodenhiser said the investigation was to begin when the team is assembled Monday afternoon.
"The Fire Marshal's office is working collaboratively with Derry police and fire departments to investigate the cause of the fire," Rodenhiser said. "We're just getting started."
He said they have yet to determine the point of origin and plan to investigate reports of explosions from neighbors.
Sometimes, people hear loud pops that would be normal with a fire this size and they imagine small explosions, Rodenhiser said.