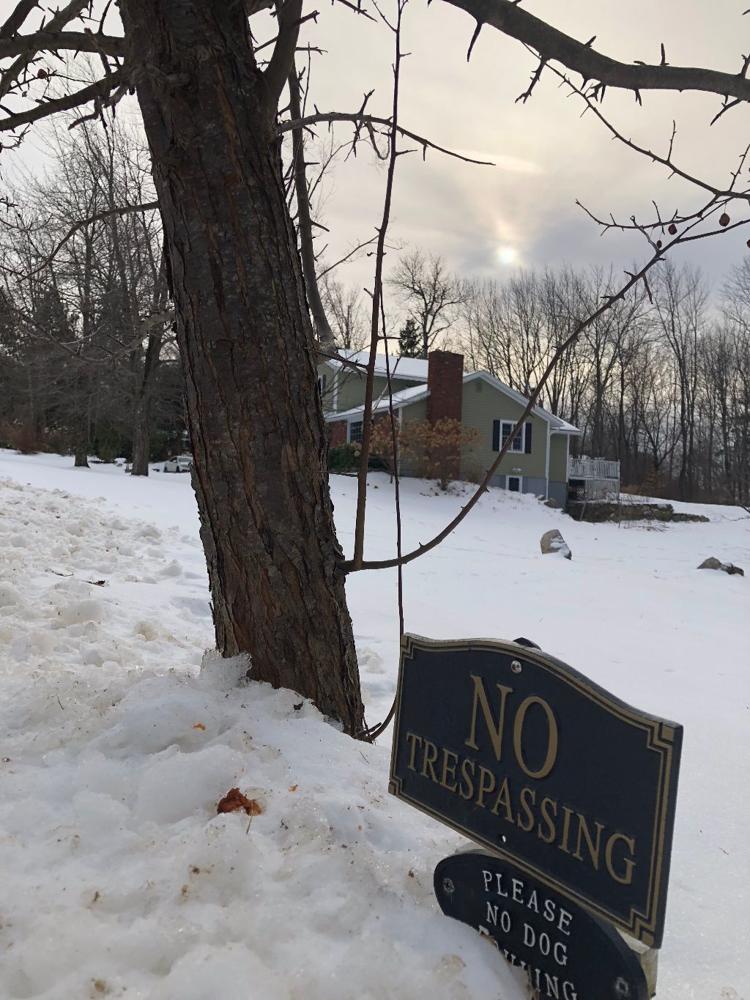 CANDIA — A crabapple tree declared a public nuisance is at the root of a court battle between the town and a couple refusing to trim the 10-foot tree's branches.
Jennifer Heiberg has filed a complaint in Rockingham County Superior Court asking a judge to overturn the selectmen's recent decision. The town has threatened to chop down the tree if Heiberg and her husband, Dustin, don't remove some of the small branches sticking out into the road in front of their home at 14 Jane Drive.
Selectman Brien Brock sent a letter to Heiberg dated Dec. 26 informing her and her husband they have 30 days to trim the branches in the town's right-of-way. If they're not cut back within that time, the town will remove the tree, the letter said.
Heiberg argues that the tree isn't a problem and that town officials can't force them to do anything because the town never got a deed for the road and therefore it's private. Heiberg said there are other, larger trees in town that pose a much greater safety risk and they've never been declared a nuisance.
The dispute over the fruit tree began about two years ago, said Heiberg, who insists that it's all political and that the town is wasting time and money fussing over a small tree in a quiet cul-de-sac.
"My concern is it's always something with the town," she said. "I pay my taxes on time. I mind my own business. I don't need to be harassed by the town."
According to minutes from a selectmen's meeting on Dec. 23, board members said they've tried to handle the situation in a "neighborly and cooperative way" and that they hoped the Heibergs would attend a meeting to resolve the issue.
Heiberg said Tuesday the tree was on the property when they moved in about 10 years ago and is a source of food for wildlife.
"Landowners have the right to grow, maintain or cut down trees as they see fit. They also have a right not to have their trees pruned or removed without their consent," she wrote in her complaint against the town filed on Jan. 2.
Heiberg asked Rockingham County Forester Greg Jordan, a licensed forester and certified arborist from the University of New Hampshire Cooperative Extension, to inspect the tree on Monday. He said that it appeared healthy.
"Although a few of the tree's branches are beginning to encroach onto the traveled roadway, I think it poses minimal danger to the travelling public," Jordan wrote in a letter summarizing his findings.
"If you object to removing the tree, I would suggest 'raising its crown.' That is, pruning some of the lower branches to increase clearance for passing traffic — both vehicles and pedestrians. Pruning the tree now, while it is relatively young and vigorous, will help improve its form and correct any gross structural deficiencies," Jordan wrote.
Heiberg said she will decide her next step after the court rules on her complaint.