NORTH CONWAY — A woman on the railroad tracks was struck and seriously injured by an engine of the Conway Scenic Railroad pulling a train packed with riders returning from an excursion to the railroad's "pumpkin patch" in Conway on Sunday afternoon.
"There was an unfortunate incident on our tracks involving our train," said Susan Logan, who is the Conway Scenic RR's marketing manager.
"A woman was trespassing on our tracks in North Conway, fairly close to the station. She was facing the train. Our engineer blew his horn, and she just stood there and the engine hit her."
She said the train had reduced speed to "about 13 miles per hour" when it struck the woman behind the McDonald's on Route 16. The woman's identity was not immediately known.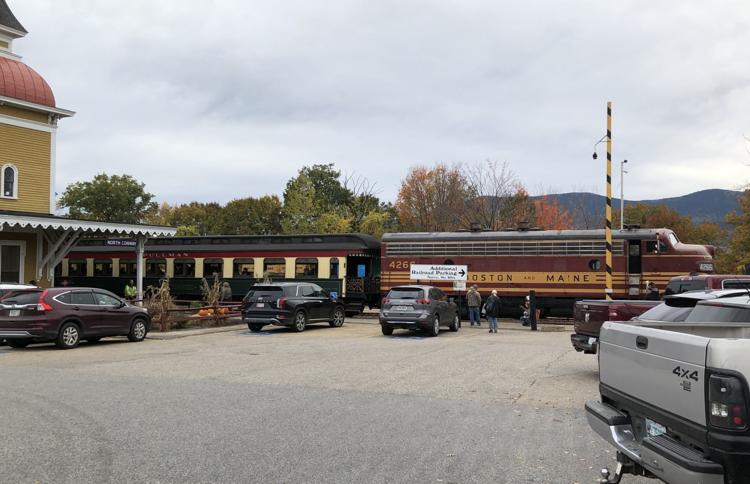 Logan said "the engineer hit his brakes as hard as possible without injuring the 300 passengers on the train," which was sold out and had many young families on board.
To her knowledge, no passengers were hurt in the incident, which happened just after 3 p.m. Logan said Conway police responded to the scene.
Passengers heard several long blasts of the air horn prior to the train slowing significantly and coming to an abrupt stop. They could see an ambulance and police officers, but were told it had nothing to do with the train, that it was something next to the tracks.
The train's return to the North Conway Station was delayed by some 40 minutes, arriving around 3:45 p.m.
Derek Palmieri, who is the railroad's operation manager, said the train operates at a self-regulated 20 mph. The incident occurred on tracks owned by the railroad, about a mile from the North Conway station.
He said that both the headlight and "ditch" lights of the former Boston & Maine diesel-electric engine were on, as is the industry practice.
The engineer sounded the air horn "multiple times" before the impact, said Palmieri, who declined to identify the engineer.
Riders in the forward-most cars were moved to the rear of the seven-car train, he said, away from the sight of emergency responders at work.
Palmieri said the number 4266 train crew — the engineer, conductor and two trainmen — will be given the opportunity to participate in a "critical-stress debriefing."
Logan said there has not been a similar incident during her 14 years as an employee of the Conway Scenic Railroad.
The incident remains under investigation by the Conway Police Department.