EPPING — A Derry man who was allegedly driving the wrong way on Route 101 when a retired police sergeant and his wife were struck and killed has been released from the hospital.
Ryan Kittredge, 31, was seriously injured in the Jan. 10 crash that claimed the lives of John and Heidi Johnson.
The New Ipswich couple was heading west on Route 101 when their 2008 Chevrolet Impala and Kittredge's 1998 Dodge 1500 pickup collided near Exit 7. State police said Kittredge had been traveling west but at some point made a U-turn and began heading east in the wrong direction.
A third vehicle involved in the collision was driven by Andrew Neeper, 23, of Raymond, who was headed west in a 2015 Ford Fusion when he hit Kittredge's truck. Neeper was unable to see the crash in the dark, according to state police. Neeper escaped serious injury.
State police Lt. John Hennessey said Thursday that Kittredge is expected to face charges. He has said that impairment was believed to be a factor in the crash.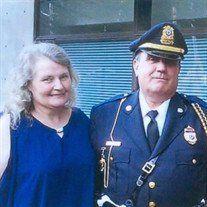 The crash remains under investigation, but at some point it's expected to be handed over to the Rockingham County Attorney's Office for possible prosecution.
"Once the investigation is complete, the New Hampshire State Police will send the file to my office for review. We have not received the file to date," Rockingham County Attorney Patricia Conway said Thursday.
Court records show Kittredge was found guilty of driving under the influence in Conway in 2014. His punishment included an 18-month loss of license and a fine. He also was ordered to participate in an impaired driver care management program. Kittredge's criminal record includes a drug possession conviction in Derry in 2005 and another conviction for disorderly conduct in Hampton in 2008.
Funeral services for the Johnsons were held Friday in Townsend, Mass., where John Johnson was a police officer for 40 years before retiring last summer.