CONCORD — Surviving family members and elected officials evoked tragic losses from accident scenes in Randolph and Bow in their support of tougher criminal penalties for harming others while driving impaired.
Beth Shaw urged a state Senate committee to more than double prison time for someone with two previous drunken driving convictions who negligently kills someone in a third incident.
That's the story of Joseph Leonard, 37, of Derry, now serving a six-to-12-year sentence for negligent homicide in a 2018 crash that killed Shaw's son, Tyler.
Beth Shaw noted that Leonard received no jail time after a second DWI conviction in 2010, when his blood alcohol was three times the legal limit.
"I can't help but wonder if a more appropriate penalty was given to Mr. Leonard, would he have learned his lesson," she testified before the Senate Judiciary Committee Tuesday.
"More importantly for Tyler, he would be alive today."
Shaw spoke in front of a collage of photos of her son.
"Help other beloved families whose lives are being altered in an instant without warning, without as much as a goodbye," she said.
"Tyler Shaw's Law" (SB 743), authored by Senate Majority Leader Dan Feltes, D-Concord, would increase the punishment in a case like Leonard's to a 15- to 30-year sentence.
If the negligent homicide happened after one impaired driving conviction, the punishment under SB 743 would be 10 to 20 years in state prison.
"I don't typically advocate for enhanced sentences. In this particular case, there is a glaring gap in our law," said Feltes, a Democratic candidate for governor.
"We need enhanced sentences for subsequent DWIs and negligent homicide. This makes good sense."
Trucker suspensions
The same panel also heard arguments for a second bill, SB 649, which would allow the commissioner of safety to disqualify someone from driving a truck in New Hampshire for a least a year for a variety of offenses and serious violations, including driving while drunk or on drugs.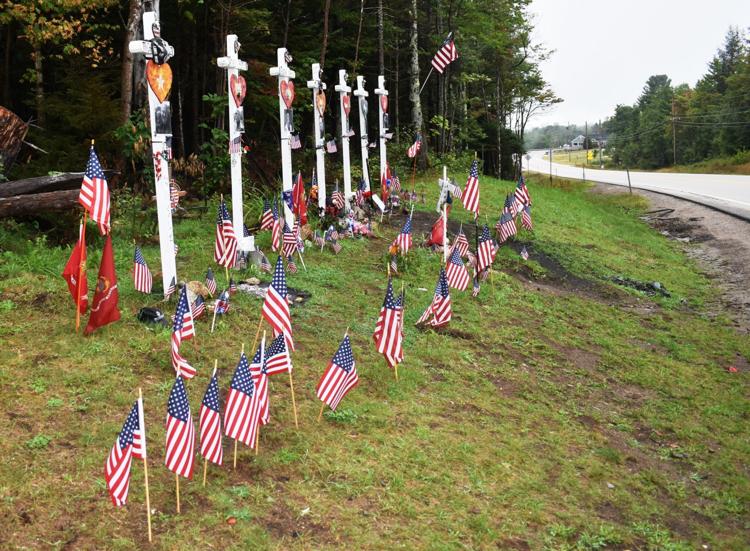 This measure grew out of a Division of Motor Vehicles review of all driver case files and relevant state laws in the wake of last June's crash of a pickup and trailer on Route 2 in Randolph. The accident claimed the lives of seven members and friends of the Jarheads Motorcycle Club.
The driver of the truck, Volodymyr Zhukovskyy, 24, of West Springfield, Mass., is charged with seven counts of negligent homicide-DUI; seven counts of manslaughter; aggravated DUI; and reckless conduct.
He has pleaded not guilty. Jury selection for his trial is scheduled for November.
At the time of the New Hampshire collision, Zhukovskyy had a valid Massachusetts commercial driver's license despite a Connecticut arrest in May 2019 and a lengthy record of driving violations and convictions.
After the incident, the Massachusetts official whose department failed to revoke Zhukovskyy's license resigned and a multi-million dollar investigation was launched.
Sen. David Watters, D-Dover, said a Division of Motor Vehicles review showed that under state law the safety commissioner here first must hold a hearing before he can disqualify any truck driver's right to drive.
"This makes so much absolute sense that you don't wait around if someone shouldn't be on the road," Watters said.

The bill allows the truck driver to appeal the decision and request a Department of Safety hearing.
A truck driver who refuses a blood alcohol test would have his license suspended for a year if stopped here or in any state that shares motor vehicle records with New Hampshire.
At the time of the Randolph crash, Zhukovskyy was out on bail after refusing to submit to the test when he was arrested in Connecticut a month earlier.
Watters said lawmakers will consider other proposals to improve state oversight, including a bill that would require the state to gain access to and share its own records with a national commercial driving database.
Rep. Edith Tucker, D-Randolph, said the crash has profoundly affected her hometown.
"I can testify to the need to do everything we can to prevent the kind of tragedy we had in the town of Randolph," Tucker said.
"I can't think of a single incident that had more ripple effect than this one in our area."