HOOKSETT — Bob Allen touched a short crabapple tree and pointed to a towering white pine in the distance.
The tree at hand is good for planting near overhead power lines in utility corridors. The tall one, not so much.
His left forearm has an acorn tattoo that says it all: "Plan before you plant."
Allen, of New Ipswich, is an arborist and is the immediate past president of the New Hampshire Arborists Association and manager of vegetation management for Eversource.
He can recommend 30 species of trees, such as eastern redbud, Japanese maple, pagoda dogwood and saucer magnolia, that will stay under 30 feet — well short of utility lines, which can be vulnerable when the mighty sugar maple, pine, poplar, ash and oak come crashing down during windstorms.
Larger trees have their place, but that place is far enough from a power line so that they wouldn't touch it if they were to fall.
Living examples of worthy but diminutive trees can be found in the utility's public arboretum, which was completed last year on Legends Drive in Hooksett, next to the town's skatepark, its police department and an Eversource office building.
A 600-foot path takes the visitor past a pollinator garden, native shrubs and the kind of trees that will not grow tall enough to endanger power lines.
"This is a demonstration site for us to share with tree wardens, landscapers, landscape architects and students," Allen said. "The message is about planting the right tree in the right place.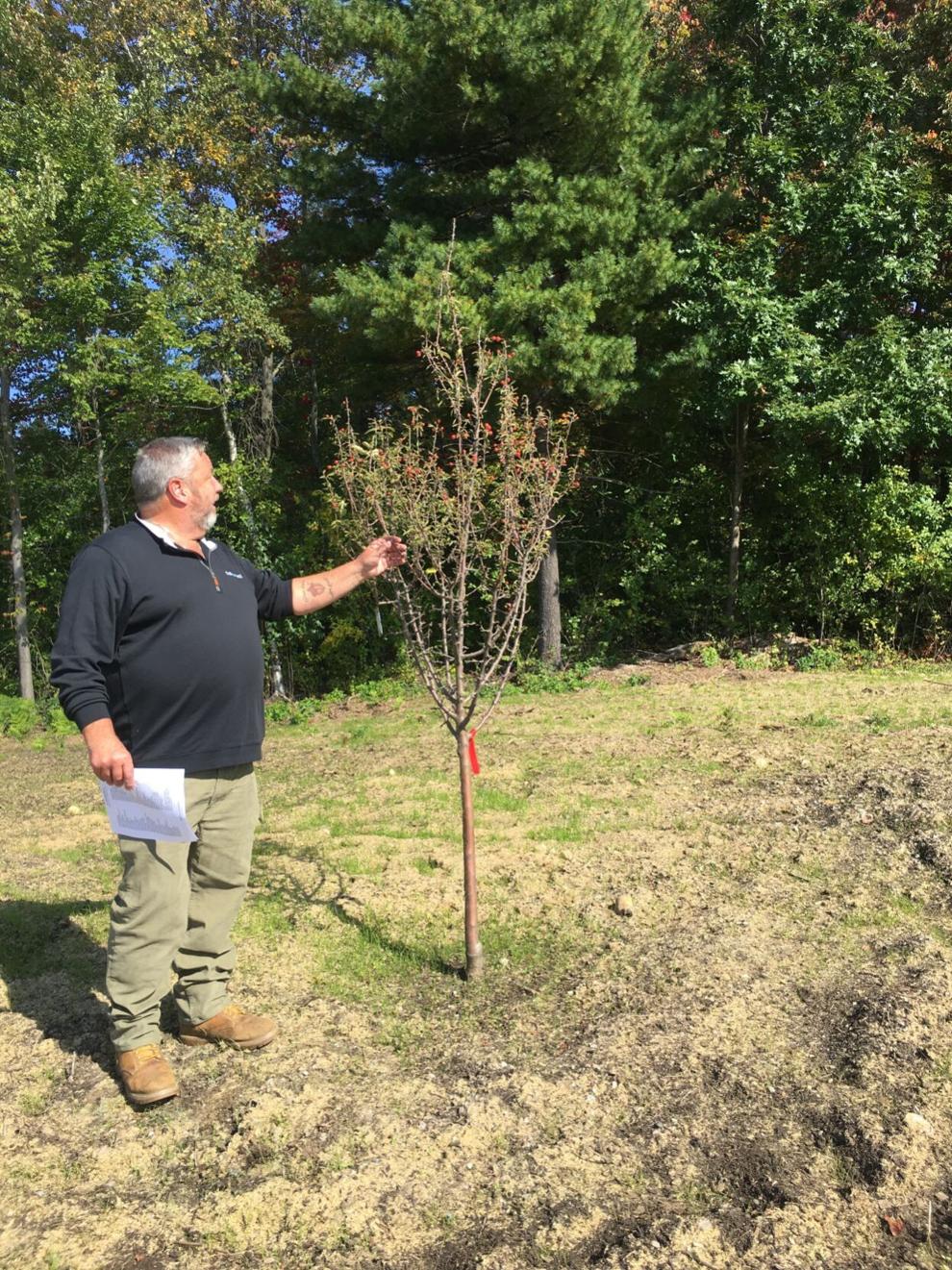 "Trees are the leading cause of outages across our whole system. We have 450 contracted tree crews out each day across three states, trimming trees.
"Our wires are usually 45 to 50 feet. I've been working with trees for 43 years. And Newton's law hasn't changed yet. If it's up there, it's coming down, and if we're in the way, it's going to cause an outage."
Contact between a tree and a power line can also cause fires and electrical shock hazards.
Concern over falling trees or branches is front and center in New Hampshire, where more than 80% of the state is covered by forest.
For years, Allen trimmed trees away from power lines.
It's not easy work and not particularly well-paying, but there is a sense of accomplishment, he said.
"When I started we were using hemp ropes, and I had a 16-pound Homelite XL (chainsaw) that hung off your belt," he recalled. "The muffler wasn't very protected, so you always had a burn mark on your leg."
Eversource is trimming trees along more than 2,500 miles of overhead distribution lines around the state this year, including along 90 miles of road in Chesterfield, 80 miles of roadways in Pittsburg, 70 miles in Danbury, 60 miles in Effingham and 50 miles in Windham.
Eversource spokesman William Hinkle said utility officials are always keeping their eyes on the weather report.
"In advance of a storm we will go out and do pre-storm sweeps of the system," he said.
Bucket trucks will be sent out, and workers double check for any areas where there is a potential for trees to fall onto lines.
But it's not always easy to predict a tree is in danger of falling.
"They're living systems," Allen said. "Unfortunately, we've all known somebody we saw one day and a month later you hear that, 'Jimmy died.'
"He looked fine when you saw him last time. Same thing with trees. They are living systems. You can drive by them every day, and then one day it just tips over and you think, 'How did that happen?'"