SARGENT'S PURCHASE — After leading the harrowing rescue of an 80-year-old hiker whom family members had left to fend for himself on Mount Washington, Fish and Game officials might ask state prosecutors about pressing criminal charges.
The family will likely get a bill from the agency to cover the cost of this all-night life-saving operation, officials say.
The incident, which occurred last Thursday, has people in the White Mountains hiking community up in arms, among them Mike Chermin, a guide from North Conway, who was appalled that a slower hiker who is a senior citizen was left behind in what he said was a dangerous, and potentially lethal, breach of hiking etiquette.
According to Fish and Game, James Clark, 80, of Dublin, Ohio, was hiking with two other family members while attempting to summit Mount Washington from the Pinkham Notch Visitor Center.
The other hikers soon went ahead, leaving Clark to proceed alone. The two continued to the summit, after which they took another trail to get back down, not the one that Clark was using.
Upon reaching the Visitor Center around 7:45 p.m. Thursday, those hikers telephoned for help, saying Clark was "overdue, not prepared with overnight gear and did not have a cellphone or light."
Rescuers eventually found Clark on the Lion Head Trail, just above the Alpine Garden Trail, around 1:15 a.m. Friday. Fish and Game in a prepared statement said Clark was "in a fetal position, not moving and exhibiting what appeared to be signs and symptoms of hypothermia to the point of not being able to speak any clear or discernible words."
The weather atop the tallest peak in the Northeast was cold when Clark and the other hikers set out, with below-freezing temperatures and 60-mile-per-hour winds that dropped the wind chill to 12 degrees and converted rain into fog and ice.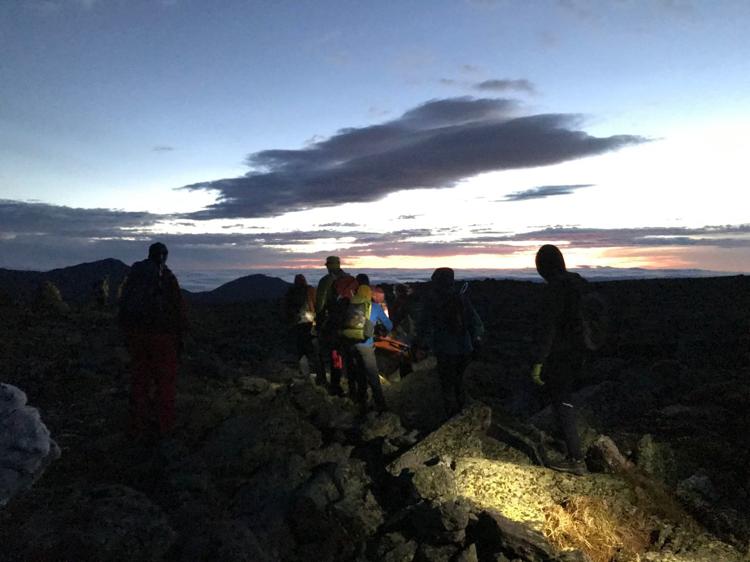 The rescue of Clark was an all-night ordeal, the work of the Appalachian Mountain Club, an Androscoggin Valley Search and Rescue team and Fish and Game conservation officers.
After they found Clark in a perilous state, AMC staff and two conservation officers bundled him up in dry clothes and a sleeping bag to warm him for the long carry-out operation.
"At this time it was decided that Clark had to be carried out in a litter as his condition and distance from the trailhead or road crossing was too far to piggy back," Fish and Game officials said.
Clark was carried 1.7 miles to the Mount Washington Auto Road where at 5 a.m. Friday he got a Gorham Ambulance ride to Androscoggin Valley Hospital in Berlin for treatment of his injuries, which were not life-threatening.
"It looks like he's going to be OK," Fish and Game Col. Kevin Jordan reported late Friday.
Charges possible
Fish and Game Major Dave Walsh, who was been with the agency for more than 21 years, said on Friday that Clark's companions broke several rules of hiking, the first was leaving Clark behind alone, and the second, descending via another trail, rather than going back to check on him.
"We will be looking at charges for the billing of the search and rescue," he said, and as far as criminal charges, "that may be something that we look at when we ask the attorney general about the negligent hiking."
"They should have been better prepared in terms of equipment and clothing and never should have left him alone. I don't know his physical shape, but he's 80 years old," Walsh said.
This rescue capped a tragic few days as Clark survived while two other people died in separate hiking accidents.
William Whittenaur, 69, of Lancaster, died Friday after suffering a heart attack while ascending the Blue Trail, which is part of a trail system that leads to Mount Cabot in Shelburne. A friend performed CPR and a rescue team rushed oxygen, an automated external defibrillator and other equipment to the scene, but he did not survive.
On Thursday afternoon, Sandra Lee, 63, of Mount Tabor, N.J., was trying to summit Mount Washington with two others when she suffered an unknown medical condition and could not continue hiking. Rescuers carried her piggy-back style about 1,000 feet back up the Tuckerman Trail to a junction with the auto road. She was taken to the Berlin hospital and pronounced dead there, officials said.
In his experience, Walsh said, some hikers get into trouble because they "underestimate the conditions and they think they just dial a cellphone and a helicopter will come up."
Helicopters and help can be hours away, however, said Walsh, adding that hikers should educate themselves before heading onto trails about the challenges they might face.
On the Fish and Game website, the "Hiker Responsibility Code" calls upon hikers to be prepared "With knowledge and gear. ... To leave your plans. ... To stay together. ... To turn back. ... For emergencies."
Teaching moment
Chermin, who first hiked and summited Mount Washington when he was 4 years old and more recently completed 100% of "redlining" — hiking all of the trails listed in the 29th edition of the AMC's White Mountain Guide — agreed with Walsh that hikers need to be more responsible for their own safety.
The owner of Redline Guiding, Chermin said it was "absolutely inconsiderate" of Clark's hiking companions to leave Clark by himself on Mount Washington, "and I would name them as being liable for the outcome of this problem."
While qualifying that "I'm not an attorney," Chermin offered that those hikers' actions could be considered reckless endangerment.
"Within the hiking community, a lot of people are really pissed off" about what happened to Clark, Chermin said. "We know you go in together, stay together and leave together."
Chermin hopes this incident raises awareness about what's required to hike safely.
Among the first things, he said, is to "do due diligence" about the trails to be hiked; to acknowledge, not ignore, the dangers associated; and to be as prepared as possible for dealing with them.
"I know a lot of people go up (Mount Washington) and they aren't prepared, even experienced hikers, to spend extra time on the mountain, to spend time overnight," Chermin said.
He said some hikers will take to heart what happened to Clark and learn from it, which he said is "a good thing." But his optimism is tempered.
Hiking the upper reaches of Mount Washington, Chermin said, is like "suddenly being transported to Labrador; it's an arctic tundra. People need to understand and respect it, but they won't."