NORTHWOOD — A four-alarm fire destroyed the town's historic Masonic Lodge on Saturday night.
When Northwood fire and police departments were called to the intersection of Route 4 and Route 202 about 9:24 p.m., the building was in flames, according to authorities.
One firefighter was treated for heat exhaustion, but no other injuries were reported.
An investigation into what caused the fire is being conducted by the New Hampshire State Fire Marshal's office, Northwood Fire Department and Northwood Police Department.
Chris Busby, chairman of the communications committee with the Grand Lodge of New Hampshire, said construction of the Northwood Lodge was completed in 1885 and it is one of the older continuously used Masonic temples in the state.
"Last night, our beloved Brethren from Morrison Lodge No. 90 and Sisters from Crescent Chapter No. 45, Order of the Eastern Star lost their Masonic Temple in Northwood to a devastating fire," Busby said in a statement. "While the building and its precious contents are gone, the generations of memories made and the spirit of those that have occupied it will always endure."
According to Busby, the lodge was chartered as Northwood Lodge in 1874. The lodge's current Worshipful Master Anthony Tuttle, is the 4th generation of his family to serve as Master of this lodge. Both Morrison Lodge No. 90 (Northwood Lodge) and Crescent Chapter No. 45, Order of the Eastern Star met in the building that was destroyed.
"The Grand Lodge and the Brethren of New Hampshire offer our deep and sincere sympathy to our Northwood Masonic family for this tragic event," Busby said in a statement. "Even more, we extend our assistance and love to our brothers and sisters to assure that masonry and star in Northwood will arise from this adversity stronger than ever."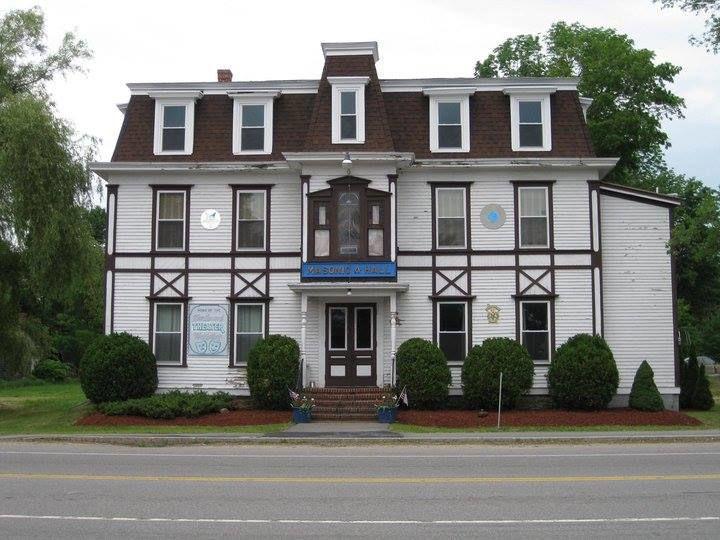 On his Facebook page, Tuttle said Morrison Lodge and Crescent Chapter members were working at the Deerfield Fair Sunday handling tickets.
"We will get through this and the lodge and chapter will be closer than ever," he posted. "We also have the Northwood community to help support us just as we have supported them."
Busby thanked "the first responders from the many towns that met the call of duty and tried desperately to save the temple."
Freemasonry in New Hampshire began in Portsmouth in the 1730s with St. John's Lodge No. 1, which is one of the two oldest continuously operating Masonic Lodges in America. The Grand Lodge of New Hampshire was founded in William Pitt Tavern in Portsmouth in 1789, which still serves as an active Masonic Lodge and museum at historic Strawbery Banke.
The Northwood Masonic Lodge was one of more than 30 lodges taking part in an Oct. 19 open house across the state. The event is from 9 a.m. to 3 p.m. For more information, go to nhgrandlodge.org
According to Busby, officials with Morrison Lodge No. 90 are working through the process of a claim with their insurance company.
"We would ask the public and our Masonic family to withhold any financial donations at this time," said Busby. "We will keep everyone apprised of the process of rebuilding but rest assured that the spirit of Freemasonry is alive and well in Northwood."
On Sunday, Northwood firefighters thanked the people and businesses who brought to the scene or donated water, Gatorade, coffee and snacks.
The following fire departments provided mutual aid during the four-alarm blaze: Allenstown, Raymond, Pembroke, Deerfield, Bow, Concord, Auburn, Barrington, Lee, Durham, Chichester, Epping, Epsom, Barnstead, Nottingham, Capital Area, Strafford, Pittsfield, Candia, Loudon, Rochester, Dover and Brentwood.