SALEM — A Massachusetts man lost his right leg Thursday morning when the vehicle he was in collided with a guardrail just north of Exit 1 on Interstate 93, according to Salem Fire Battalion Chief Randall Young.
"The guardrail went through the passenger compartment of the vehicle," Young said.
Fire crews were dispatched at 11:22 a.m. Thursday. Young said there were two men in the northbound 2018 Nissan Sentra.
New Hampshire State Police said passenger Jorge Ramirez, 22, of Chelsea, Mass., suffered multiple injuries, including the loss of his right leg.
Rescue crews immediately sprang into action, tying two tourniquets on Ramirez's right leg to stem the loss of blood.
"They definitely acted fast," Young said.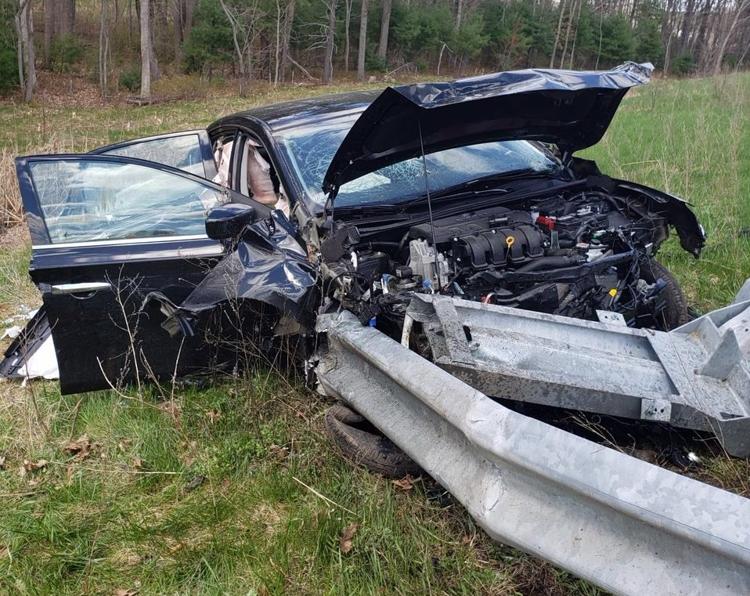 Boston Medflight landed on the highway at 11:44 a.m., Young said, and Ramirez was transported to Brigham and Women's Hospital in Boston.
Young said the department received an update from Medflight nurses, who said they were pleased with how soon paramedics were able to apply tourniquets.
"Tourniquets are a new thing that we just started carrying in the last four or five years," Young said. They likely made a huge difference in how Ramirez fared, he said.
According to state police, Ramirez was not wearing a seatbelt. Neither was the driver, Jose Laguer, 24, of Boston. State police said Laguer suffered minor injuries and was taken to Lawrence General Hospital.
Young said he was not aware of any other vehicles being involved in the crash and its cause was still unknown.
New Hampshire State Police Trooper Douglas Bailey Jr. is investigating the crash, and asks that anyone with information contact him at douglas.baileyjr@dos.nh.gov.
The Salem Fire Department sent about a dozen rescue personnel to the accident site, including an engine, tower truck, heavy rescue truck, paramedic intercept vehicle and two ambulances.