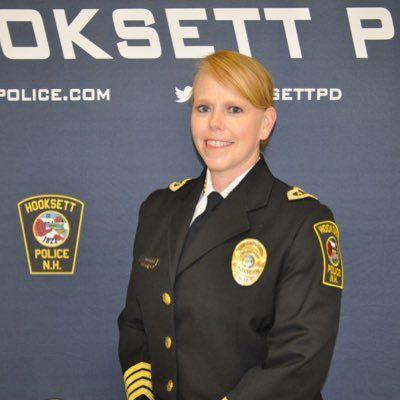 HOOKSETT — The Town Council voted unanimously Wednesday to appoint Police Chief Janet Bouchard acting town administrator in the wake of Don Winterton's sudden resignation last week.
Bouchard will fill in until a permanent replacement can be hired, the council resolved.
The appointment came at the conclusion of a special meeting in which town councilors conducted closed-door interviews with Bouchard and Hooksett Finance Director Christine Soucy, the only town employees to submit their names for consideration.
The town council could have appointed one of its own or have hired a contractor through Municipal Resources Inc., but councilors instead voted — also unanimously — to only consider appointment of a town employee.
As per the town charter, an acting town administrator "shall serve for not more than 90 days."
Town Council Chairman James Sullivan said a contract has been negotiated between the town and Bouchard that includes a temporary pay increase, but Sullivan declined to detail the agreement until the town's attorney reviews it.
During Bouchard's time as acting town administrator, Sullivan said, he expects Hooksett Police Capt. Jake Robie will take over "day-to-day" operation of the police department.
"With the well-established chain of command of the police department, the captain will follow protocol — anytime the chief was away, such as vacation, the captain takes over responsibility. Ultimately, she would still be considered a police officer, but she'll have oversight of the police department as well," said Sullivan. "The town administrator would normally have oversight over the police department. Now that the police chief is the acting administrator, she would be providing oversight over Captain Robie."
Bouchard is a 14-year veteran of the Hooksett Police Department and has served as chief since May 2017. Her appointment comes nearly a week after Winterton submitted his resignation as both acting town administrator and District 5 councilor.
Prior to his resignation, Winterton had come under fire from some members of the public for hiring a part-time seasonal parks and recreation coordinator, a decision they saw as contrary to the will of Hooksett voters, who have rejected creation of a full-time parks and recreation director on town meeting day for the last three years.
Winterton was appointed town administrator in December after longtime town administrator Dean Shankle announced he had been hired to be Amherst's town administrator.
Hooksett is in the process of vetting six applicants to serve as full-time town administrator, with the town council planning to conduct interviews during the third week of April.
The town is also seeking someone to appoint to temporarily fill Winterton's vacated seat on the council. Candidates must have lived in town for at least one year and be currently living in District 5. Whomever is appointed would serve until the next town election on June 30 2020.
Sullivan said the town will post information about the District 5 seat on the town's website.