LACONIA — A late night fire on Sunday that broke out in the attic of a local eatery caused an estimated $60,000 in damage.
Shortly before 11:30 p.m. firefighters were dispatched to Alicia Café at 1187 Weirs Blvd.
After the Lakes Region Mutual Fire Aid Association received multiple calls reporting a fire, aid was requested, bringing in off-duty personnel and coverage for the Laconia stations from neighboring departments.
When crews got access to the attic of the one-story eatery, they encountered heavy fire conditions, but were able to quickly extinguish the flames and contain the damage to that area.
One civilian with a minor medical condition was taken to the hospital by ambulance, according to a news release issued by the department.
How the fire started remains under investigation, although it is believed to be accidental.
The Laconia Fire Department was assisted at the scene by city police, the Gilford and Belmont fire departments and Meredith EMS. The Meredith and Tilton-Northfield fire departments provided station coverage along with Meredith EMS.
City records valued the property for tax purposes at $400,000 and identify the owner as Denis Bourque of Gilford. It opened as Alicia Café in late May.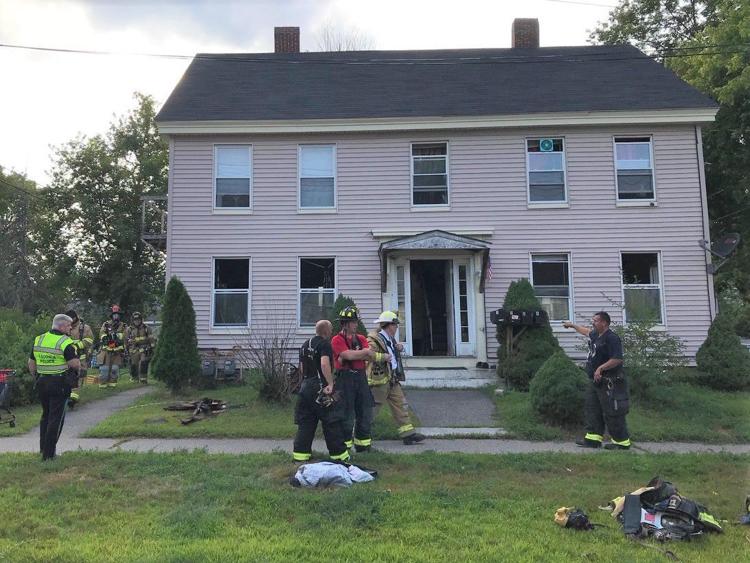 The fire department was called for a separate fire on Friday at a two-and-a-half-story, four-unit apartment house at 71 Apartment St.
Laconia and Belmont first responders were at the scene of a car crash when the fire alarm was sounded at 3:58 p.m., with a report of a person still inside the building.
A search of the building confirmed all the tenants were out and accounted for. No injuries were reported, but eight people were displaced by the fire and were being assisted by the Red Cross.
Arriving units reported heavy smoke, and a second-alarm was requested, summoning off-duty personnel and additional mutual aid companies to the scene.
Beattie said the first arriving companies advanced a hose line into the basement and were able to quickly knock down the blaze, preventing it from spreading into the rest of the building.
Firefighters from Gilford, Meredith, Tilton-Northfield, Sanbornton and Franklin assisted the Laconia and Belmont departments at the scene. The Gilmanton, Meredith and Holderness fire departments along with Meredith EMS provided coverage for the Laconia stations.
The fire had been sparked by a clothes dryer, causing an estimated $50,000 in damage to the building.
Laconia Fire Chief Kirk Beattie said the fire was contained to the basement, but that the rest of the building sustained smoke and some water damage.
According to city tax records, the circa 1850 house was purchased by Antaeus Holdings of Dallas, Texas, in June from Lakeport Rentals for $262,000. The property is assessed for tax purposes at $182,300.