LONDONDERRY — The Londonderry Police Department on Monday recognized four new patrol officers and the promotion of a sergeant, and honored several others for life-saving measures or commendable service over the past year.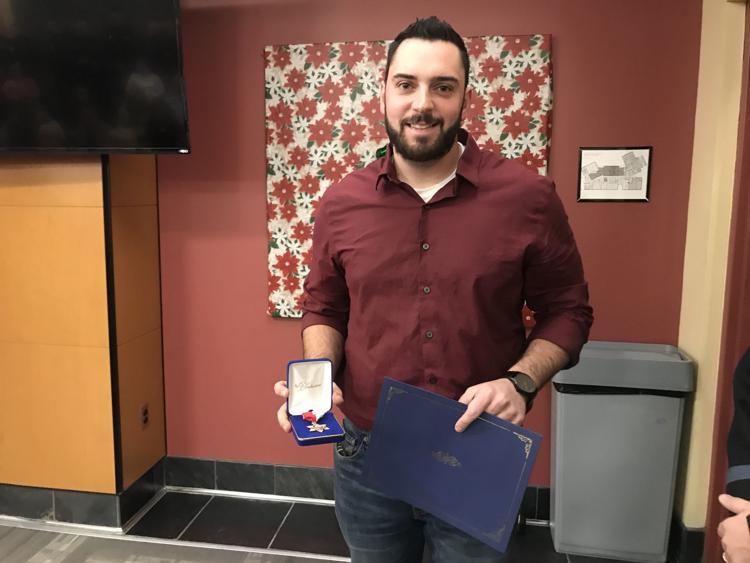 The Officer of the Year is Matthew Morin and the Civilian of the Year is town prosecutor Michael Malaguti.Tyler MacDonald, Muzafer "Moose" Aku, Cameron Verrier and Anthony Marciano were all formally sworn in as new officers in the department, though all but MacDonald have been serving as sworn officers in the department for a few months now.
Though he was promoted to sergeant effective this past summer, Chris Olson was not able to attend a previous ceremony, so he was recognized for his promotion with his wife and three kids on Monday.
Officers were recognized for their involvement in responses to homicides, attempted suicides, overdoses and other difficult cases, and detectives were recognized for their diligent work at closing cases, some involving juvenile victims.
Sgt. Ryan Buker was awarded a commendation bar for his work on a sex assault case involving a young girl.
"The nature of these cases takes a toll on you and affects you," Olson said at the ceremony. But he said Buker didn't let the difficulties of the case keep him from getting the job done.
Some of the details shared by the narratives of those events are new. When police responded to 118 West Road in April for a welfare check, they found Maureen Argie, 41, dead in her home. Authorities searched for the suspect and he was located in Connecticut, according to Chief William Hart, who presented a commendation bar for distinguished unit action for the detectives unit.
"The investigative effort spanned several states, and the suspect was located in Connecticut. He was apprehended and he remains incarcerated awaiting trial," Hart said.
Argie's husband, William Argie Jr., was charged with the murder about two months later.
The detectives unit award went to Buker, Sgt. Dan Hurley, Sgt. Tim Moran, Lt. Jason Breen, Detective Michael Tufo, Detective Jason Archambault, Detective Narciso "Junior" Garcia and Detective Justin Hallock.
Hart also commended officers and detectives for their work in responding to another welfare check at 15 Ridgemont Drive in October, where local minister Luis Garcia was found shot in the neck.
"The information was very vague when it came in. The address was someone familiar to us, however," Hart said.
Detectives helped establish probable cause to charge Brandon Castiglione with murder, he said.
Officers Morin, Verrier and Andy Phillips were separately awarded commendation bars for distinguished unit action for their actions in responding to that homicide.
The award provided some additional details of what officers encountered in the home.
"Once in the residence, the officers located a male subject lying on the ground with a gun nearby and another male subject suffering from an apparent gunshot wound. The officers were able to safely secure the male and the firearm, while also rendering aid to the victim of the gunshot."
The victim, Garcia, later succumbed to his wounds.
Officers Chris Wiggin and Matt Laquerre were awarded a letter of commendation for their work locating a suicidal woman at the back of her car with a gas can and a lighter, and intervening to get her to treatment.
Letters of commendation were awarded to Randy Dyer for responding in June to a vehicle fire in the airport parking garage with fire extinguishers, preventing the fire from spreading to other cars; to Brian Allaire for his work in a credit card fraud case last December; and to Timon Aikawa and Jonathan Cruz for responding to a suicidal juvenile female in April in a sex assault case, and for tracking down and apprehending the person believed responsible.
Wiggin was also awarded a letter of recognition for investigating the sale of LSD at Londonderry High School in March, making an arrest and seizing a quantity of LSD.
The department awarded Juan Lluberes a commendation bar for meritorious service for responding to a domestic violence report from a juvenile in May, investigating and apprehending an individual in the same shift, and conducting an "outstanding" interview of the individual.
The commendation bar for meritorious service was awarded to Hurley; Buker; officers Tim O'Donaghue, Rafael Ribeiro, and James DeFelice; and telecommunications operator (TCO) Cory Nader for responding to the Sleep Inn on Perkins Road last December for a felony-level domestic violence case.
Hurley, Morin, O'Donaghue, officer Dan Perry and TCO Maria Schacht were awarded the commendation bar for distinguished unit action for responding to a suicidal male on Buckingham Road last January.
The commendation bar for lifesaving was awarded to officer Tara Koski for aid she gave to a woman who accidentally overdosed on prescription opioids at the Wendy's on Nashua Road in February; and to DeFelice for lifesaving measures he gave to a man overdosing on heroin at the state liquor store on Rockingham Road in January.
The department awarded Verrier the military service bar for his service in the U.S. Marine Corps.The Arthur Kehas bar was awarded to Marciano for graduating from the police academy with honors.K9 officer Ribeiro and his dog, Ammo, were recognized for having completed the Boston Police Department's K9 handlers course. Ammo was said to be one of the best performing dogs out of a class of 16. Ribeiro placed a badge around Ammo's neck to welcome the department's newest K9 officer.
The chief's achievement award was given to Aikawa, legal assistant Sandra Mikutel and IT specialist Thomas Roy. Hart said Aikawa studied for and passed the bar exam while working his full-time shifts and that Aikawa's wife had a baby during that time.Some civilians were also recognized. The department awarded business owner Patrick Iarrobino with a civilian letter of recognition for his actions earlier this month when he came to the aid of a telephone line worker who collapsed from a heart attack while digging his truck out of the snow.
Janet Stone was also awarded a letter of recognition for her work to clean up the parking lots at the Londonderry Athletic Fields Association facilities.