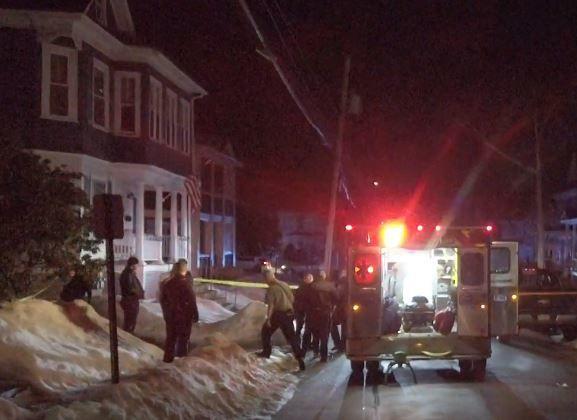 MANCHESTER — One man died from an apparent gunshot and another man suffered a stab wound early Thursday morning on Sagamore Street, authorities said.
According to police and the state Attorney General's office, police were called to 219 Sagamore St. about 3 a.m. for a report of a shooting and found a man suffering an apparent gunshot wound.
He later died, the Attorney General's office said. An autopsy will be performed by the state's Chief Medical Examiner Office.
The structure is a three-unit apartment building in a neighborhood of single and multi-family homes where neighbors look after one another and hold a neighborhood barbecue in the summer, said Sheila Lemos, a retired Manchester school teacher who lives next door.
She said her dog woke her in the morning.
"I heard two voices yelling. They weren't arguing. One said 'I've been stabbed help me. Hurry up, hurry up. I've been stabbed,'" Lemos said. The other was on his mobile phone calling for help, and within a few minutes the street was full of police and emergency vehicles.
She spoke late Thursday morning. A body still lay beneath a tarp, one arm sticking out of it, she said. She said emergency medical workers had been working on the body but to no avail.
Another man appeared to have been stabbed and was taken to a local hospital police said. Neither victim has been identified by authorities.
A man had recently moved into the first floor apartment at 219 Sagamore St., she said. He lived alone but had children visit him.
Late Thursday morning, police were using crime scene tape to restrict access to the street and sidewalk in front of 219 Sagamore St. Police said they have identified the people involved and there is no threat to the community. They continue to investigate along with the state Attorney General's office.
Officials ask anyone with information regarding the incident to call Manchester Det. Sgt. Christopher Biron at 792-5545.