MANCHESTER — Water was restored by late Wednesday night for the approximately 150  homes in east Manchester whose faucets had been dry since early that morning, Manchester Water Works said.
The rupture of a 1960s-era, 20-inch water main inundated several streets with shin-deep water, forced the closure of schools and at one point left about 1,000 homes without water.
Five city schools experienced drops in water pressure and closed for the day — Memorial High, Hallsville Elementary, Southside Middle School, Jewett Street School and the Manchester School of Technology.
Elliot Hospital experienced a severe drop in water pressure. It set up an incident command center but was back to normal by mid-morning.
By mid-afternoon, workers had removed a section of main with a longitudinal crack that had caused a torrent of water to rush out of the main, undermine streets and driveways and deposit silt and water on yards and streets.
The main was on a section of Mammoth Road between Candia and Cilley roads.
Johnson Street and Knowlton Street experienced the worst of the damage, with residents staring out windows to lawns and streets covered in silt or water.
Water Works Director Phil Croasdale said about 1,000 homes experienced a drop in pressure, which amounted to a loss of water service. Once crews started working to isolate the break, the pressure was restored.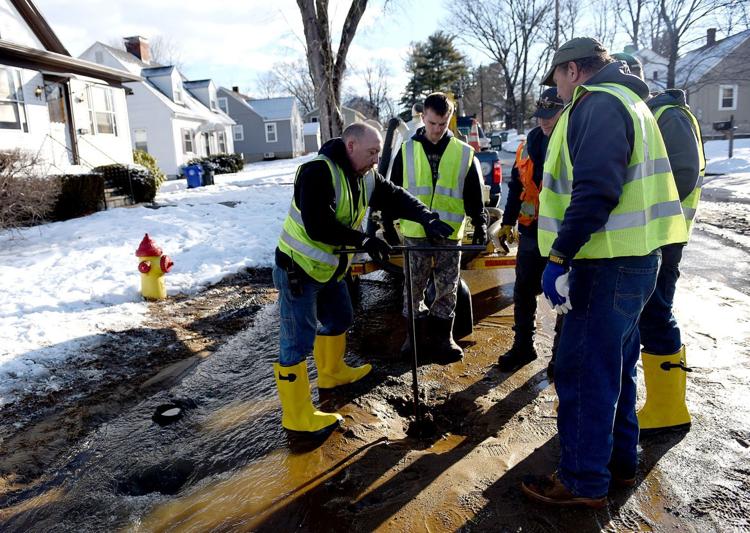 Croasdale said the break occurred where a 12-inch main joins a 20-inch main.
The work involves shutting off any water lines that feed into the break, then digging around the water main and either repairing or replacing it. Then fill has to be put in and eventually paved.
Mammoth Road has many utility lines running under it, including a sewer, another water main, gas and communications lines.
Croasdale has said the regional average for pipe breaks is 15 breaks for every 100 miles of pipes. Manchester, which has 500 miles of pipes, averages 30 to 40 a year, he said.
Damage was especially severe at the top of Johnson Street, where it meets Mammoth Road at a slight hill. Blacktop collapsed at the end of the driveway at the corner lot, and floodwater poured down a cavity as if it were a waterfall. The flow tossed aside granite curbing.
Johnson Street resident Melissa Mccaffery got up at 5:15 a.m. to walk her dog and turned around to see water about 3 inches deep streaming down the street, floating chunks of ice and snow with it.
"It looked like a scene out of 'Titanic,'" Mccaffery said.
By mid-morning, Croasdale estimated about 150 homes were still without water in an area bordered by Ellis Street, Norcross Street, Mammoth Road, Knowlton Street and Porter Street.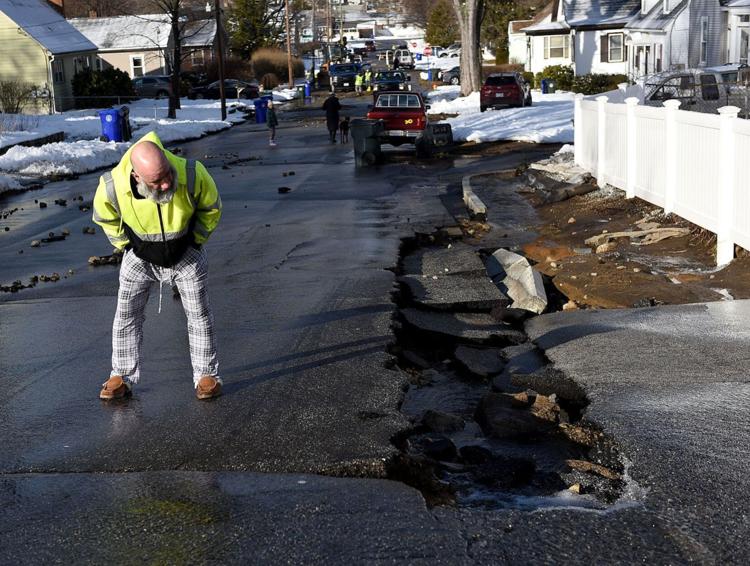 Police also closed off surrounding streets, which were covered with dirt washed away from the water main. At the break, Mammoth Road was buckled.
Homes in the immediate vicinity faced at least the day without water.
Lise Sutton said her duplex apartment on Knowlton Street had about an inch of water, but her landlord was draining it out. Her daughter owns a Jeep, which proved useful to get to work.
Sutton faced a day without water. "She (her daughter) has gallons of water in the refrigerator, and I've got iced tea," Sutton said
Rick White, who lives across the street from Mccaffery, said water was about 8 inches deep and was jumping the curb and flowing into his backyard in the morning. He got about an inch in his basement.
His neighbor called about 4:30 a.m. to alert him, and he went to another neighbor's house and pounded on the window to wake him.