RANDOLPH — Seven people were killed and three others seriously injured in a fiery crash on Route 2 involving several motorcycles and a pickup truck early Friday evening.
Marines were among the victims, members of the Marine Jarheads Motorcycle Club, according to friends.
A Cape Cod memorial foundation, Big Nick's Ride for the Fallen, has posted a message of support for their friends on social media: "Seven have died. More injured….We must pray deeply for them and their families….We will be there for them."
State police Capt. Chris Vetter confirmed the deaths late Friday and authorities are still investigating the crash on U.S. Route 2 near Lowe's Garage.
"I don't know that I've ever seen a crash with as much loss of life. It's a pretty significant accident, obviously," Vetter said.
Officials are holding a press briefing on the fatal crash at 4 p.m. Saturday at Coos County Superior Court in Lancaster.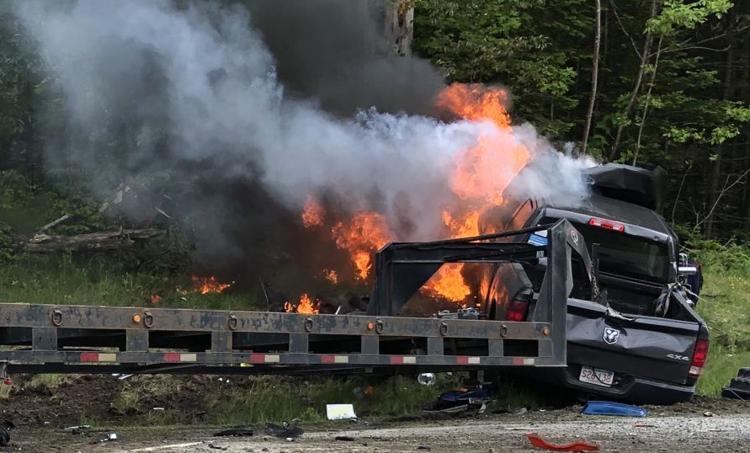 The deadly crash was reported at approximately 6:30 p.m. Friday. According to state police, a 2016 Dodge 2500 pickup truck was traveling west on Route 2 when it collided with several motorcycles heading east.
"Initial reports were that it involved a pickup truck and several motorcycles. Upon arrival we found that there were a large number of motorcycles that were involved in the accident as was the pickup truck. We were able to confirm that we have seven fatalities at this point," Vetter said.
Two others were also injured and transported to the Androscoggin Valley Hospital. Another was airlifted to Maine Medical Center.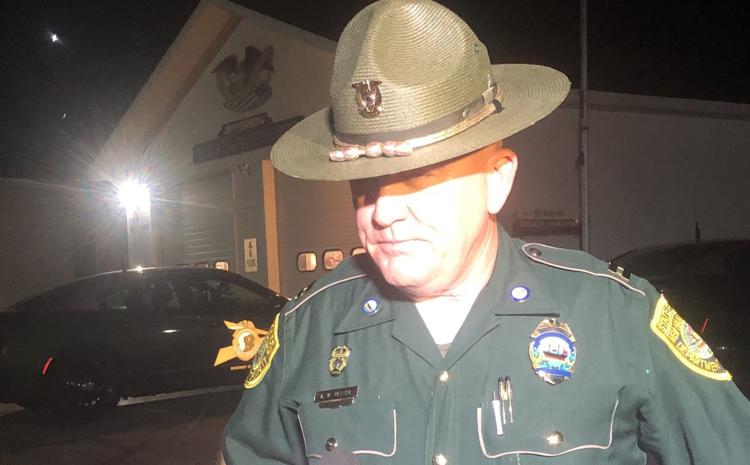 The cause of the crash remains under investigation. Vetter said State Police were working with local police and the Coos County Attorney's Office.
The Department of Transportation confirmed the road was reopened by 7:30 a.m. Saturday.
"There's quite a bit of work left to be done. Obviously at this point in time our concern is with the victims, the victims' families and anybody else who was adversely affected by this accident," Vetter said.
Miranda Thompson is vacationing in the area with her family and came upon the crash moments after it happened.
"All of a sudden we saw flames up the road a little bit and we saw debris," said Miranda Thompson of Manchester of the fatal Randolph crash.
As she got closer, the Manchester woman realized the seriousness of the crash. She said there were five to six motorcycles involved and it appeared that the pickup truck had struck a tree and was engulfed in flames.
"We wanted to see if everybody was OK. There was debris everywhere. I saw helmets on the ground. I saw a body on the ground. I saw people helping people, holding them down so they could put a tourniquet on them or holding them down so they couldn't move," she said.
Thompson said she saw others with less serious injuries sitting on the ground on their phones.
"It made you realize how fast your life can change in a second. It made me realize life is too short," she said.
The return of the annual Blessing of the Motorcycles to its former location Sunday after a four-year hiatus was supposed to be an especially happy occasion. Instead, organizers say it will be a more "somber" event after the horrific crash.
Laura Cardinal is vice president of Manchester Motorcycle Club, which is hosting the blessing this weekend in Columbia. "We are at a deep loss," she said Saturday. "It's just horrific."
She said her club will offer its full support to the families of the victims. "Whatever they need, we will be here," she said.
The loss is deeply felt by the biker community, especially because of their military service, Cardinal said. "They fought for our country. They protected us to ensure our freedom to be able to ride on two wheels," she said.
There will be a moment of silence during Sunday's blessing, which will be at 12:30 p.m. at 1993 US Route 3 in Columbia., the former site of the Shrine of Our Lady of Grace.
The event will be bittersweet, Cardinal said, with sorrow for those lost. "But I think that they'll be here, and they'll be watching us," she said.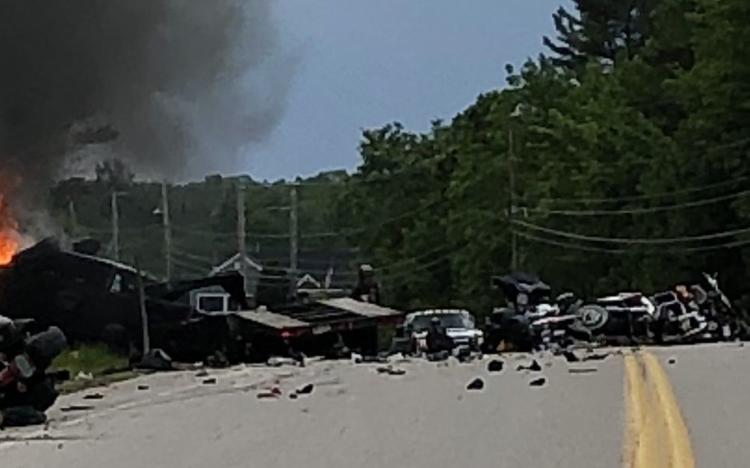 Gov. Chris Sununu said the state was offering resources to assist including the Attorney General's office, Department of Transportation and state police.
"Valerie & I are deeply saddened to hear of the tragic motor(cycle) accident that occurred in Randolph tonight. Our thoughts and prayers are with the victims, their families, & first responders who answered the call," Sununu said. "State officials are on the scene & assisting as the situation develops."
Route 2 is an essential route for residents and tourists to get east and west just north of the notches.
The National Transportation Safety Board confirmed Saturday mid-morning that it was sending a team to the motorcycle-truck crash near Randolph, NH, to conduct safety investigation.
"The team will coordinate with local authorities who are doing their own investigation," the NTSB said in a statement.