SARGENT'S PURCHASE — A New Jersey woman and a New Hampshire man died in separate hiking incidents over the past two days and an Ohio man, 80, narrowly escaped death after having been left behind by family.
On Friday, William Whittenaur, 69, of Lancaster died after suffering a medical emergency while hiking in the White Mountains.
Officials say Whittenaur was ascending the Blue Trail, which is part of a trail system that leads to Mount Cabot in Shelburne.
Whittenaur's friend performed CPR before making his way to a phone to make a 911 call.
Gorham Ambulance, Shelburne Volunteer Fire Fighters, and Fish and Game Conservation Officers responded to the emergency call. A litter, oxygen and an AED were relayed up to Whittenhaur's location as quick as possible. Despite all efforts Whittenhaur did not survive.
N.J. woman dies after attempt to summit Mount Washington
Sandra Lee, 63, of Mount Tabor, N.J. was hiking with two others while attempting to summit Mount Washington from the AMC Pinkham Notch Visitors Center on Route 16.
According to New Hampshire Fish and Game, a member of Lee's hiking party called 911 about 2:25 p.m. when they got above the junction of Lion Head and Tuckerman Ravine trails. They reported Lee was exhibiting signs of hypothermia and could no longer continue.
Conservation officers requested help from New Hampshire State Parks staff based at the summit, who could descend Tuckerman Trail and reach the hikers before responding conservation officers, Fish and Game said.
Park staff arrived with warm, dry clothing for all three hikers as the plan was to ascend to the summit, where at the time it was 12 degrees with a sustained 60 mph wind, rain and dense fog creating ice, they said.
Lee was alive, but no longer mobile. While one State Park rescuer stayed behind to care for her, the two family members were assisted to the summit.
Conservation officers arrived at the summit and hiked down to Lee and quickly carried her "piggy back" about 1,000 feet up the Tuckerman Trail to a junction with the Auto Road to an awaiting Gorham ambulance, Fish and Game said.
Lee was taken to Androscoggin Valley Hospital in Berlin where despite all efforts she died.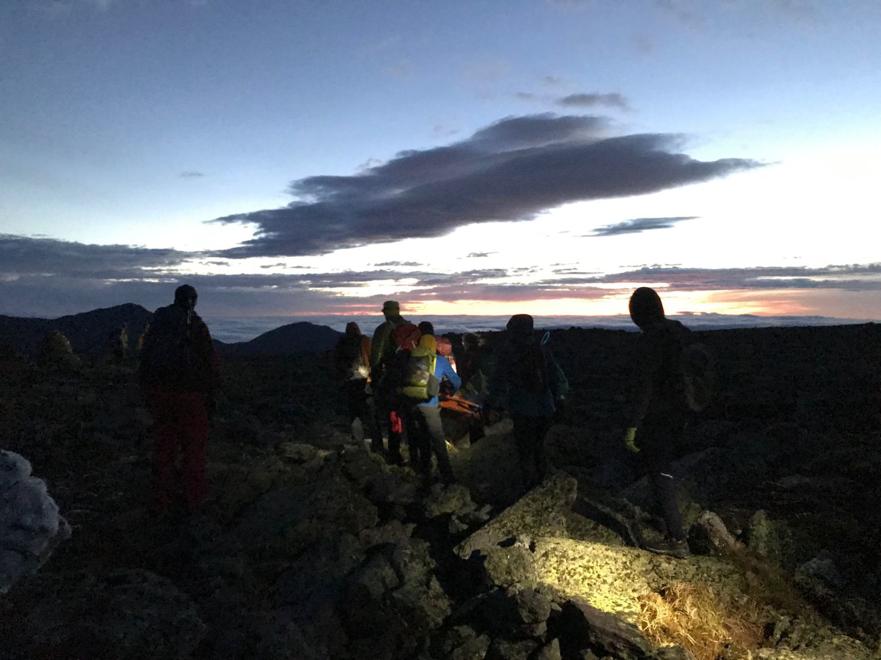 Ohio man, 80, left behind
It wasn't the only harrowing rescue Thursday evening atop the frozen Rock Pile. James Clark, 80, of Ohio had to be carried about 1.7 miles down Lion Head Trail after being left behind by family he was hiking with, who didn't realize he was in trouble until after they'd summited and descended a different trail to Pinkham Notch Visitors Center, according to Fish and Game.
Arriving about 7:45 p.m., they reported Clark was overdue, not prepared with overnight gear and did not have a cell phone or light.
Fish and Game conservation officers responded and requested assistance from the Appalachian Mountain Club in the rescue.
It was the second rescue in six hours on Mount Washington, and while Clark's health was unknown, rescuers knew he'd be facing even more dire weather than what had contributed to Lee's death just hours before, Fish and Game said.
AMC staff at Hermit Lake Shelters started up Lion Head Trail to locate Clark as conservation officers responded, driving up the Auto Road and then hiking down Tuckerman Ravine and Lion Head trails.
AMC rescuers located Clark on Lion Head Trail just above the Alpine Garden Trail junction. He was in a fetal position, not moving and exhibiting signs and symptoms of hypothermia and unable to speak any discernible words, Fish and Game said.
An AMC staff member and the two conservation officers who responded stripped Clark and bundled him up in dry clothes and put him in a sleeping bag to warm him, Fish and Game said.
"At this time it was decided that Clark had to be carried out in a litter as his condition and distance from a trailhead or road crossing was too far to 'piggy back,'" they said.
As rescuers kept Clark warm and alive, a corps of volunteers were informed help was needed to save a life.
AMC staff, Androscoggin Valley Search and Rescue Team members, and more conservation officers responded and carried in a litter with all the necessary gear to Clark's location on Lion Head Trail, Fish and Game said. They reached Clark at about 1:15 a.m. and he was carried across Alpine Garden about 1:30 a.m..
Clark was carried about 1.7 miles to the Auto Road, reaching an awaiting Gorham ambulance about 5 a.m.. He was taken to Androscoggin Valley Hospital for treatment of non-life threatening injuries.
Mount Washington is one of the nation's most perilous hikes, with nearly 150 people killed on the mountain since 1849. That's nearly half the death toll on Mount Everest where the tally is an estimated 308.