MANCHESTER — New Hampshire National Guard troops were en route to Manchester on Tuesday morning and one store owner on South Willow Street was boarding his glass entrance as the state's largest city prepared for potentially violent protests in the aftermath of the police killing of George Floyd.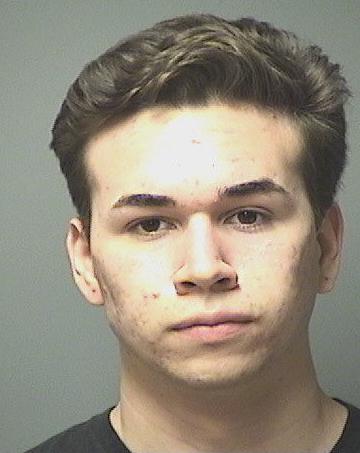 Meanwhile, Manchester police arrested Lakes Region resident Daniel Zeron, 19, early Tuesday morning and charged him with criminal threatening. Police allege he was behind social media posts calling for New Hampshire protesters to "take example from riots in other cities" on Tuesday night in Manchester, encouraging graffiti and predicting that police cars would be damaged on Tuesday night.
On Monday, protests were held for a sixth day across the U.S. — many marred by clashes with police — over the death of Floyd, an unarmed black man, by a police officer in Minneapolis last week. Protests in Dover and Hampton were peaceful.
In Manchester on Tuesday morning, a retailer at the South Willow Street shopping center specifically mentioned in the Facebook post, was having workers board up his glass entrance doors. Kirk Rawson, co-owner of the A Market health food store, said he has no idea why Manchester Commons was highlighted.
"It's all new. We don't have a lot of experience with what we're supposed to do if there's a riot," he said. Rawson said he acted after a customer told him about the Facebook post and an employee heard about the National Guard activation.
One hundred twenty-five guardsmen were en route to the National Guard armory in Manchester on Tuesday, said Lt. Col. Gregory Heilshorn. He said they will be on standby in the event that Manchester police and New Hampshire State Police need assistance for the planned protests.
"There's a very good chance it will be a peaceful demonstration like what occurred in Hampton and Dover (Monday) night," Heilshorn said. The Guard was on standby for those Seacoast locations and was not needed, he said.
Guard officials were in discussion with New Hampshire Attorney General Gordon MacDonald about whether they will be armed, Heishorn said.
"Ultimately, the authority comes from the Attorney General's Office," he said.
While many cities and states, including neighboring Maine and Massachusetts, have experienced violence and destructive protests in light of the killing of Floyd in Minneapolis, New Hampshire has so far escaped destructive and violent protests.
Zeron, who lives in Ashland, was arrested early Tuesday morning, the results of an investigation involving Manchester police, the FBI, New Hampshire State Police and Ashland police, Manchester police said in a statement.
He was charged with misdemeanor criminal threatening. A judge ordered him jailed until tomorrow and encouraged him to get a lawyer in order to make a case for bail.
On Monday, authorities expressed alarm over the social media "New Hampshire Protests" posts. The post included an image of a police cruiser on fire and it railed against police  brutality. 
"We will then march all throughout Willow Street and let our voices be heard," the post read. "Police cars will be tipped. Graffiti is welcome. Bring masks. Take examples from riots in other cities."
In a statement on Tuesday, Police Chief Carlo Capano said he will not tolerate any suggested riots or acts of violence.
"The men and women of the Manchester Police Department work tirelessly to keep our community safe, and the actions of Daniel Zeron undermine our efforts and leave our citizens in a state of uneasiness," Capano said. "We will work with our prosecutors to make sure Zeron is held accountable for his actions and we will push for the strongest penalties allowed by law."
Police although Zeron tried to keep his identity secret, Manchester police obtained an IP address and email through emergency request for records from Facebook, according to papers police filed in connection with his arrest. Police used a similar emergency disclosure request from the local cable company to track him to his physical location in Ashland. 
their investigative techniques traced the post to a home in Asland, and further investigation determined that Zeron wrote the post. It has been removed, but police continue to monitor social media, they said in the statement.
Heilshorn said the guardsmen are military police and security forces trained in civil disturbance and were briefed by military lawyers about their limitations. They will be called on if needed to protect life, property and the rights of people to peacefully demonstrate, he said.
They will clad in helmets, shields, facemasks and protective clothing.
In a statement Mayor Joyce Craig said the post came from outside Manchester.
She mentioned the names of Floyd and lesser known victims of police violence -- Breonna Taylor in Louisville and Ahmaud Arbery, shot by the investigator for a south Georgia prosecutor.
 "We're working with our federal and state partners to ensure the safety of our community and the safety of those peacefully protesting," Craig said.
During a news conference Monday, Gov. Chris Sununu said that racism won't be tolerated in New Hampshire; he urged protesters to demonstrate peacefully.
The governor said state officials are aware of conversations on social media involving potential protests in Manchester and Nashua.
"We take it all very seriously," Sununu said. Authorities are not just focusing on Manchester and Nashua, but all potential hot spots, he said.
"As larger cities are reinforcing with personnel and response, these people are moving into small areas where they think police have less surveillance in the community," he said.
In a tweet, Capano said police must work with demonstrators to make sure they are heard. "It's our job as a city to balance the safety of everyone in our community and work together to achieve this. Violence and rioting are not the answer," he wrote.
At least 40 cities imposed curfews and National Guard members have been activated in at least 23 states and Washington, D.C.
On Sunday, what started out as a massive peaceful demonstration in Boston, with thousands marching from Roxbury to the Massachusetts State House to protest Floyd's death, took a turn for the worse at night when violence started to break out.
Boston police said seven police officers were hospitalized, 21 police cruisers were damaged and around 40 people were arrested by early Monday. Stores in downtown Boston were looted and broken into. A National Guard unit was called in to help quell the violence.
On Saturday, a peaceful protest was held in Manchester as hundreds marched along Elm Street to protest the deaths of people of color at the hands of police departments across the country. A police escort blocked traffic in one direction, allowing the crowd to safely march.
Manchester police arrested Scott Kimball, 43, and his son Mark, 19, on charges of felony criminal threatening and riot after one of them allegedly took out a gun during a conflict with Black Lives Matter protesters following Saturday's protest.
Union Leader reporter Paul Feely contributed to this article.