The New Hampshire Fish and Game Department plans to bill an 80-year-old Ohio man around $2,400 for his overnight rescue on Mount Washington in June.
James Clark says he'll happily pay that bill.
"I'm just grateful for everything everybody did, and I'm certainly willing to pay the expense," he told the Sunday News in a phone interview.
Clark and two of his grandsons, ages 14 and 19, had been looking forward to their Northeast hiking trip for months. Their plan was to hike the tallest peak in five states; they'd done the research, picked the best trails.
And they had already hiked the tallest mountains in New York and Vermont on the two previous days. But on June 13, an unplanned detour onto a steep, rocky trail up Mount Washington nearly proved catastrophic for the elder Clark.
Clark had told his grandsons to hike on ahead; they had done so on the previous day's hike up Mount Mansfield in Vermont. "Everybody does better when they hike at their own pace," he said. "If they were going to be with me, I would be trying to keep up with them."
The previous day's climb had been tough, he said, "the hardest one I've ever taken." And he still got to the summit only about 15 minutes behind his grandsons. "I had no reason to think I couldn't do the same thing the next day," he said.
Clark had taken a fall the previous day, hurting his wrist and tailbone, and another hiker who witnessed it had offered him some unsolicited advice that turned out to be prescient, he said.
"He said it's time for you to eat some humble pie," Clark said. "And he was right."
But, he added, "I wanted to go for the sake of the boys. … They'd been looking forward to it all year."
The trio had planned to take a different route to the summit of Mount Washington, the easier Tuckerman Ravine Trail. But someone at the visitors' center told them the trail was closed because of an avalanche and advised them to take the Lion Head Trail instead, Clark said. "So the trail we were told to take was way harder than what we had actually planned for," he said.
Clark is an experienced hiker. Last summer, he and his grandsons hiked five of the tallest peaks in the Smoky Mountains over the course of about 50 hours, he said.
"I've done a lot of hiking, hundreds of hikes, and I've never failed to complete a hike and never run into any real problems," he said.
But no one warned them what awaited them on Mount Washington, he said.
Not what they expected
"We were told there were a couple rock scrambles on the way up, but basically, it was a two-mile rock scramble, nonstop," he said.
Here's what outdoorproject.com says about the two routes: "While many beginners should have no problem on Tuckerman's Ravine Trail, the same cannot be said for Lion Head Trail. If you are attempting this trail, you should have previous experience scrambling, and you should be strong enough to pull yourself up several rock faces at the mid-way point of a steep hike."
Clark said he was doing fine for a while. Then, "All of a sudden, I just got weak as a baby," he said.
"Suddenly, I lost all strength," he said. "I couldn't even stand up to go to the bathroom. Once I stopped, I just had no strength left at all."
Doctors later diagnosed him with rhabdomyolysis, a dangerous condition that results from the breakdown of muscle fiber; it can lead to serious complications including kidney failure. The condition can be caused by over-exertion.
As he lay on the ground, weak and ill, Clark recalled, "I thought I was going to die."
"I knew that the boys would get help for me, but I didn't know when it would get there. And I thought: This is it."
He had a whistle and tried blowing it, but no one came. Then he said, "I started moaning real loud, hoping somebody would hear me."
And after more than two hours, someone did. A caretaker from one of the AMC huts, alerted by Clark's grandsons, had hiked down the trail to look for Clark. He found him and began ministering to him. "He was doing all the right stuff," he said.
All Clark knows is that the man's name was Sebastian. His last name is not included in the Fish and Game report on the incident. But Clark hopes he can someday find out who he is so he can thank him properly.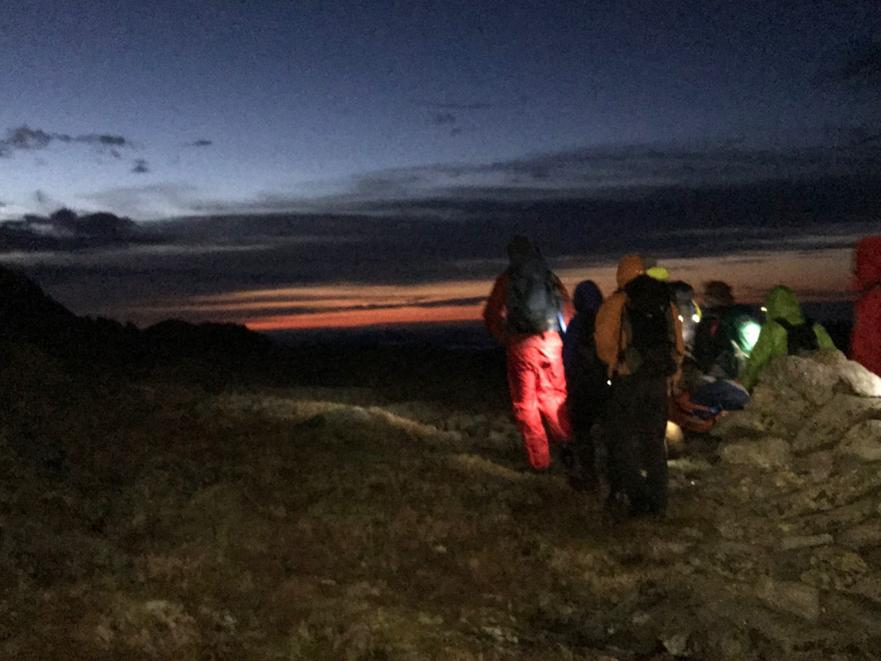 Sun rising as rescue ends
Fish and Game conservation officers got to Clark a half-hour later, around 10 p.m. In all, six officers and 13 volunteers from the Appalachian Mountain Club helped carry Clark off the mountain. The sun was rising as they got to the parking lot where an ambulance, and Clark's worried grandsons, were waiting.
Col. Kevin Jordan, chief of law enforcement for Fish and Game, said the trio made mistakes that day that could well have proven fatal. He noted Clark had fallen during his hike the day before.
"Yet he attempted to summit Mount Washington in poor conditions," he said. "If you're already injured, you don't want to go up the Northeast's highest peak."
Jordan said the temperature at the base that night was 40 degrees and it was windy, foggy and rainy at the summit. "It was very bad weather," he said.
And, he said, "None of them understood how difficult the trail was going to be."
Indeed, the very day Clark had to be rescued, a 63-year-old New Jersey woman suffered hypothermia while hiking the same trail and had to be carried out. She later died at a Berlin hospital.
Clark said his grandsons had come across the stricken woman as they hiked ahead, and it was they who reported her distress to a ranger at the summit.
His group's plan all along had been to meet at the bottom, Clark said. The boys had planned to hike down by the quickest route, while Clark had been told at the visitors' center that he could take the Cog Railway down or hitch a ride in someone's car. "If I couldn't get a ride, I would walk down the road," he said.
But Jordan said that was another mistake. The Lion Head Trail ends far from the Cog's departure point, and the last train would have left long before Clark would have arrived at the top.
Clark didn't have a headlamp and had no way to contact his hiking partners when he fell ill, Jordan said. "And his bailout plan was not even possible," he said.
"Like it or not, this is a young man's sport," Jordan said. "I've hiked them all when I worked up there, and it is not something that should be taken lightly. Even in good shape, it puts a huge load on your body."
Clark said he understands that now.
"The mistake I made is I shouldn't have gone, because I'm an old man," he said.
Charge linked to safety precautions
Jordan said Clark was "very apologetic" and grateful to his rescuers. But under state law, Fish and Game can charge hikers who don't take proper safety precautions.
"I have to look at it: What if it cost one of my guys his life? There has to be some accountability for that," Jordan said. "A preventable rescue should be just that: prevented," he said.
Jordan urged hikers to purchase a Hike Safe card from Fish and Game, which covers rescue costs if someone gets hurt or lost. Otherwise, if the person is determined to have acted negligently, Fish and Game can bill for the "reasonable" cost of the rescue.
On average, Fish and Game officers handle 180 to 200 rescue missions a year; over the past five years, they've only billed for about a dozen of those each year, Jordan said.
In Clark's case, he said, the costs included 52½ hours of overtime for the six Fish and Game officers, amounting to $2,178.30, and $261 for equipment (mileage), for a total bill of $2,439.30.
The agency has sent over its report and recommendation to the Attorney General's office, which has to approve it before the bill can be sent. Jordan said he expects "a quick decision."
Clark called the bill for his rescue "reasonable."
He doesn't feel he and the boys were unprepared for their hike that day. He was wearing five layers of clothing and never felt cold during his ordeal.
Still, he said, "The very fact of needing a rescue means somebody was at fault. And it was me."
"I should not have done so much in so short a time at my age," he said. "I should have known better."
Clark said he knows the outcome could have been much worse; the medical condition he developed must be treated immediately. "I feel very fortunate to be alive, no question," he said.
"If you talk to anybody, just tell them thank you," Clark said. "I just appreciate how nice everybody was.
"A bunch of the nicest people you'd ever want to run across."