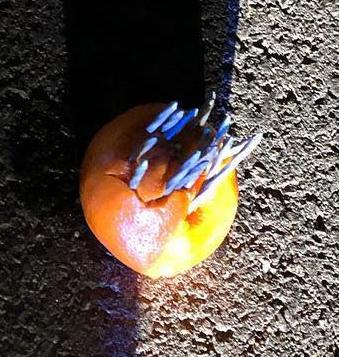 PELHAM — Police are investigating homemade spike strips set at a section of Nashua Road.
One local resident is confirmed to have suffered a flat tire due to the hazard, but police say the prankster is lucky someone wasn't injured.
In the early hours of Monday morning, Pelham police posted pictures of nail-studded oranges and strips of cardboard on their Facebook page.
"Someone must have thought it would be funny to stick nails in various objects and leave them in the middle of Nashua Road," the post says. "We are not amused."
Sgt. Glen Chase said the issue was brought to the attention of police after a resident suffered a flat tire shortly before 1 a.m. Monday on the west end of the road.
"Though it might be perceived as a prank — and we think it may have been somebody youthful in age who may have done it — it could have been catastrophic," Chase said.
It could have affected morning commuters and school buses if police hadn't caught it when they did, he said.
"It could have been a lot worse than one flat tire," Chase said.
Police are asking the public's help to identify those responsible. Anyone with information can call Pelham police at 635-2411.