Ice fisherman Scott Leslie froze in his tracks when he saw his bobhouse sinking last weekend on Burns Pond in Whitefield.
"We usually have about three feet of ice out there this time of year," said Leslie, who has been ice fishing on the large pond in Coos County for nearly 20 years and can't recall the ice being so thin.
The ice was only about 6 inches thick, and there were pockets of water between the ice layers.
With New Hampshire and much of the region experiencing a warmer than normal winter, authorities are warning of poor ice conditions on many ponds and lakes around the state.
"We really haven't had that cold weather like we usually get at the end of December and January where we get that shock of negative temperatures and that really sets it up, especially when there's no wind," New Hampshire Fish and Game Capt. Michael Eastman said.
So far this month, cities like Manchester and Concord have recorded only two days with below-average temperatures.
As of Sunday, January has been 8 degrees above average in Concord.
"That's pretty significant," said Maura Casey, a meteorologist with the National Weather Service in Gray, Maine.
The coves and bays around Lake Winnipesaukee just began to freeze Sunday and Monday, but The Broads — the widest expanse of the lake — are still wide open, said Dave Emerson of Emerson Aviation, based at Laconia Municipal Airport.
Ice-in usually occurs by the third week in January.
"We had a relatively warm December and the beginning of this year so it's been tough for it to do any freezing," said Emerson, who assesses the area to determine ice conditions each winter.
The last time ice-in wasn't declared on Lake Winnipesaukee was in 2001.
"Twenty years later it may be a repeat of that," Emerson said.
While a cold snap is expected to bring sub-freezing weather through this weekend, the Climate Prediction Center is calling for a good chance of above-normal temperatures for at least the next two weeks.
That's worrisome for local authorities.
"Some of the smaller ponds that have been frozen since the middle of December — those ponds that are kind of out of the sun and maybe in a ravine in the mountains — they probably have some pretty good ice on them, but certainly the areas where we got all that snowmelt and rain around Christmas with some of that warmer weather it's very, very sketchy," Eastman said.
Leslie knows all too well the dangers of thin ice after he fell through while trying to save his sinking bobhouse on Burns Pond.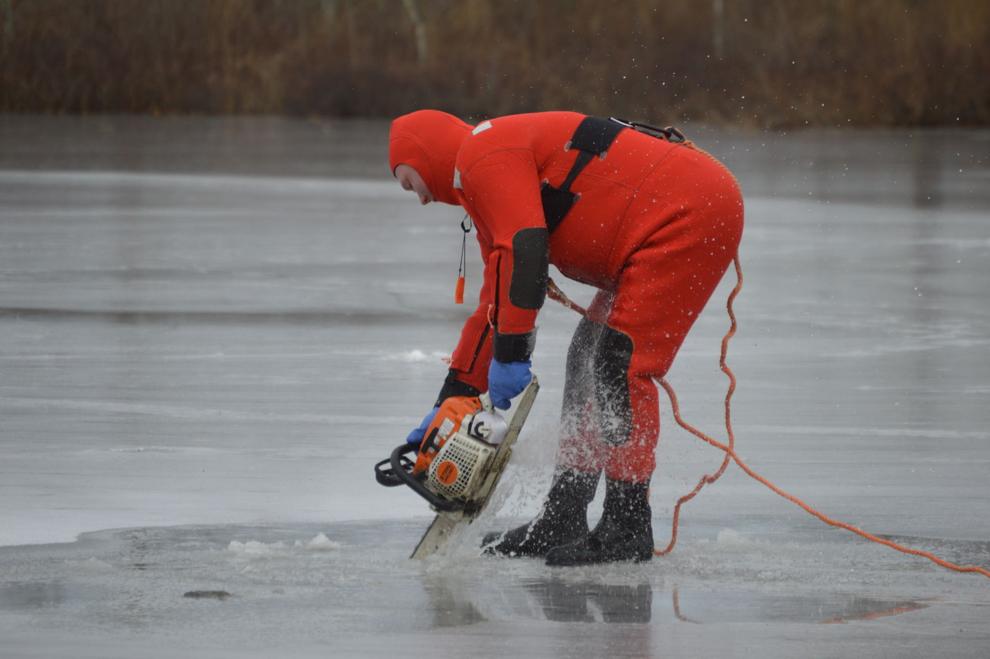 "My buddy pulled me out," he said. "It was scary."
Canaan police officer Matthew Bunten also had a scare last month while on patrol.
He was checking the lock on a beach house on Dec. 30 when he saw two women skating on Canaan Street Lake. After the check, he noticed the skaters were gone.
"I scanned over and saw there was some open water about halfway out across the lake and realized they had both gone in," he recalled.
The women were about 100 yards out on the ice. Bunten said they were likely in the water for only seconds when he discovered they had fallen through and called for fire and rescue personnel, who were able to pull them to safety.
The women, who were in the water for about 30 minutes, were taken to a local hospital for treatment of hypothermia.
"Everything turned out OK. That's the biggest thing. They're both safe and able to recount their own experiences. That's what matters most," Bunten said.
According to Fish and Game guidance, 4 to 6 inches of solid blue-black ice can support a few people who are well spread out, while 8 to 10 inches can support off-highway recreational vehicles.
But Eastman urged people to always use caution when heading out onto the ice, even during cold snaps.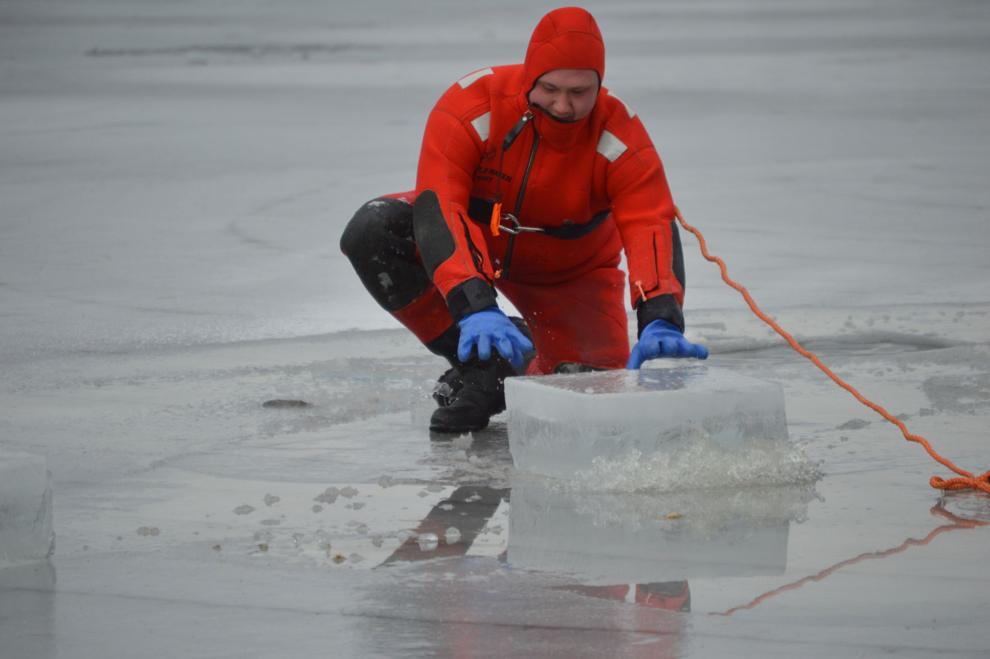 Kingston firefighter/EMT Cory Thomas suited up in his cold water gear Tuesday to get a sense of conditions on Great Pond. He used a chainsaw to remove a chunk of ice that was about 10 inches thick, but the pond was only partially frozen.
Kingston Fire Chief Graham Pellerin warned that ice can be deceiving.
"It could be 8 inches thick there, but 10 feet away it could be 4 inches thick. No matter what you're doing, whether it's ice fishing, ice skating, snowmobiling, you just have to use caution and don't go out alone," he said.