LANCASTER — State, county and local officials said the horrific crash on Route 2 in Randolph Friday evening that killed seven motorcyclists and injured three others was an unprecedented tragedy.
"Make no mistake about it. This was one of the worst tragedies we have ever dealt with in our state," State Police Col. Christopher Wagner said on Saturday. "This was a mass casualty event."
Volodoymyr Zhukovskyy, 23, of West Springfield, Mass. was identified as the driver of the 2016 black Dodge 2500 pickup truck whose flatbed trailer slammed into 10 motorcycles at 6:30 p.m. near Lowe's Garage and Cabins in Randolph.
"At this stage we have no arrests but I will pursue every lead and avenue available and in that regard I am asking for the public's assistance in this matter," said Coos County Attorney John McCormick.
He said anyone who had taken videos or photographs of the black truck "prior to the collision" should contact state police.
Deputy Attorney General Jane Young confirmed many of the victims were Marine members of the Jarheads Motorcycle Club on Cape Cod who were up in the North Country for a reunion.
Some but not all of the next of kin have been identified, she said.
"We are not releasing any of the names of the victims today. We will likely, and I emphasize likely, release them tomorrow," Young said.
Two of the injured were treated and released from Androscoggin Valley Regional Hospital in Berlin. The third victim is recovering in Maine Medical Center, officials said.
Gov. Chris Sununu hoped the media would show respect for the families of these victims.
"Use compassion and restraint going forward. Please use restraint with the victims and survivors; they truly deserve privacy," Sununu said.
He praised the teamwork of all first responders.
"Everyone came together with combined resources to take care of the victims and stabilize an incredibly stressful situation," Sununu said.
The National Transportation Safety Board confirmed it is sending a team that will spend about five days investigating the crash.
"We need to not only understand what happened but also why," said Investigator Kenneth Bragg.
Officials said Zhukovskyy was driving the truck with an empty trailer that towed cars for Westfield Transport Inc. of West Springfield, Mass.
A man who answered the phone at the business Saturday evening said he can't talk about the crash.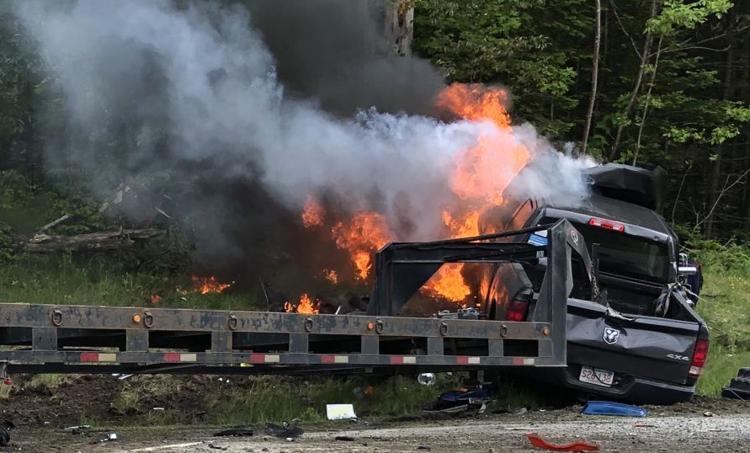 "It's too hard. I can't talk," he said. "I'm sorry. It's too much. It's a nightmare." Then he hung up.
State police immediately closed a section of Route 2 for 12 hours while they processed the scene. Route 2 is an essential route for residents and tourists to get east and west just north of the notches.
Kevin Rousseau, a volunteer Randolph firefighter and a part-time police officer, said "it looked like a bomb had gone off" on Route 2, describing an "extensive debris field."
Travis Hood, a carpenter from Berlin, was three cars behind the truck heading toward a campground off Route 2 when he saw the accident unfold in front of him.
"The truck went over the yellow line and then was yanked back pretty quick and just mowed down the motorcycles," Hood said.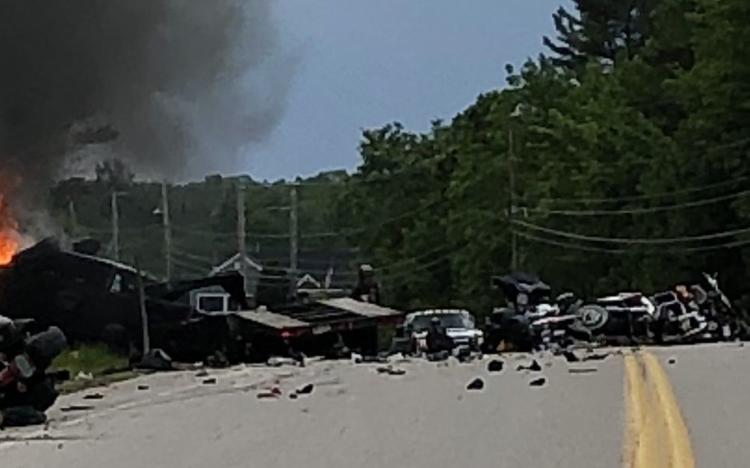 He jumped out of his truck and ran to the scene and came upon a man with a severely injured leg.
"He was losing a lot of blood and I knew we had to get a tourniquet on him or he'd bleed out. So I got a belt and then he had a knife so I was able to make a hole in the belt so we could pull it real tight," Hood said.
"I told him this was going to hurt a real lot and he screamed when I did it but it had to be done."
Hood went to several other accident victims checking for survivors. He gave CPR for "what felt like five minutes" to another surviving victim.
"Even though I knew from the shape of these folks they were deceased, I still had to get a pulse, you know," Hood said.
Then another good Samaritan came up, saying she was a doctor, and Hood went back to the man with the leg injury.
"He was looking pale while waiting for the first responders to arrive and he'd clearly lost a lot of blood. I squeezed his hand so hard and said, "Just hang on bro, you're a strong guy, you'll get through this," Hood said.
"I could feel some of his strength giving way but stayed with him until we loaded him in the ambulance," Hood said.
He credited his girlfriend, Khloe Lamontagne, who had just graduated as a veterinary assistant, with helping assist and keeping him calm administering first aid.

Since the crash, Hood said the wives of some of the victims called and thanked him for his bravery.
"I don't know where they got my number but there they were on the line thanking me for just doing the best I could. It's all so hard to get your head around, you know," Hood said.
Miranda Thompson of Manchester was vacationing in the area with her family and came upon the crash moments after it happened.
"All of a sudden we saw flames up the road a little bit and we saw debris," Thompson said.
Victims were members of the Jarheads Motorcycle Club, a club for Marines and FMF (Fleet Marine Force) Navy Corpsmen.
As she got closer, the Manchester woman realized the seriousness of the crash. She saw five to six motorcycles and it appeared that the pickup truck had struck a tree and was engulfed in flames.
"We wanted to see if everybody was OK. There was debris everywhere. I saw helmets on the ground. I saw a body on the ground. I saw people helping people, holding them down so they could put a tourniquet on them or holding them down so they couldn't move," she said.
Thompson said she saw others with less serious injuries sitting on the ground on their phones.
"It made you realize how fast your life can change in a second. It made me realize life is too short," she said.