Only about one-quarter of New Hampshire drivers have licenses that comply with the federal government's REAL ID requirements.
And that could mean that a year from now, many Granite Staters may not be able to get on an airplane.
Effective Oct. 1, 2020, travelers age 18 and older will need a REAL ID driver's license or a passport to board an airplane for domestic flights. As of the end of September, just over 296,000 state residents have REAL ID-compliant identification documents, according to Elizabeth Bielecki, director of the state Division of Motor Vehicles.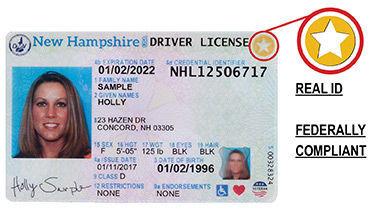 Bielecki recently attended a conference with other New England DMV officials at which all shared a common concern about low participation rates. In New Hampshire, she said, "Our concern is really to ensure that everybody understands that they have a choice to opt in to REAL ID, and that they make the choice carefully."
Congress passed the REAL ID Act in 2005 in response to a recommendation by the 9/11 Commission that the federal government set minimum security standards for the issuance of identification sources such as driver's licenses. For years, REAL ID was a contentious issue in New Hampshire, with some lawmakers raising privacy concerns about joining a federal database.
In the end, the Legislature did not make REAL ID mandatory here. Instead, drivers can choose whether to obtain a compliant license, which involves producing additional documentation of your identity and residence, or stick with the old type of license. But the federal travel rules will still apply if you opt out of the system.
Lisa Farbstein, spokesman for the Transportation Security Administration, said the REAL ID law "establishes minimum security standards for state-issued licenses."
"The whole idea is to make sure that when I get my driver's license, it is really me," she said. "It's not somebody pretending to be me."
Not sure if you have a compliant license? Check the upper right corner; if it has a gold star, you're all set.
Supporting documents
If you want to get a REAL ID-compliant license or ID card, you'll have to bring several documents to the DMV, Bielecki said. That includes two documents that prove your identity (such as a passport, birth certificate or unexpired driver's license); proof of residency (a property tax bill, vehicle registration or utility bill); and a document displaying your Social Security Number (your SSN card, paycheck stub or 1099 tax document).
It gets a little more complicated if you've changed your name due to marriage, divorce or adoption, Bielicki said. If your forms of ID do not match the name on your Social Security card, you'll need to bring paperwork documenting the changes, she said.
If they choose not to opt in, Bielicki said, travelers will need another form of documentation to board a plane or visit secure federal facilities. Other compliant forms of ID include passports, passport cards, military IDs, permanent resident cards and Department of Homeland Security trusted traveler cards (Global Entry, NEXUS, SENTRI or FAST).
Before heading to the DMV, the TSA's Farbstein said, "Make sure you bring all the documents you need so you don't have to go back."
When she went to get her own REAL ID license, she forgot to bring something to prove her residency.
"I had to go home and look for my utility bill," she said. "If it happened to me, I know it's happening to other people."
Fast forward to October 2020 and imagine you're on your way to Disney World with your family, Farbstein said. You get to the airport security screening and the TSA agent informs you that your license is not REAL ID compliant.
"Now you're between a rock and a hard place," Farbstein said. "You cannot talk your way out of that."
"You don't want to be that guy, standing there, embarrassed. And you can't really fix it in two hours to catch your flight."
Wise to obtain ID early
Farbstein said some people might say they never fly, so they don't need to worry about a compliant ID. But she asked, "What happens if there's a death in the family and you need to get to a funeral?"
You could also get invited to a wedding, or a far-away job interview.
"You just don't know when you might need it," she said.
Since New Hampshire has a five-year license renewal cycle, some drivers may not be aware of the looming deadline, Bielecki said. "If people are waiting for that renewal, and if that renewal is after Oct. 1, they might find themselves in a bind," she said.
Officials are warning that DMV lines are only going to get longer as next year's deadline looms.
"Don't wait. Come in early," Bielecki said. "You can opt in at any time. You don't have to wait for your renewal."
If you're not up for renewal, it will only cost you $3 for a replacement license, Bielecki said. But if you are, the license renewal fee increases by $10 effective Jan. 1, 2020, as a result of REAL ID, she said, so that's another incentive to get it done this year.
DMV offices in Concord, Dover, Manchester, Nashua, Newport and Twin Mountain are now open on the second Saturday of each month from 8 a.m. to noon to accommodate drivers switching to REAL ID. There are posters at bus stations and signs at the Manchester airport warning about the coming change.
Bielecki said the DMV has seen an increase in the percentage of people coming in to renew their licenses who are choosing to opt in to REAL ID.
"But we're running out of time to be able to catch up with everyone," she said.
She expects some folks will still be surprised next fall.
"I think it's inevitable," she said. "Because, unfortunately, we tend not to pay attention until we have to."