CONCORD — A large crowd turned out Monday night for the official dedication of a memorial honoring the 10 New Hampshire State Police officers killed in the line of duty.
For retired Maj. Ernest Loomis, the New Hampshire Fallen Troopers Memorial had special significance since one of the fallen was his brother-in-law, Richard Champy, who died in 1978, while Loomis was in command of that unit.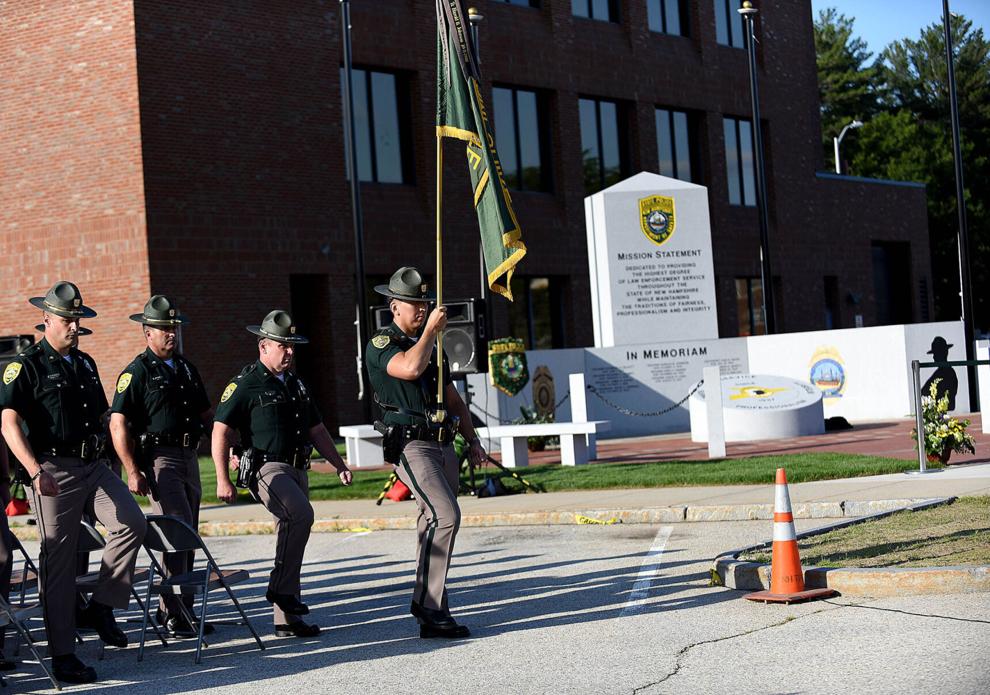 "This is not only professional to me, it's personal to me," said a sobbing Loomis, one of three speakers who gave remarks at the ceremony.
The tall granite memorial includes a tablet with the names of the fallen troopers, a series of four stone benches that mark the perimeter of the monument, and four tall flagpoles that line up behind it.
"It will be a place where we can remember just how fragile life can be, what sacrifice really means, and how fortunate we are to be here today," said Safety Commissioner Robert Quinn.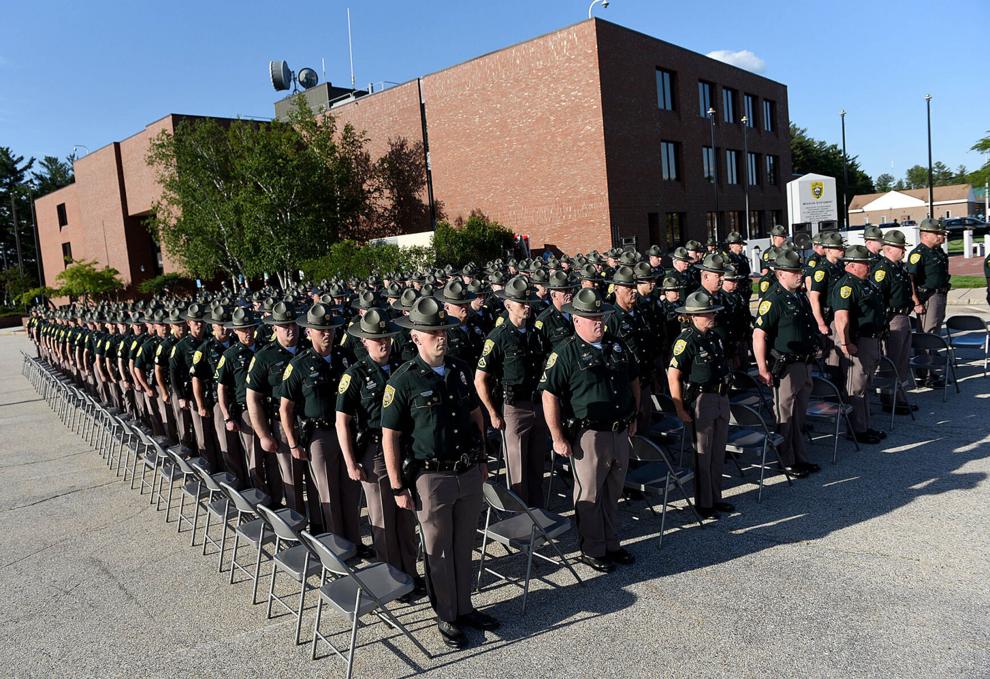 The project was three years in the making; the COVID-19 pandemic delayed its completion.
The memorial is in the front of the entrance to the Department of Safety at 33 Hazen Dr. in Concord.
"Paying the debt of their sacrifice is impossible, but we have to try," said Sgt. Frank Campo, representing the New Hampshire Troopers Association.
The ceremony included performances by the New Hampshire Police Association Pipes and Drums, the New Hampshire State Police Drill Team and a helicopter flyover by the State Police Aviation Unit.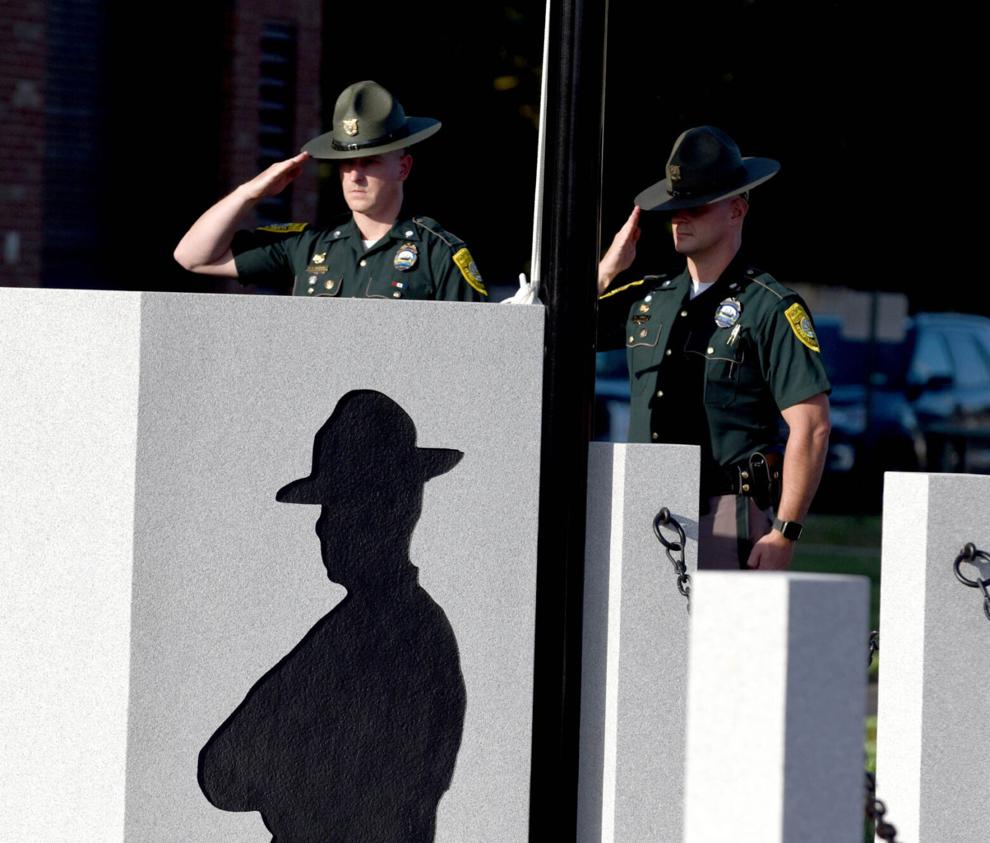 The Legislature in 2018 created a committee to design and raise money for the memorial.
The organizers thanked 17 different sponsors that provided significant financial support to the program.
The current state police director, Col. Nathan Noyes, credited retired Lt. Brian Strong for leading the campaign. Strong served as master of ceremonies for the event.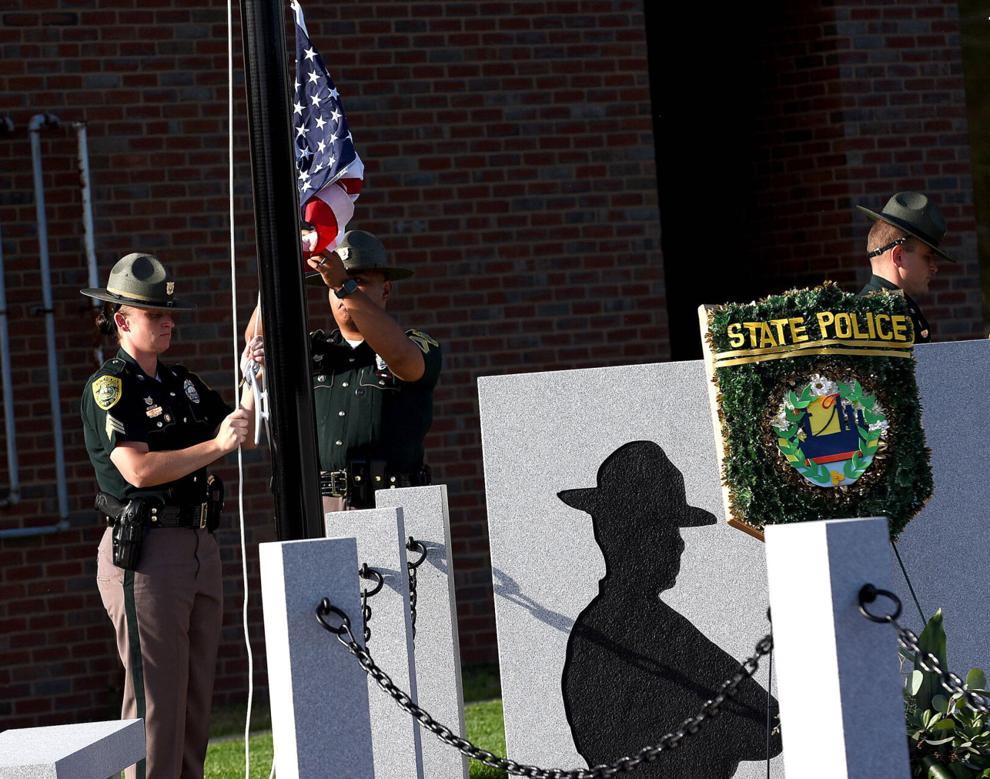 The roll call of the fallen
Noyes said all 10 troopers honored by the memorial were not only outstanding law enforcement officers, but also played important roles in their hometowns.
"They were teachers, mentors, coaches, friends and partners," Noyes said. "Today they are honored and remembered in their communities."
These are the 10 fallen troopers, the date of their passing and description of the incident that led to their deaths.
• Jesse E. Sherrill: Oct. 28, 2021. A staff sergeant and resident of Barrington, Sherrill, 44, died while working on a construction detail along Interstate 95. He was survived by his wife, Nicole, and children Peyton and Quinn.
• Scott Phillips: Aug. 19, 1997. A trooper since 1990, Phillips, 32, was shot and killed after stopping a motorist in Colebrook. He was survived by wife Christine, and children, Keenan and Clancy.
• Leslie G. Lord: Aug. 19, 1997. Shot and killed after coming to assist Trooper Scott Phillips after a motor vehicle stop in Colebrook. A former police chief, Lord, 45, was survived by his wife, Beverly, and two sons, Shawn and Corey.
• James S. Noyes: Oct. 3, 1994. Sgt. Noyes, died by gunfire after responding to a SWAT call to confront a despondent man in Gilford. He was posthumously awarded the Medal of Valor in 1995. He was survived by his wife, Debra, and three children, Nathan, Daniel and Brianna. Col. Nathan Noyes is director of the State Police.
• Joseph F. Gearty and Gary P. Parker: Nov. 30, 1989. Both troopers were killed after being involved in a cruiser crash with a lumber truck on Route 25 near the Wentworth-Warren town line.
Gearty, 28, was survived by his wife, Debbie, and son, Matthew.
Parker, 32, was survived by his wife, Amy, and son, Gregory.
• Richard Champy: Feb. 3, 1978. Champy, 34, suffered a heart attack while trying to arrest someone whose car struck another car and fled the scene. He was survived by his wife, Joyce, and two daughters, Deborah and Megan
• Ivan Hayes: July 8, 1959. Lt. Hayes suffered a heart attack after going out on his night off to pursue a drunk driver who nearly killed a young girl walking on the road in Center Strafford. Hayes, 52, left behind his father, Henry, his sister, Irene, and two children, Winthrop and Gwen.
• Harold B. Johnson: Oct. 11, 1948. Trooper Johnson was returning from a court hearing in Groveton when his cruiser collided with a Boston & Maine train at a crossing. Both Johnson, 60, and Lancaster Police Chief Andrew Malloy were killed instantly. Johnson at the time had been the longest-serving trooper on the force. He left behind wife, Mae, and three children, Stanley, Jean and Joy.
• Raymond A. Elliott. June 1, 1947. Elliott was on the force for 11 months when a car struck his cruiser on Route 16. Elliott, 26, was survived by his parents and son, Wayne.