CONCORD — Governor Chris Sununu announced Tuesday he will nominate Capt. Nathan A. Noyes of New Boston to serve as the next colonel of the New Hampshire State Police.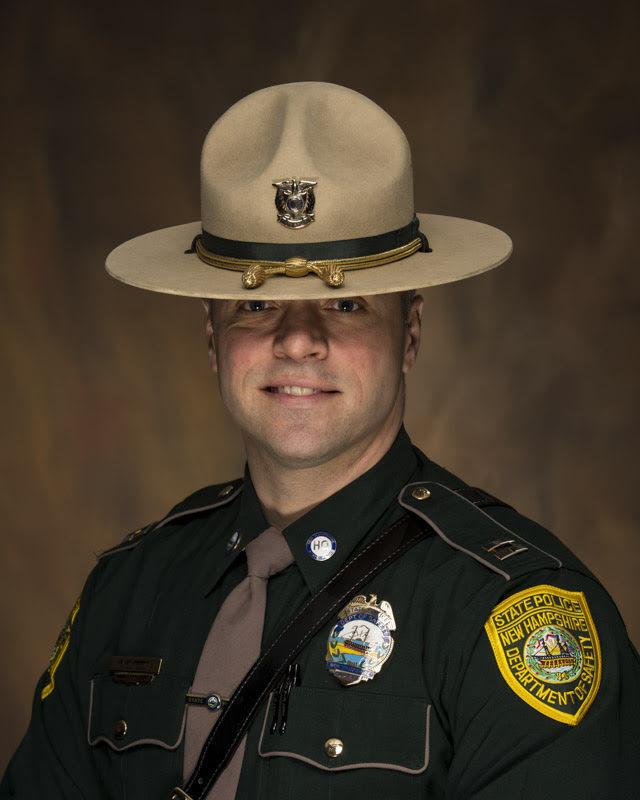 Sununu is expected to nominate Noyes at Wednesday's Executive Council meeting, which will be conducted remotely in response to COVID-19 concerns. A confirmation vote will likely take place at the April 8 Executive Council meeting, state officials said.
Noyes succeeds former Col. Chris Wagner, who retired March 2 after a little more than three years in the position and nearly 25 years in law enforcement.
Capt. Noyes currently serves as commander of the Field Operations Bureau for Field Area III. He has served as a New Hampshire state trooper since 2001, and previously held the ranks of troop commander, assistant troop commander, patrol supervisor, and trooper.
His father, New Hampshire Police Sgt. James Noyes, was killed in the line of duty in Gilford in 1994 when Noyes was 16.
Noyes has received several honors, including the Congressional Law Enforcement Award.
"Capt. Noyes carries with him nearly two decades of experience serving the Granite State — both on the front lines as a New Hampshire State Trooper and within several leadership roles," said Sununu in a statement. "I am confident that Capt. Noyes will serve the Granite State well as the next colonel of the New Hampshire State Police, and I look forward to working with him to ensure that New Hampshire remains one of the safest states in the nation."
"Nathan Noyes is qualified by reason of his experience serving in many different ranks and assignments within the Division of State Police," said New Hampshire Department of Safety Commissioner Robert Quinn in a statement.
"I would like to thank Governor Sununu and Commissioner Quinn for their confidence in my abilities to be considered for colonel of the New Hampshire State Police," said Capt. Noyes in a statement. "The New Hampshire State Police has a highly regarded reputation within our communities and across our nation. We are respected because of our storied traditions, our organizational values, and our commitment to public service without compromise. This sense of selfless service embodies the core beliefs of our civilian and sworn personnel that represent the Department of Safety and our State Police."
"It is with the utmost sense of honor, pride and integrity that I will serve our state, our communities, and my beloved fellow state troopers," added Noyes.
Those interested in listening remotely to the March 25 Executive Council meeting can contact brandon.pratt@nh.gov for call-in information.