CONCORD — The New Hampshire Attorney General's office has identified the seven people killed Friday evening in a collision between a truck and a group of people on motorcycles.
Four of the victims are from New Hampshire, two from Massachusetts, and one from Rhode Island.
All seven died as a result of blunt trauma in the crash on Route 2 in Randolph, Deputy Attorney Jane Young said at a news conference in Concord on Sunday afternoon.
The victims were identified as:
Michael Ferazzi, 62, of Contoocook
Albert Mazza, 59, of Lee
Daniel Pereira, 58, of Riverside, R.I.

Jo-Ann

 and Edward Corr, both 58, of Lakeville, Mass.
Desma Oakes, 42, of Concord
Aaron Perry, 45, of Farmington
Young said these are "very dark hours" for the victims' families.
"I don't think any of us can understand how these families are doing," said Young. "I don't think that the word devastation can begin to describe the pain and the anguish."
Young said all five men killed in the crash were members of the Jarheads Motorcycle Club, a club for Marines and Fleet Marine Force Navy Corpsmen. Oakes and Jo-ann Corr were "supporters" of the club, Young said.
According to Young, Jo-ann Corr was riding as a passenger on Edward Corr's motorcycle at the time of the crash, while Desma Oakes was a passenger on Aaron Perry's motorcycle.
Joshua Morin, 45, of Dalton, Mass., remains in stable condition at Maine Medical Center. Steven Lewis, 58, of Brimfield, Mass., was treated and released from an area hospital, Young said.
Volodoymyr Zhukovskyy, 23, an employee of Westfield Transport, a company in Springfield, Mass., has been identified as the driver of the pickup truck that struck the motorcyclists. Zhukovskyy was alone in the truck at the time of the crash, officials said. The National Transportation Safety Board and state and local police are investigating.
Young said Sunday she was unable to provide an update on the investigation, or if Zhukovskyy could face charges.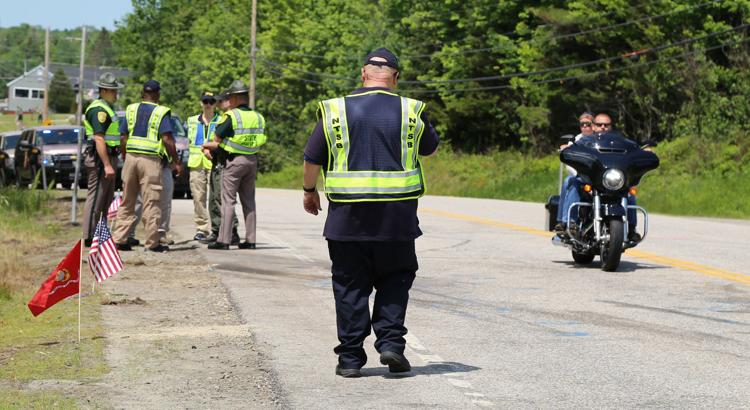 "All I can tell you is it's active and ongoing," said Young. "There are dozens of agents and officers up in the area working every aspect of this case. State police, local and federal authorities have been at this scene since the time of the accident Friday evening. They have worked through both nights and will continue to work through the hours and days to come."
According to a GoFundMe page set up for the victims, the group was on its way to an American Legion charity event in Gorham.
"Our club and the families are going to need help and we cannot do it alone," a posting at the GoFundMe page states. "Jarheads MC has always been about helping veterans and their families. We are strong enough to get through this, but we ask for and need your support."
The fundraising page, found here https://bit.ly/2ZEIRz6, had received several hundred thousand dollars by Sunday night.
Albert Mazza was a member of the southern Maine chapter of Jarheads MC, and president of the entire motorcycle club, according to northern chapter VP Kris Crawford.
"Thank you all for your kind messages and support," read a post on the Napalm Crew, Jarheads MC Facebook page Saturday. "This tragedy marks the beginning of a very trying time for our club, friends, and family. Your support through what is sure to be a very long grieving process is very much appreciated. Semper Fidelis, Till Val Halla."
Mark Ayers is a member of the Jarheads from Massachusetts. In a social media post Sunday, he said in the aftermath of the accident he just stared at his bike for 45 minutes to an hour, unsure what to do.
"The pain of the loss I am feeling runs deeper than anything I have ever experienced," wrote Ayers. "I am all done crying, I don't know if I could if I wanted to but there is something I do know. Not getting on the bike would be something those I lost would not want to hear, so I threw a leg over and started the bike."
Ayers wrote he rode to a local store for a bottle of water, and felt people looking at him.
"A man in a car said to me, 'Sorry for your loss, my wife and I donated money to the GoFundMe we hope it will help.' At that moment it seemed to make it OK for others to come forward, all saying the same thing. It seems I still have the ability to cry."
Shortly after the victims were identified, Gov. Chris Sununu directed all flags on public buildings and grounds in the state to fly at half-staff from sunrise to sunset on Monday.
"Friday's tragedy has struck our state and our citizens in a profound way," Sununu said in a statement. "I want to express our sincerest condolences and prayers to the victims and their families. Words cannot express the grief we all share in the loss of these seven individuals. The state will ensure that the families affected will have the necessary resources to provide closure to this tragic event."