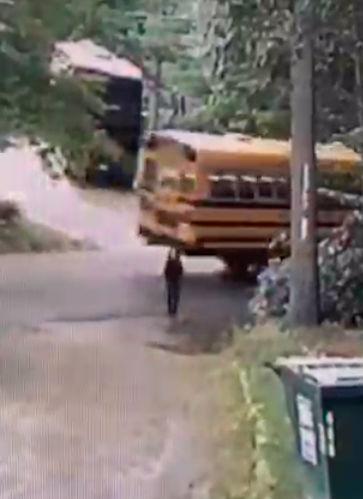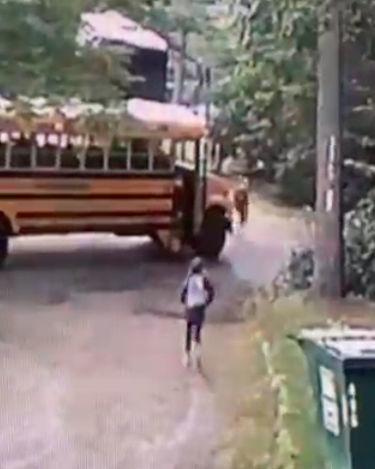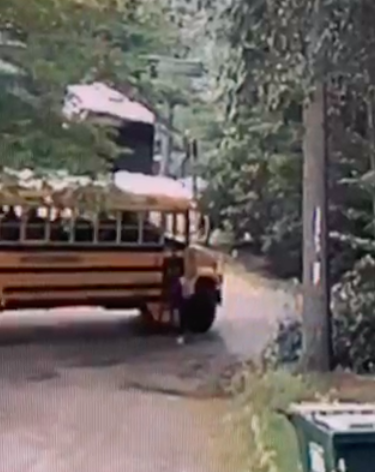 WILTON — A school bus driver for the Wilton-Lyndeborough Cooperative School District quit her job after video surfaced this week showing her shutting the door and driving away from an 11-year-old child.
"My main concern is that this doesn't happen again, or anything worse," said Kelley Guitard, the mother of Bryanna Guitard.
Kelley Guitard said she usually drives Bryanna to school, but she has been home on bed rest with a heart condition and sent her daughter out Monday morning to get on the school bus. Kelley Guitard watched the family's home surveillance video as her daughter ran toward the school bus, only to have the driver shut the doors as she got there and leave.
"She nearly got hit," Kelley Guitard said.
Steve Brown, owner of Steve's Bus Service, Inc, which has a contract with the district to provide bus service, said the driver never saw the child.
"No bus driver would ever leave a student," Brown said.
Brown acknowledged that he was dumbfounded when he watched the video himself, and said it appeared the driver should have seen the girl.
"I watched it three or four times, and I sat there shaking my head," he said.
Brown is adamant that the driver never saw Bryanna, and was not expecting her to be there. He said the child has not been on the bus at all this year, and her family never contacted his company to let them know to expect her. The driver stopped for the child who lives across the street from the Guitard's, and when that child got on she pulled out. Brown said it all comes down to the driver not seeing the child.
"Until you're sitting in the seat she's sitting in, there's nothing you can say," Brown said.
The driver resigned after seeing the video, though the school district was considering taking action against the driver, said Wilton-Lyndeborough Superintendent Bryan Lane.
"There is a codicil in our contract that allows us to request the removal of a driver if we feel it is in the best interest of the district," Lane said.
Though no formal request had been made to remove the driver, Lane said that was being considered before she resigned. About 60 to 70 percent of the district's 570 students use the bus system, Lane said. There have never been any serious complaints made in the time he's been with the district.
Kelley Guitard said she complained last year because of the way her daughter was treated on the bus. Bryanna suffers from juvenile arthritis and had asked to be able to sit on a bus seat by herself, but was denied. Sitting next to another student in a stuffy bus could lead to her getting overheated, her mother said.
"If she gets hot, she gets sick," Kelley Guitard said.
Last year, Bryanna Guitard got sick on the bus from getting overheated and ended up falling down the stairs, Kelley Guitard said. That's when the family started driving her to school themselves.
Kelley Guitard said she didn't want to see anyone get fired or lose their job, but at the same time she does not want to see any other children left behind or put at risk.
"I just don't want my kids, or anyone else kids, dealing with safety issues like that," Kelley Guitard said.