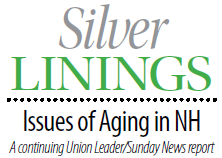 CANDIA — Every weekday morning Simone Desrochers, 78, makes a peanut butter and banana sandwich, washes it down with chocolate milk, then plays computer solitaire until her caregiver arrives at 8:30 a.m. Together they play Scrabble or cribbage, or work on a 1,000-piece jigsaw puzzle until it's time to leave for the adult day program at Easterseals in Manchester.
Desrochers has Alzheimer's disease, and her short term memory is rapidly failing — down to two minutes or less at present. But she's happy, functioning independently as she's able, and her life remains vibrant and busy, thanks to the dedication of her daughter and son-in law Kathy and Ray MacDonald — and a strategically designed routine that provides peace of mind and downtime for everyone.
It's an example of positive caregiving, and how to construct a reasonable and pleasurable life for both an elder loved one and working family members. The couple vowed when they married that neither mother-in-law would ever live with them, Kathy MacDonald said. It's meant adjustments for everyone, and it runs on family love.
It's also fueled by a wise financial decision Desrochers made when she was 65. In 2005, when the Manchester native was working part-time as a cashier at Walmart near her retirement home in Florida, she purchased long-term care insurance that would cover in-home care should she need it. Three years later she was diagnosed with the most common form of memory-robbing dementia.
Now the policy she bought 13 years ago pays for four alternating caregivers from Home Instead, who stay with her when the MacDonalds are working, and for Easterseals' arts and crafts, socialization and entertainment program for people with early to mid-stage Alzheimer's disease.
A caregiver drives her to Easterseals in Manchester, meets the bus that brings her home at 5 p.m., then stays for supper, conversation and games until about 8:15 pm. That gives Kathy and Ray some winding-down time, and a chance to have dinner together.
Desrochers sold her West Palm Beach home six years ago when she realized it was no longer safe to live alone. She was diagnosed with Alzheimer's disease at age 68, but didn't exhibit obvious symptoms until 2011 when she started to call Kathy, complaining that she couldn't remember how to reset her alarm clock, fix the TV or use the stove.
"She'd be driving to get an oil change and all of a sudden forget how to get there" — to the mechanic she'd used for nearly 20 years, Kathy said.
Skeptical, frugal and always financially savvy, Desrochers fell prey to a sweepstakes scam. The family successfully stopped her on her way to wire $500 to claim the reward. She also purchased a $100,000 annuity at age 70 that wouldn't mature until she turned 95 — something she never would have done without consulting family first.
After some arm-twisting by Kathy, with whom she'd always been close, Desrochers moved into an in-law apartment added onto the MacDonalds' house, paid for by the sale of her retirement home.
It's a comforting, re-creation-in-miniature of her Florida space — down to the sage green walls, skylights and sliding glass door that welcomes winter sun, and the paintings and collages of nets and shells, palm-like house plant, and rocking chair and other furniture shipped back from her Florida home. On her computer desk is a datebook that lists two weeks of daily reminders and activities that Kathy writes down in advance. Kathy also makes ample meals with leftovers that Desrochers heats up in her microwave oven. For safety reasons, the apartment has no stove.
On weekends, "We're either home together or I bring her with me. It's like having a little kid all over again. I think of her before I think of myself. But I wouldn't have it any other way because we're so close," said Kathy, the eldest of four siblings. "The hardest thing for a family caregiver is when it's your own parent and they're not the same person they were."
"I've had to learn a lot," she said. "She just repeats and repeats and repeats. I've learned to be really patient and take deep breaths because it's not her fault, and that little white lies are OK. It's hard for me to do that to steer her in a new direction, but I know I need to do it for her."
Now, life is predictable for Desrochers and the MacDonalds, including their two young adult sons who visit frequently, and as stress-free as any ongoing care-giving relationship can possibly be. Kathy has joined support groups and takes free caregiver classes from the Alzheimer's Association and Home Instead, and calls the agency when she needs extra coverage, including last month when she and her husband spent a long weekend in Nashville to celebrate his 60th birthday. "I go out feeling I'm very fortunate," Kathy said.
"I'm not as sharp as I used to be. But it's the way my life is right now," Desrochers said. A jigsaw puzzle of wildflowers sprawls on her living room card table, with a second one in progress nearby. "I do all 1,000 piece puzzles," she said, smiling. "Any less than that, it's not challenging."