MANCHESTER — Evelyn Boice still wears what she brought in an overnight bag when she came to babysit her grandsons last February: a pair of jeans, two long sleeve shirts, and two pairs of sweatpants and sweatshirts. Her daughter bought her a winter coat.
Those are her sole belongings since disaster struck a year ago. A flood at her Washington, N.H., retirement home caused by burst frozen pipes — and something much more challenging to repair: a reverse mortgage gone sour.
Since then, Boice, 83, has stayed in an apartment attached to her daughter's house, with a chair, a flat screen TV, a bed and a kitchen stool. Her own furnishings were casualties of the flood.
What she has are stacks and notebooks full of confusing or incomplete financial statements indicating seemingly unreasonable or indecipherable charges — including $35 for every time she calls the reverse mortgage company — and threatening letters about being in default while she waits for the lender to release a $48,651.60 insurance check to salvage her home. She would like to return and eventually sell it.
When she called the insurance company to expedite the check, she heard an employee say: "Why doesn't she just hurry up and die?"
"I was charged interest, not given interest. I never got what I signed up for. It's been a nightmare," said Boice. She took out a reverse mortgage in 2007, using $50,000 of a $200,000 loan ($189,000 after startup costs) to make emergency repairs after Hurricane Wilma struck her home on East Washington Pond, blowing out windows and doors.
Boice's experience is an extreme example of a popular financial instrument morphing from a boon to a ball and chain. Also known as home equity conversion mortgages or HECMs, the most popular form of reverse mortgage allows eligible seniors age 62 and older to borrow up to 60 percent of their equity in their primary residences to pay for any expenses. They have no monthly payments and can remain in their homes until they sell, die, or abandon the property. At that point the loan and compounded interest and fees come due, and the bank forecloses to collect the total (which can't exceed the home's value) or the estate pays off the balance.
That's no problem as long as the homeowner has enough to live on and maintain it, including making essential repairs, and paying for insurance and property taxes — ironclad requirements of the loan.
Danger arises for elders on dwindling or minuscule incomes who can no longer comply with the terms. This can trigger foreclosure and force a sale.
Complaints against reverse mortgage companies are rarely filed in New Hampshire; the New Hampshire Banking Department receives about two a year. In the last three or four years, the Foreclosure Relief Project through the Legal Advice and Referral Center in Concord has witnessed a small bump in seniors struggling to meet the requirements of reverse mortgages as they age at home.
"The carrying costs exceed what the reverse mortgage can pay them. Fifteen years ago it seemed like a great idea," said Breckie Hayes-Snow, the center's executive director. "They can't meet the terms, and they fall into technical default."
The center's lawyers help them access assistance — often in the form of tax deferment or reductions available to residents 65 and older in all New Hampshire towns.
"People think they're getting a free house," said Stephanie Bray, managing attorney of the Claremont office of New Hampshire Legal Assistance and an authority on reverse mortgages. "You have to be very disciplined about limiting the use of the reverse mortgage to pay for property taxes and insurance, and eventually the money runs out. Nobody reads the document ahead of time or at the closing for that matter. They have the ability to charge you anything they want" as long as it's written in the loan agreement and promissory note. "In my opinion, all of the parts of the loan are in small print and not easily read."
Bray helps seniors statewide work through home-ownership-threatening situations. Reverse mortgages are an excellent tool for the right person, she said, but they're not for everyone.
Unintentionally defaulting on any of the terms can result in a cascade of new expenses for appraisals, property inspections and legal work to protect the lender's interest.
"They give themselves the right to do a lot of things. They can change the locks if they believe they need to do it, and charge you for it,"said Bray.
There can also be surprise charges when the lender transfers the loan, or engages a separate company to service it. "Their financial interest is to do as much servicing as possible," said Bray, and the bottom line quickly jumps up.
To untangle mistakes from misunderstandings, and apparent errors from violations, Bray has requested a full accounting of charges and payments over the life of Boice's loan. Boice is also asking for the remaining loan amount to be paid out.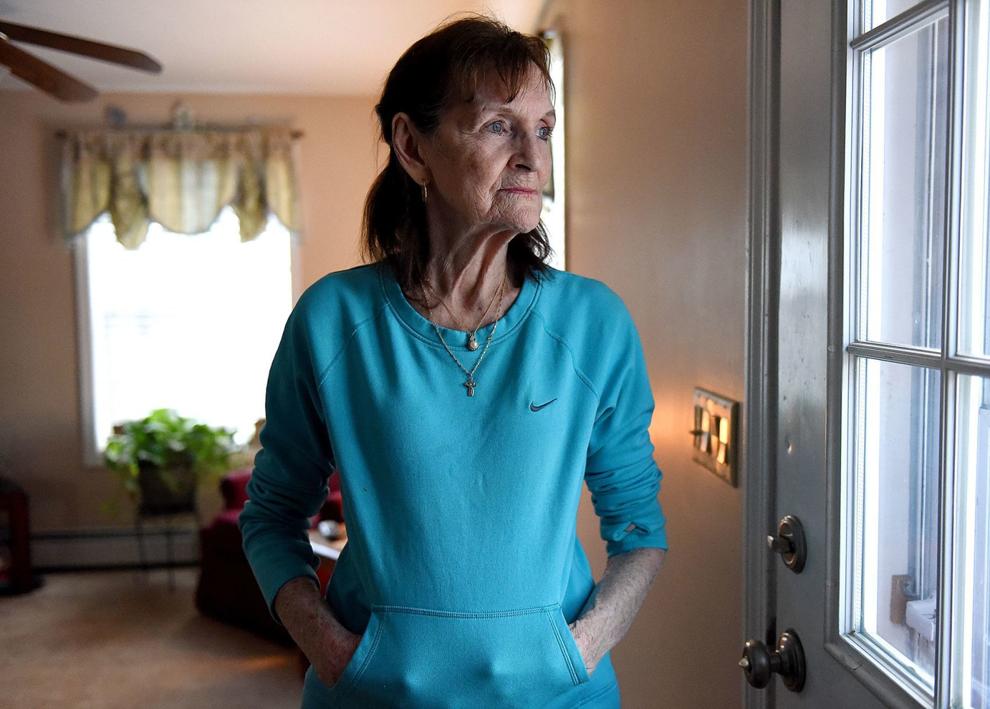 Over 12 years "an unbelievable amount of paperwork" has accumulated, Boice said. That includes conflicting letters — one recently threatening default for not paying her homeowner's insurance while another acknowledged payment.
Another document shows Boice currently owes $265,851.17 including interest and fees, a number that continues to climb monthly. According to Boice's records, she's used only $131,000 of her original loan.
The paperwork shows monthly interest charges ranging from roughly $100 to over $1,000, and lump sums of over $2,500, reflecting the lender's stated payment of her bi-yearly property taxes. But the town of Washington received only six months' worth, and counts Boice still delinquent for the remainder — $4,930.
"Today, I'm basically penniless and living with my youngest child because of all this building up over the years. This is the second (reverse mortgage) company that's holding checks" to repair her home. "Why aren't they releasing it so I can finish the work?"
In December she received insurance checks from the original lender, J.B. Nutter Co. in St. Louis, and later, Reverse Mortgage Funding in Lansing, Mich., had been holding since last winter's flood: $9,000 to repair the plumbing, and $12,000 to rip up water-damaged floors. Still, $48,651.60 remains outstanding.
"I've spent every nickel I have trying to stay in that house" and lost two reasonable offers from buyers waiting six to eight months for the repairs to be done. "This has taken over my life."
Boice's husband died in 2005 after battling cancer. Their retirement funds paid his hospital, medical, and funeral expenses.
"Thank God my husband said leave a paper trail," she said.
A sign on the apartment's kitchen wall has become an empowering mantra: "You can fool some of the people all the time. You can fool all of the people some of the time. But you can't fool Mom."