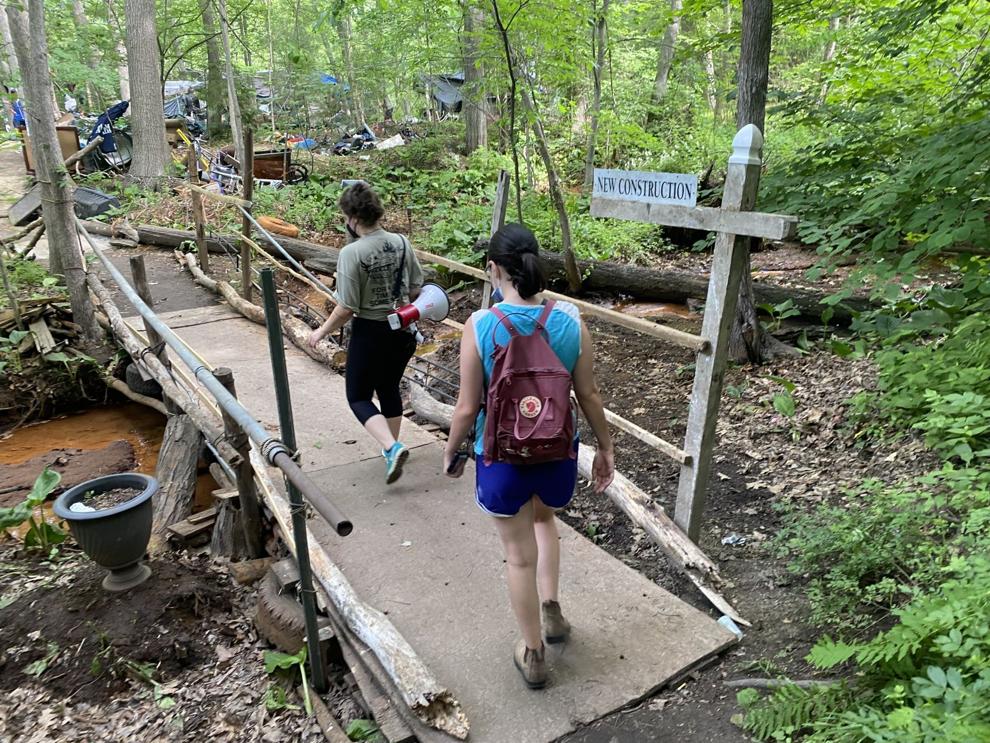 Nearly all residents of a homeless encampment off Douglas Street had departed by Tuesday morning, the day after a tense standoff between Manchester police and activists who support the residents.
As stragglers departed, activists escorted a reporter into the depths of the camp — a sprawling settlement reached over two bridges and dirt pathways marked by fallen logs positioned as curbing.
The central area of the camp included about two dozen tents, a tree-and-tarp canopy, an open courtyard and an area for trash. Artwork included a peace sign fashioned out of vine branches. A mild stench wafted through the area.
George Cheberg, 44, said he has lived at the spot on and off for four years. Residents had chores such as water runs and cleanup. The camp had movie night once a week, he said.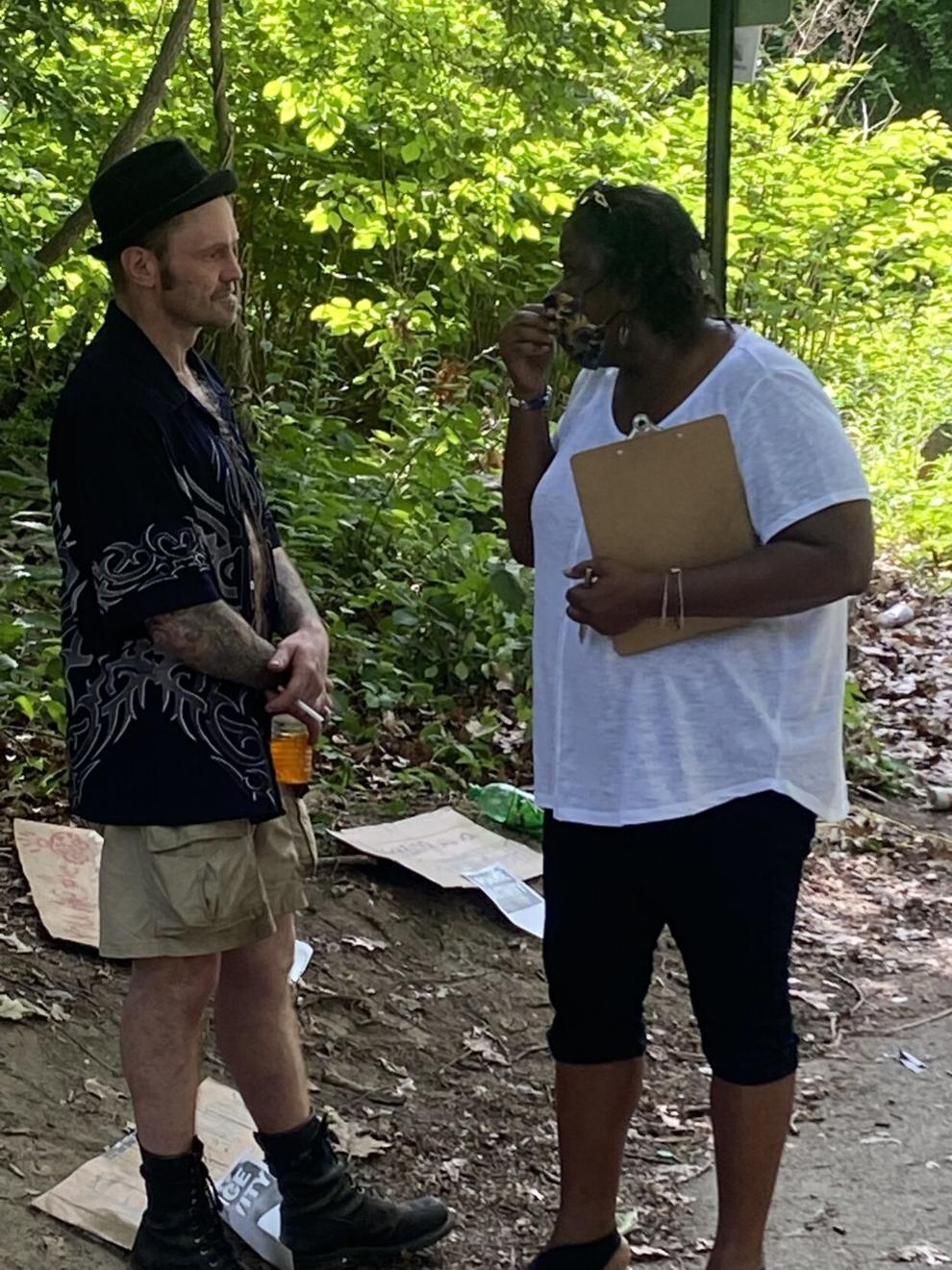 "We don't consider it a homeless encampment, we consider it a community," he said.
The city announced two weeks ago it would clear out the camp — nicknamed "The Bucket" — on Monday.
Monday's standoff involved about a dozen police officers and twice as many activists. Police ended up leaving after Clean Harbors dropped off a dumpster and the city Highway Department brought totes for people to secure their belongings.
Police stayed in the background on Tuesday morning as social workers discussed options with camp residents.
Also on hand was Schonna Green, director of homeless initiatives for the city.
Green said two organizations — Families in Transition and 1269 Cafe — are offering beds for the Bucket residents. She said FiT is working to revise its rules and make it a low-barrier shelter to encourage people to use it.
She said the city is trying to ensure that everyone has a place to call home.
"This is temporary. It's a temporary solution to a major problem," Green said. The city has a policy, adopted by aldermen, that prohibits camping on city land if space is available in shelters.
Asked what prompted the shutdown, Green referred a reporter to police, who redirected the reporter to Green.
Meanwhile, a homeowner who lives on an embankment that overlooked the Bucket said only a handful of people lived in the area for about two years. Neighbors knew their names, they posed no problems and were respectful when neighbors asked them to quiet down.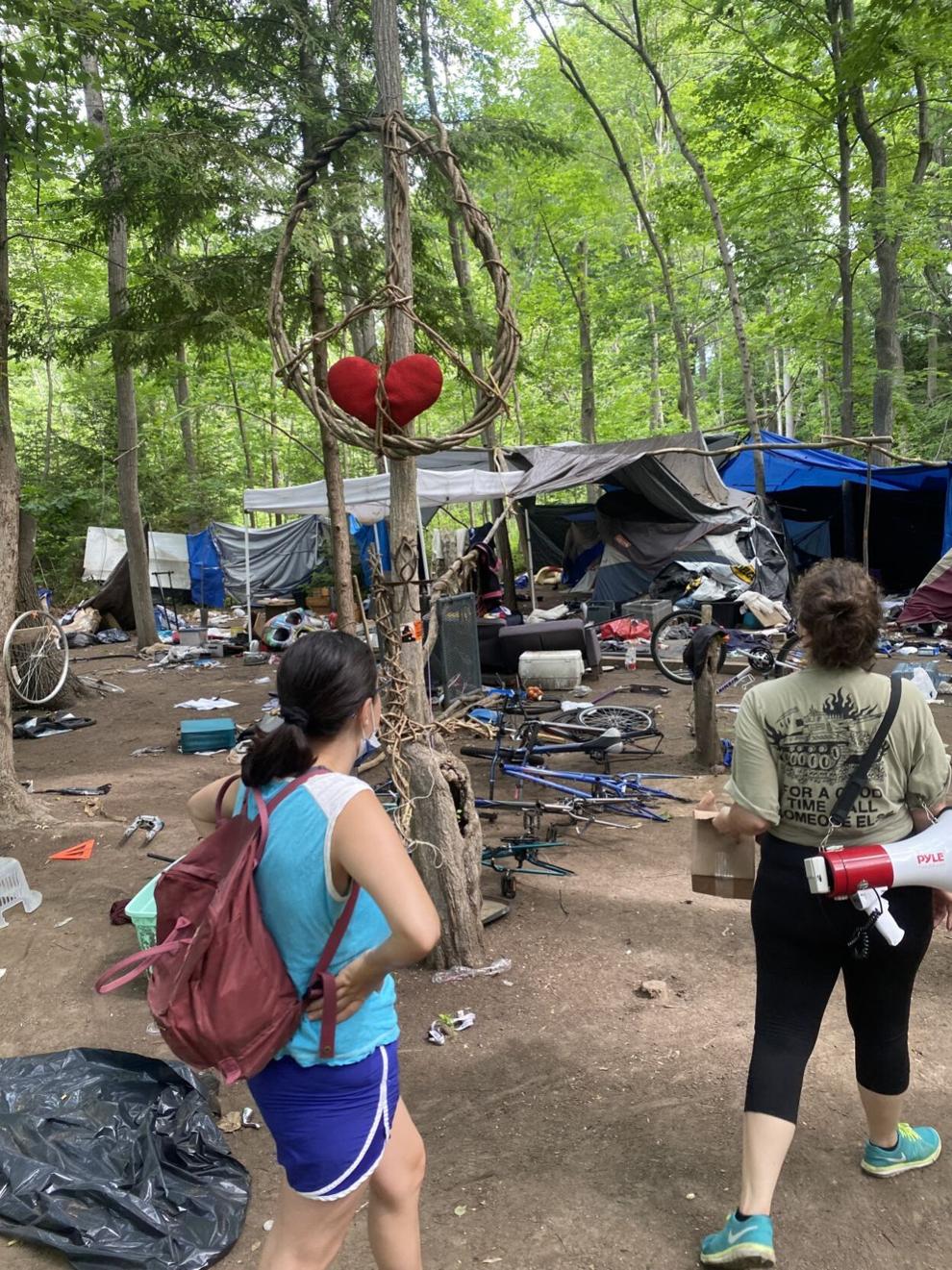 But then the city started clearing camps in the late winter and early spring, and the population swelled, said the resident, who lives on Blucher Street but asked not to be named. Residents of the encampment screamed and hollered. Some carried guns. They lit bonfires. Smells spread.
At one point, a man threatened family members, said the woman.
"It was like watching a social experiment, but it was behind my house," she said.
Camp resident Cheberg said 15 to 20 people lived in the camp. Maybe five will decide to go to a shelter, he said. Most likely will find another place outside to live.
Cheberg said he was considering an offer to stay at 1269 Cafe, a Christian-oriented coffee house that is making space available for homeless people. As of Tuesday afternoon, no one had signed up, said co-founder Mary Chevalier.
FiT said one Bucket resident had signed up for the shelter and another was considering it. Others may show up at the regular 6 p.m. check-in time, said spokesman Kyle Chumas.
Cheberg said he has issues with FiT, including an early curfew and the inability to do anything if he can't sleep at night.
"They regulate everything. A certain time in, a certain time to sleep. A lot of people don't do that," Cheberg said.
Rebecca Pichardo, director of FiT shelter operations, was at the Bucket on Tuesday. She said the shelter is open to feedback about how to improve its rules, but some changes take time. She said very few people have been suspended from the shelter.
Pichardo said the New Horizons shelter had 39 available beds Monday night.
Jessica Margeson, who works for housing issues with Granite State Organizing Project, was handing out flyers encouraging people to take a housing survey.
Margeson said Southern New Hampshire Services is offering rental assistance for the homeless and near homeless. But the waiting list for the program is at least four weeks long, and once people qualify for assistance, the housing shortage can make it impossible for them to find a place to live.
"I can offer help, but what's going to happen when they get it and they can't find a place? They're still homeless," Margeson said.