The number of minorities who call New Hampshire home doubled in the past 18 years, and now one out of every 10 Granite State residents is of a racial minority, according to an analysis of census data recently compiled by the UNH Carsey School of Public Policy.
The report also predicts the state's minority population will continue to grow, noting that nearly one-third of minority women are in their child-bearing years, compared to only a quarter of white women.
The author of the report, sociology professor and demographer Kenneth Johnson, said minority populations are concentrated in Manchester, Nashua and the Hanover-Lebanon area.
As the state grows in minority population, it will reach a "tipping point," said Woullard Lett, a former president of the Manchester NAACP. He placed the tipping point at about 10%.
"Up until you reach that tipping point, the dominant population doesn't feel threatened," Lett said. But once that point is reached, the potential exists for minorities to suffer from acts of physical violence or discrimination in jobs and housing, he said. Children will also act out in school, he said.
Lett, who moved to New Hampshire in the early 1990s, said it was initially easy to live in the state, since at the time, minorities were not seen as a threat.
Lett noted that leaders have taken action as the minority population has grown. Last year, Gov. Chris Sununu established the New Hampshire Advisory Panel on Diversity, another sign the tipping point is close to being reached.
New Hampshire's minority population is far below that of the country as a whole. The white population in the United States is a fraction more than 60% as of last year, down from 69% in 2000.
Carsey reported that Hispanics make up the largest portion of New Hampshire's minorities, 4% of the total population. Asian Americans total nearly 3%, with African Americans at about 1.5%.
The remaining 3% comprise Native Americans and people of mixed race.
The Carsey analysis pegged the state population at 1,356,458 on July 1, 2018.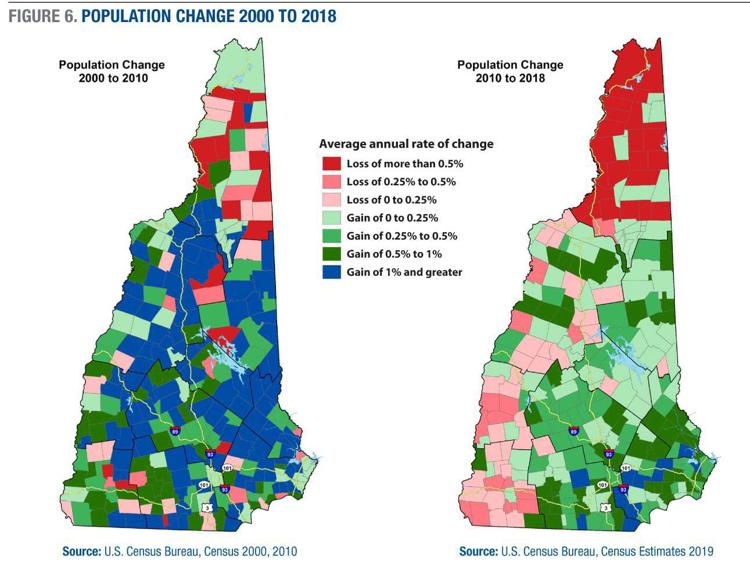 A primary issue
The report comes as New Hampshire returns to national prominence for its role in the presidential primary process.
The Iowa caucuses are followed by New Hampshire's first-in-the-nation primary a week later, giving two overwhelmingly white states an outsized say in picking the nominee, a fact that has irked larger and more diverse states for years.
Nevada Democrats argued last weekend that their state, which caucuses on Feb. 22, will be more critical to selecting the nominee.
"I don't think it matters what happens in New Hampshire or Iowa because those states are not representative of our country anymore," said former Senate Majority leader Harry Reid, who jockeyed for years to get his state to its No. 3 slot on the Democratic nominating calendar.
The Carsey analysis also found the state population growing — by 7,000 people over the last two years — offsetting a decline that took place during the Great Recession.
Only 42% of state residents are New Hampshire natives, far less than the New England average of 58% and the United States average of 59%.
"Migration is important to New Hampshire's future because it brings in younger people of working age at a time when the state's workforce is aging," Johnson reported.