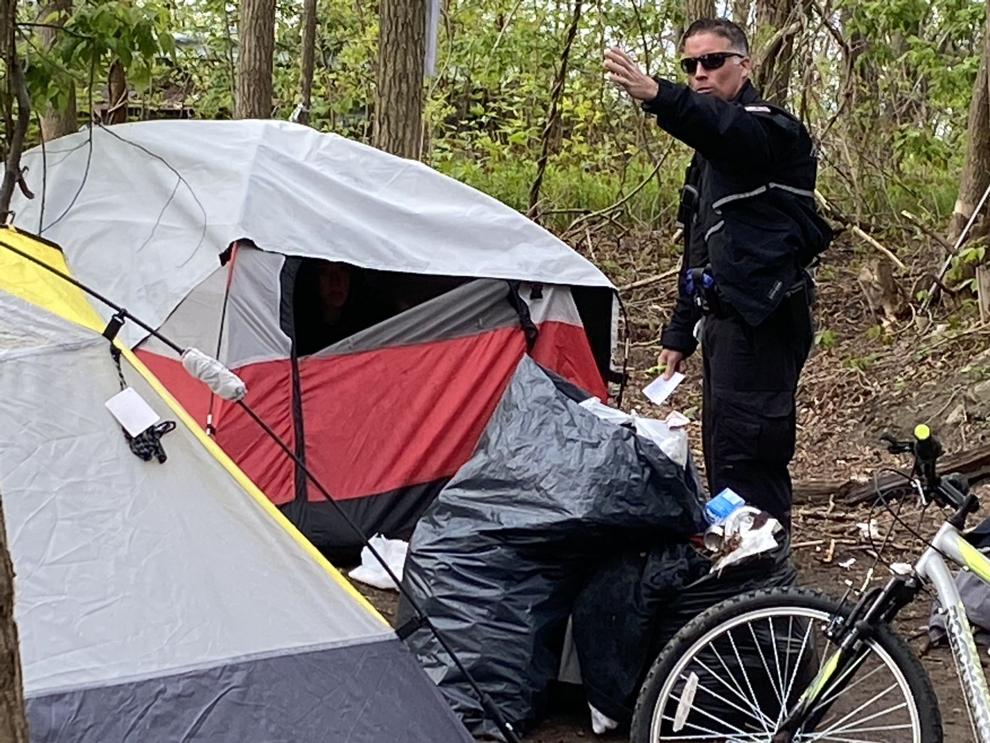 City workers cleared out another homeless camp in Manchester on Monday, this one within eyesight of the New Hampshire Fisher Cats baseball stadium.
Residents were kicked out from the city-owned boat ramp the day before opening day for the Double-A minor league team.
Notices were posted a week ago about the pending evictions. A reporter counted five tents in the immediate area, some that appeared abandoned.
"I understand," said Genice Littlefield, 33, as she pointed toward the stadium. "That's the only reason."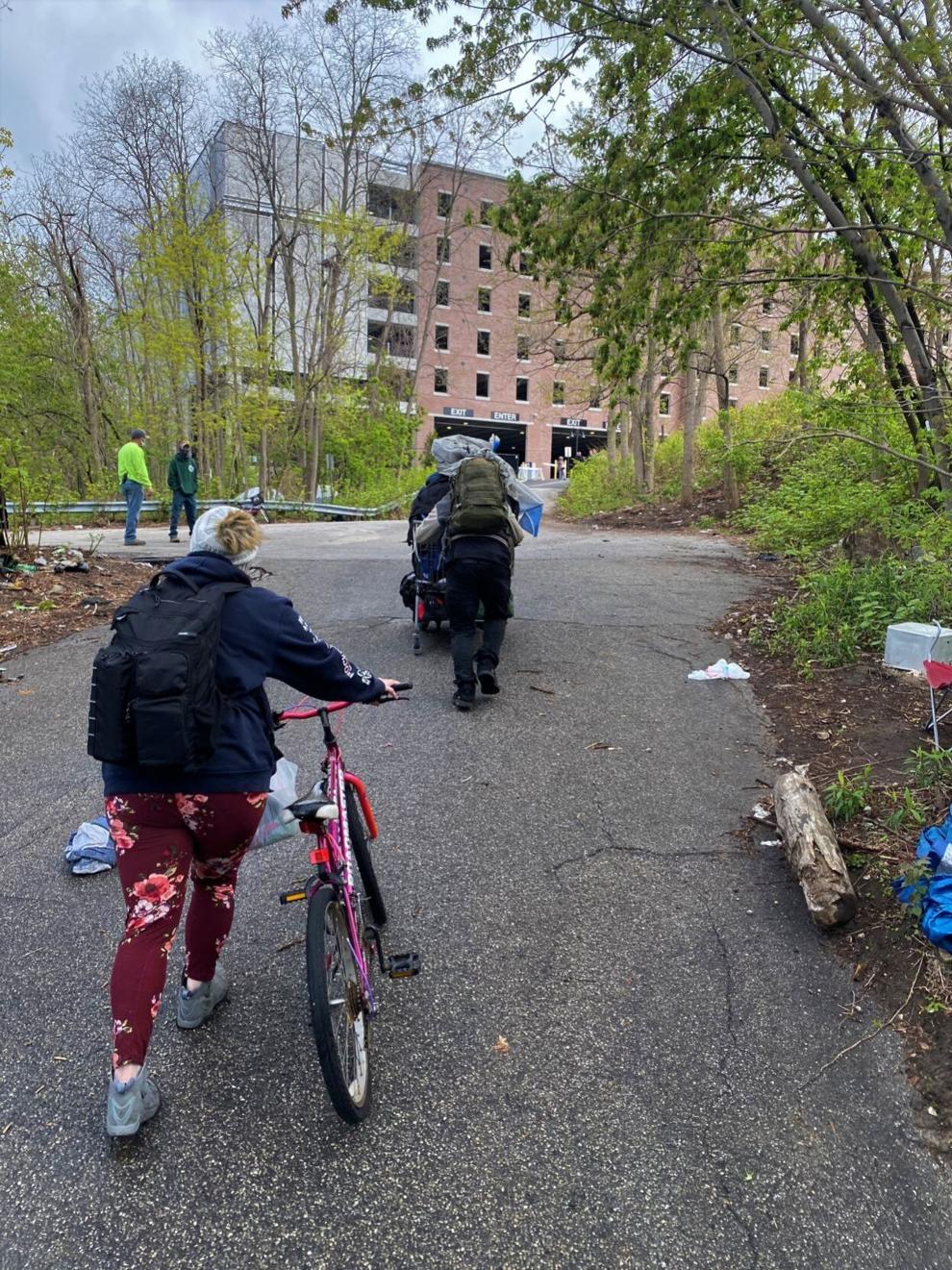 She and her boyfriend packed up a shopping cart and wheeled it off shortly before police started entering campsites and telling stragglers they had to leave. Littlefield said she has been homeless for the last three years and spent the last couple of days at the camp.
The city's new homeless coordinator, Schonna Green, said she is not aware of any request by the Fisher Cats to move the homeless. She said enough beds exist in shelters to accommodate everyone at the campsite, as required under a city ordinance that allows for evictions of campers on city-owned land.
"It's their goal to ensure everybody has a safe place to call home," Green said.
Green said the city will be enforcing the ordinance at other camps. Outreach teams visit campers daily, she said.
For most of 2020, the city tolerated homeless camps, given the COVID-19 epidemic and the fact that shelters were full.
But last November, the state cleared a high-profile camp on the grounds of the Hillsborough County courthouse in downtown Manchester. In February, the city emptied a camp under the approach lanes of the Amoskeag Bridge. Last month, the police were on hand as homeless evacuated private property adjacent to Firestone auto care.
More evictions may be coming. Last week, Manchester Police Commissioner Manny Content complained that homeless people accessing tent sites along the river were becoming a traffic hazard for motorists entering Interstate 293.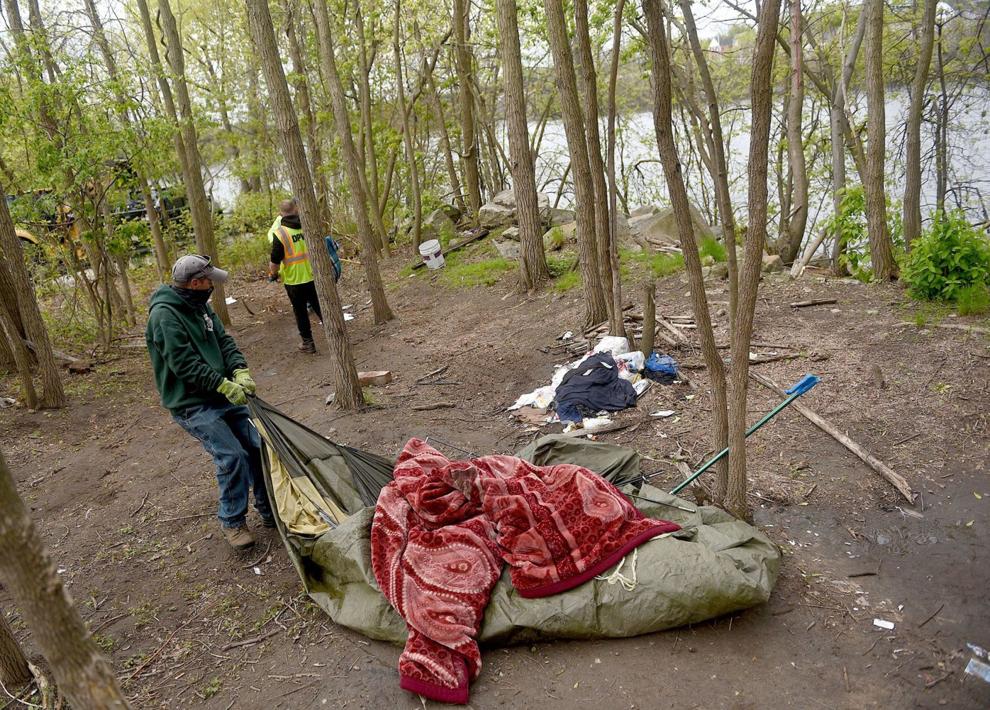 City officials have estimated that homeless people live in about 27 sites around the city.
Mayor Joyce Craig has said the city's approach to homelessness involves prevention, housing opportunities and improving shelter life to draw in people who live on the streets.
Her mayoral challengers have said she has not done enough to address homelessness.
Richard Girard has said Manchester has to stop being a magnet for the state's homeless, enforce laws and ordinances that homeless people often violate, such as camping on city property, and work with local agencies that provide services.
Victoria Sullivan said the city has to address substance abuse by working with local agencies, lowering housing costs, opening the nearly-empty Sununu Youth Services Center for transitional housing and enforcing laws on the books.
About a half-dozen Manchester police officers were on hand Monday for the eviction. Highway crews stood by to remove trash and abandoned belongings.
The notice posted by the city was dated May 3 and told people to leave by May 10, which is short of the 10-day notice that had been city policy.
As her boyfriend finished packing up their belongings, Littlefield said the city is not doing enough to address issues of homelessness. She blamed her homelessness on drug addiction and strained family relationships.
"I've heard that you either have to take the help or get kicked out of the city," she said. "They're pretty much going to ban being homeless."