The day after the state removed dozens of people from the Hillsborough County courthouse lawn and put up fences around the grounds, almost 20 people were camped nearby, with nowhere else to go.
In tents around the edges of Manchester's Veterans Park, across a parking lot from the now-fenced courthouse lawn, those remaining said they were glad some people found a place to stay. The state said 33 people from the lawns "accepted services," including beds at a Derry recovery center.
But for some who remained near the courthouse Saturday, the state's Friday morning eviction felt like another humiliation.
A woman who has been staying near the courthouse, Kelly McAndrew, made a sign to hang on the fence around the yard where dozens of people had been sleeping.
"This is your plan? Thanks for nothing, Sununu," the sign read.
State troopers occasionally drove around the block Saturday, as a mutual aid group and a church group served sandwiches and hot dogs.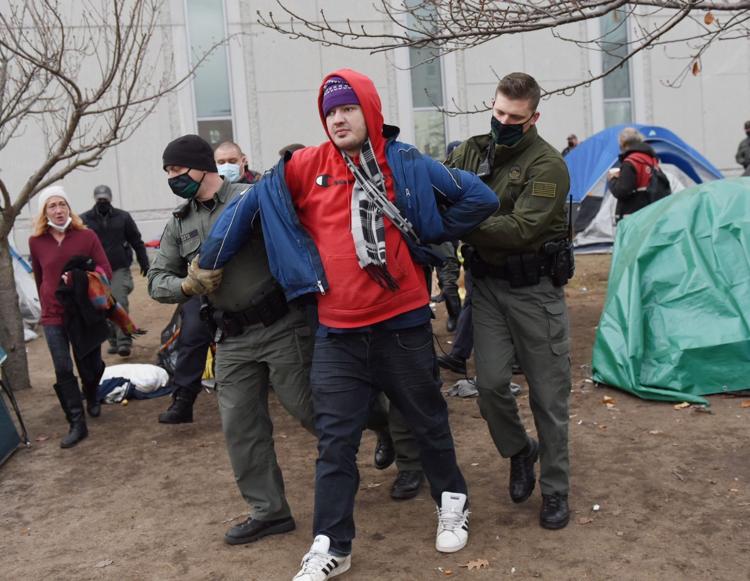 Tents came down and fences went up around the lawn early Friday.
Some of the homeless people milled about Friday morning. Others left with what they could carry.
"They will kick us out of everywhere. There is nowhere to go," said Manny, 23, who said he grew up in Hooksett.
State troopers passed out trash bags and encouraged people to gather their belongings. On Saturday, the back corners of Veterans Park were dotted with stuffed trash bags of peoples' things.
Most left voluntarily. At times, a few campers shouted. One cried quietly.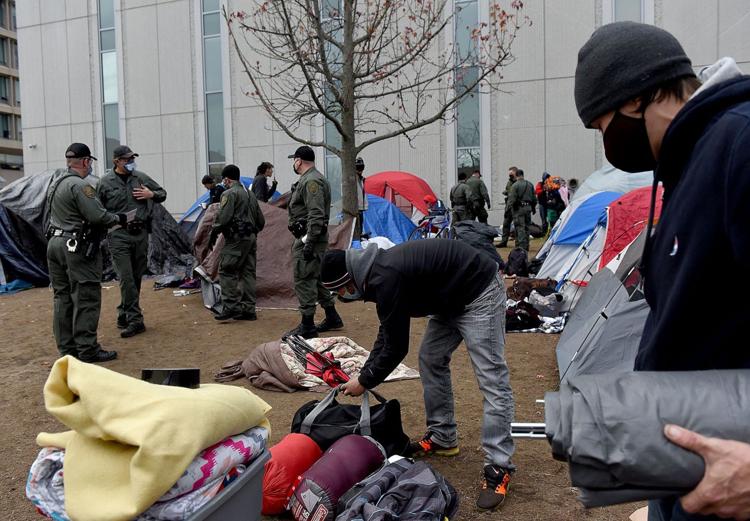 The arrival of cleanup crews in biohazard suits aggravated some, as they took razors to the tents. Passions grew when a dozen state police cruisers drove down Merrimack Street.
McAndrew said she thought the display of cruisers, lights spinning, made a calm situation tense.
She didn't see why the extra cruisers were necessary, McAndrew said. "It was embarrassing."
At a Friday afternoon news conference, Manchester Mayor Joyce Craig said she marshaled city workers and nonprofit agencies once she heard the state was clearing the courthouse lawns.
New Horizons had beds for 10 people from the courthouse lawns, Craig said, but the shelter is now full.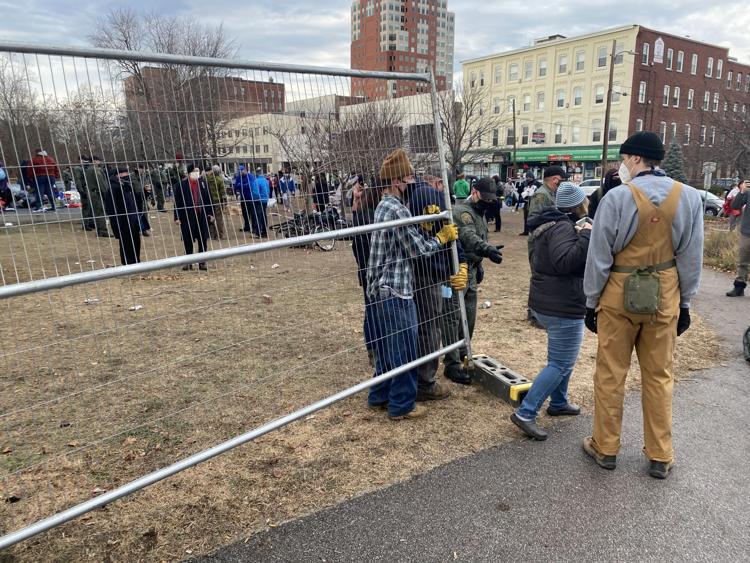 The city is trying to find more emergency beds for the winter, both for the people who remain near the courthouse and for those in other camps around the city.
"This action from the state is inhumane, causing trauma to individuals with nowhere else to go," Craig said. "For some their possessions were destroyed. They were displaced from their caseworkers, directly impacting their mental health and well-being."
Maria Devlin, president of Families in Transition-New Horizons, said her staff helped some of the homeless fill out applications for housing options on Friday. But the organization has limited space in its shelters, because of the pandemic.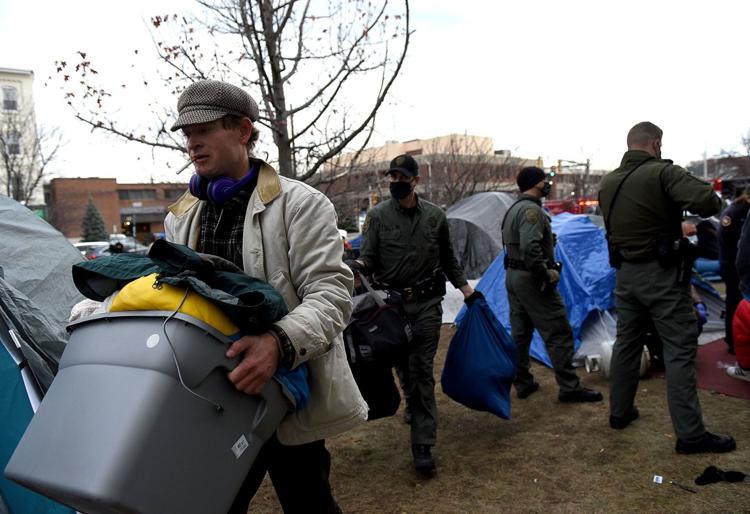 A tall wire fence encircled the lawn by early Friday afternoon.
Homelessness has emerged as a flashpoint between the state's mayors and Gov. Chris Sununu, with mayors and the governor trading letters about who should be responsible for helping homeless people in the state, and who has done more.
Craig said the state should coordinate a statewide push to help homeless people, who move between cities and towns. Sununu has said the state has given cities millions of dollars for homelessness.
Some people are too worried about COVID-19 to go into shelters, said Calvin Atwood, who had been staying near the courthouse. And there are not enough shelter and recovery beds for everyone who needs one, he said.
"This isn't right," said Bobby Kean, 39, who is from Rochester and had been camping at the courthouse. "Something more permanent needs to be done."