When their three young grandchildren came up for adoption, Clyde and Sandra Lunsford believed they would make the ideal adoptive parents.
They are blood relatives. They are retired professionals with the time and financial resources to raise all three. And they live in the outskirts of Durham, N.C., a racially diverse community they believe would be supportive of their biracial grandchildren.
New Hampshire child protection officials saw it differently. In January, they finalized the adoption of the three siblings by two separate families in the Claremont region, an overwhelmingly White area of New Hampshire.
The Lunsfords, who are Black, believe New Hampshire officials used one overriding factor to reject them — race. They have sued the state Division for Children, Youth and Families challenging the adoptions. Their case is pending before the New Hampshire Supreme Court.
"They would rather separate these kids than allow them to be adopted by their Black grandparents. That's what it boils down to," Clyde Lunsford said in a telephone interview earlier this month. He said the DCYF never took their efforts seriously, and the social worker assigned to the case ended a telephone conversation by saying "You will be considered," which he thought to be condescending.
"You know how it's racism? When that social worker knew nothing of me, she asked nothing of me. She only knew we were the Black grandparents and lived in the South," he said.
But the adoptive mother of the oldest child, who is 6, said she has been part of the girl's life since her birth. Tiffany DeCapua, the girl's maternal aunt, said she and her fiance provide a loving home for the girl.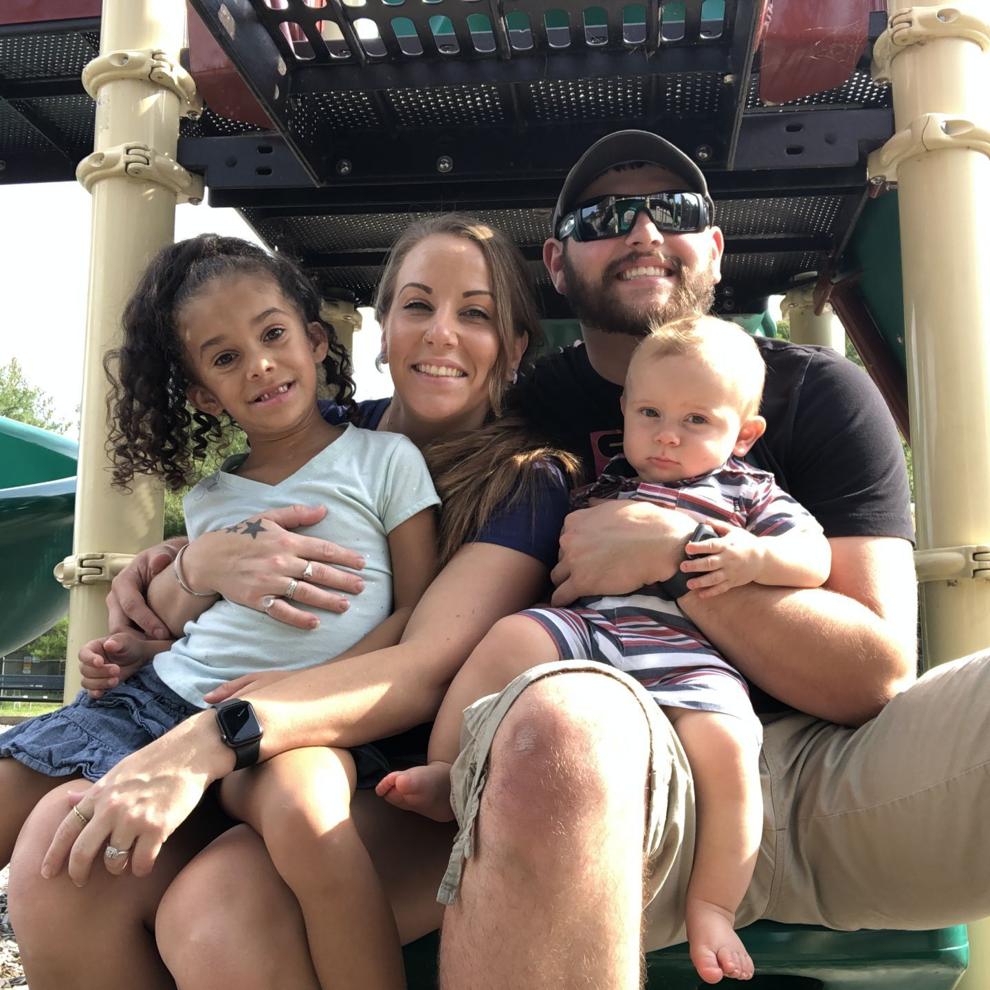 "Pretty much anywhere in New England is not as diverse as it should be, but they're not being raised in racist homes," said DeCapua, 32. Every night, she tells her daughter that her skin and hair are beautiful, she said.
The girl sees her twin siblings, who are 4, about once a week and knows the three are brother and sisters. DeCapua would not say where the other adoptive parent, Christie Hayes, lives, but said they are friends and live close by. A telephone message left for Hayes, who is not biologically related to the twins, was not returned.
DeCapua said Hayes is a licensed foster parent who decided to adopt the twins. The DCYF took more than race into account when it decided on the adoptions, DeCapua said.
"Who these children know and love already should be a factor. Stability should be a factor," she said.
A complicated issue
By appealing a family court decision in the Supreme Court, the Lunsfords have brought the contentious issue of transracial adoption into the spotlight in New Hampshire.
It is a complex issue and one not all experts agree on, said Hope Haslam Straughan, a professor of social work at Boston University, the author of "Parenting in Transracial Adoption" and the adoptive parent of biracial children.
In the 1990s, federal laws were passed to encourage transracial adoption and provide permanent homes to minority children who were languishing in the foster care system, she said.
But organizations that value Black identity have disputed that reasoning, maintaining that Black children should only be adopted by Black families. The National Association of Black Social Workers took that position in 1972. It remains on their website today.
"Those born of Black-White alliances are no longer Black as decreed by immutable law and social custom for centuries. They are now Black-White, inter racial, bi-racial, emphasizing the Whiteness as the adoptable quality; a further subtle, but vicious design to further diminish black and accentuate white," reads a portion of the position paper.
To make things more muddled, states approach the issue differently.
In Massachusetts, social workers have lengthy conversations with prospective White parents about their friendships and exposure to minority adults, Boston University's Straughan said. In other states, including Ohio, social workers don't routinely bring up the topic of race with adoptive parents.
Of course, race isn't the only factor in adoptions. Others include proximity to biological relatives, keeping siblings together, the adoptive parents' physical and mental health, an adoptive family's financial stability and consistency of caregiving for a child, Haslam Straughan said.
Research has also shown that minority children develop healthy self-esteem when they are exposed to minority adults in leadership and mentor roles, she said.
According to Census figures, Durham County, N.C., is 37% Black. Sullivan County, N.H., is just under 1%.
An eight-page DCYF policy addressing child placement calls for consideration of many factors, including "cultural and ethnic factors." It mentions only one specific race — Native American.
DCYF Director Joe Ribsam said he couldn't specifically address the Lunsford case because of confidentiality concerns.
Racial and cultural identities are a priority when children are placed by DCYF, he said in a statement emailed to the Union Leader on Friday. but adoptions often involve striking a balance.
"DCYF strives to make the best decision for each individual child in every case," Ribsam said.
He noted that judges oversee the adoption process, and advocates and attorneys appointed to represent the children's best interests have input.
How it started
The story of the Lunsford children tracks what has been one of the biggest themes in adoption and child protection — the drug crisis. Their story was detailed in unredacted court filings obtained by the New Hampshire Union Leader in a records request. They are no longer available publicly.
Trisha DeCapua, Tiffany's sister, moved to Durham, N.C., from Claremont to live with a relative. She became involved with the Lunsfords' son, Steven, and had a daughter in February 2014.
She was pregnant with twins when Steven caught her using unspecified drugs. Her mother flew down from New Hampshire, and a testing kit showed Trisha positive for five illegal drugs.
The discovery hurt the couple's relationship, and Trisha returned to New Hampshire and bore the twins in December 2016. The Lunsfords last saw their grandchildren during a visit to New Hampshire in September 2017.
Soon after that visit, police found Trisha passed out at the wheel of a car with all three children in the vehicle.
Both Trisha and Steve lost their parental rights. Clyde Lunsford said his son was living with a roommate and did not have the resources to take care of the three.
In September 2017, New Hampshire DCYF contacted the Luns-fords to say the three children needed a home. At the time, the Lunsfords were staying in a one-bedroom apartment and could not take the children.
DeCapua and Hayes fostered the children, and the Lunsfords stayed in contact.
As early as January 2018, the Lunsfords told DCYF they wanted to adopt, and in May 2018, they hired a lawyer to advocate for adoption.
They moved into a house in September 2018 and could have taken the children from that time on. They completed all licensing as foster parents in the state of North Carolina. They passed psychological and physical examinations. Both are in their mid-60s, Lunsford said.
But their legal fight for custody strained their relationships with DeCapua and Hayes. In April 2019, they lost access to photos of the children on social media. DCYF led the effort to separate them from their grandchildren, they said in court filings.
"We've been ignored and marginalized," they wrote in their Supreme Court appeal.
Legally, the grandparents have asked the state Supreme Court to overrule the decision of Newport Family Court Judge Bruce Cardello, who dismissed their guardianship petition without a hearing. They are also seeking access to DCYF records used in the proceedings.
The Supreme Court has rejected a request by DCYF to dismiss the case and has asked for legal briefs.
In court filings, DCYF said the Lunsfords' filings were legal maneuverings to block the adoption. The Supreme Court should declare the matter moot, wrote Laura E. B. Lombardi, a senior assistant attorney general.
"The children have been adopted and now have parents through a separate proceeding that has not been appealed and is final. The adoptions, in other words, are permanent," Lombardi wrote.
If the Lunsfords want guardianship of the three, they should file claims that demonstrate the adoptions are not in the best interest of the children, she wrote. Oral arguments in the case have not been scheduled.
What happens now?
Meanwhile, relations are strained between the families. DeCapua, a junior estimator for a Claremont bridge design company, questions whether the Luns-fords can handle her daughter's medical issues. The girl has an operation scheduled to address a defect with her tongue and will need physical and occupational therapy, DeCapua said.
The twins' adoptive mother won't communicate with the Lunsfords, DeCapua and the Lunsfords say. The only contact between the Lunsfords and DeCapua is through the Lunsfords' daughter, Adrienne, who talks to DeCapua regularly.
"Nobody once ever told (the Lunsfords) we still couldn't be a family," DeCapua said. But she said they need to take the initiative to make that happen.
Lunsford is a retired special agent for the U.S. Office of Personnel Management and the Department of Defense, where he investigated counterintelligence officers for security clearances. He held a security clearance himself.
His wife is a retired credentialing specialist with North Carolina Blue Cross.
Both are college educated. They are deacons at their church. They live in the Research Triangle of North Carolina, which has one of the highest concentrations of advanced degrees in the country.
They believe their grandchildren would be exposed to a diversity of cultures and races if they lived in Durham. It's heart-wrenching to have lost contact with their grandchildren, Lunsford said. He estimates he has spent $30,000 in lawyer fees so far.
"This whole thing, it's the most terrible thing anyone should have to go through," he said. "It's by far the worst period in our lives, and it's just because we're Black."