"All hate crimes are hoaxes," read the flyer distributed by a white supremacist group at Keene State College last March.
A few months later, a Holocaust denial leaflet was discovered in the restroom of a Lebanon restaurant.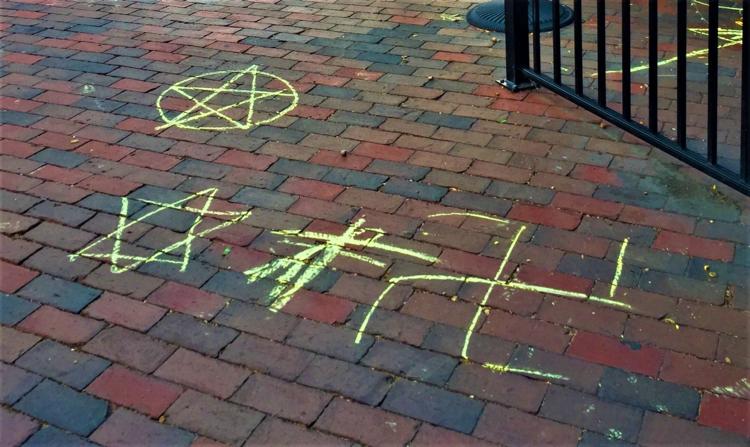 A swastika and Jewish star were chalked on the street outside a Portsmouth eatery last September.
Recent attacks at a kosher supermarket in New Jersey and at a rabbi's home in New York have prompted synagogues and Jewish community organizations around the country to boost security. And while New Hampshire has been spared the level of violence seen in other places, watchdog groups said the state is not immune from hate speech and incidents.
Tonight, the Jewish Federation of New Hampshire is hosting a presentation, "The State of Hate in New Hampshire," at its Bedford facility. The event, which has drawn a capacity crowd, had been planned for months, but organizers say recent violence has made the topic more timely than ever.
"Our role as a federation is to be a convener and to help to create opportunities for meaningful dialogue and for people to become educated and informed," said Melanie Zalman-McDonald, executive director of the Jewish Federation of N.H. "I hope that people will walk away with a better picture of who the perpetrators of hate are and what they look like, and what their ideology is," she said.
Over the past two years, 20 anti-Semitic incidents in New Hampshire have been reported to the Anti-Defamation League. The organization also has compiled 29 incidents of white supremacist propaganda, including flyers distributed on numerous college campuses across the state and at a rally for President Donald Trump in Manchester last August.
Zalman-McDonald said she hopes presentations such as Sunday's event will empower people to return to their own congregations with ideas about "hardening" their facilities against possible attacks. "The best way to save lives is to create obstacles to anyone wishing to do you harm in the first place," she said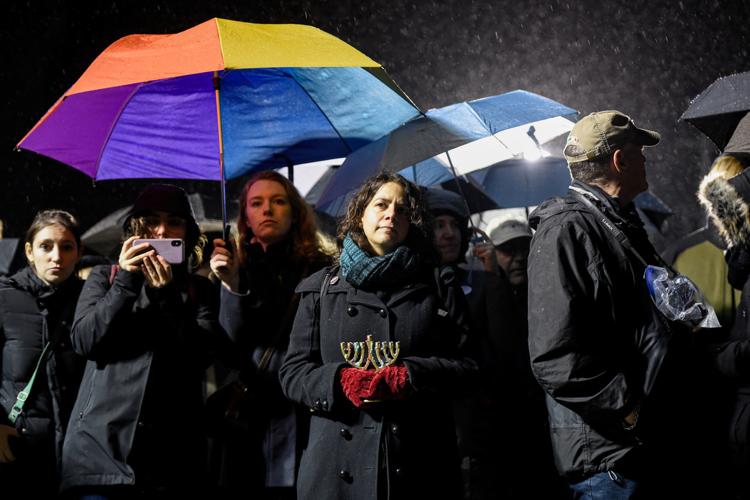 Her organization works closely with the New Hampshire Council of Churches and other faith groups, Zalman-McDonald said, and many people have reached out to support Jewish organizations here after the recent anti-Semitic attacks. "When things like this happen, regardless of to what community the negativity and hate is directed, when we're standing up, we're not standing alone," she said.
"We're standing side by side with our neighbors and allies. A threat to one of us is a threat to all of us."
The federation plans other presentations with the ADL on the topic, including a community training session about hate crimes on Feb. 9.
Peggy Shukur, New England senior associate regional director of the ADL, is the guest speaker at Sunday's event in Bedford. In a phone interview, Shukur said she plans to talk about the distinctions between hate crimes, acts of bias and incidents of hate — and how best to respond to such incidents.
The ADL defines a hate crime, Shukur said, as "a criminal act that's against property or a person or a group … where the victim is intentionally targeted because of their actual or perceived race, religion, sexual orientation, national origin, disability, gender, gender identity or ethnicity."
Anti-Semitism, Shukur said, is sometimes called "the oldest ism." Her organization has been tracking an increase in anti-Semitic incidents, she said.
What's new is that this kind of hate is becoming "normalized," Shukur said. "People are acting out in ways that they hadn't been before," she said. "And that's something that's extremely scary to the community and very troubling to all of us as a society."
On the other hand, she said, "We're getting some great support from allies as well."
One of the most common types of incidents reported in New Hampshire is "postering," in which individuals distribute flyers with hateful messages, Shukur said. "We also get a lot of incidents of exchanges between people that have an anti-Semitic tone to them or a hateful tone," she said.
In March 2018, a white supremacist group distributed flyers outside a Hooksett sporting goods store asking, "Why are Jews after our guns?" It included the names of five Jewish members of Congress, labeled as "European style socialists."
So what can good people do in response? Shukur offers three suggestions: get educated about the facts; be an ally when another group is targeted; and speak up when hateful acts or incidents occur.
"We want to stand up for ourselves and for others who are marginalized," she said. "And we'll continue to do that, and others are doing that for us right now, and that certainly gives me hope."
Zalman-McDonald said incidents of anti-Semitic violence can be overwhelming for someone who is Jewish. "It's difficult for me to go about my life and have a happy new year and go to the supermarket and do all the things I would be doing, knowing that a couple hundred miles away, people are feeling directly threatened even just to leave their house or worship or go to school," she said.
The best response to hate, she said, is "to be there for each other."
"We all have things that are personal in our lives that make us feel vulnerable, that are part of our identity," Zalman-McDonald said.
"The only thing that can fight hate is love," she said. "Love, and knowledge, and togetherness."