"No Camping" signs have gone up at one of the city's most visible homeless encampments — the lawns of the Hillsborough County Superior courthouse in downtown Manchester.
People living there said workers put up signs and removed benches around the end of last week. Although the signs prohibit camping and reference a state statute, the homeless people living there said no one has said whether they will be forced off the property.
"They're going to do this just before it starts getting cold?" said John Adams.
The action comes as frustration mounts over the city's homeless presence.
Mayor Joyce Craig has complained that many homeless people in Manchester are from outside the city and the state has not done enough to keep them in their own communities. Acting Police Chief Ryan Grant has called the city a dumping ground for the state's problems, including homelessness.
On Monday, a West Side resident was charged with impersonating a police officer and pointing a handgun at two homeless people who live outside his apartment building, police said.
Craig has not broken up camps since the pandemic, citing federal health advisories. Most camps are out of sight in wooded areas, but the camp on the courthouse lawn is in the heart of downtown.
The courthouse campsite started to take hold this summer.
On most nights, about 20 people sleep in the yard at the corner of Merrimack and Chestnut streets, Adams said.
About four or five sleep at the opposite corner, at Chestnut and Central streets.
Alex Provost, 33, said the location is convenient to the Market Basket supermarket, bus lines and the public defender's office.
"Where's everyone supposed to go?" he said.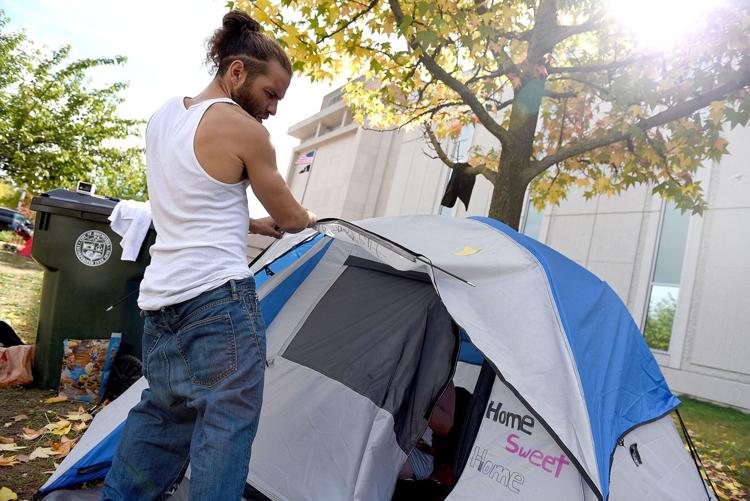 Three tents, a large umbrella and a couch were on the lawn Wednesday morning.
Several people said workers asked the homeless to pick up their belongings because the lawn had to be treated. They did so, but when they returned, the benches — four are at each corner — were gone and the No Camping signs were up.
"I don't call it camping as much as I call it living," Adams said.
Fire Chief Dan Goonan, who has become a key player in the city's response to homelessness, said Hillsborough County Sheriff James Hardy told him he was developing a plan that included signs. Hardy did not return a telephone call for comment.
Court system spokesman Susan Warner said the Judicial Branch does not own the property. She referred a reporter to the Department of Administrative Services. An administrator there said to speak to Associate Attorney General Anne Edwards.
"(Edwards) is in communication with other state agencies to determine the next steps," said Kate Giaquinto, a spokesman for Attorney General Gordon MacDonald.
Currently the two shelters operated by Families in Transition have space, said Kyle Chumas, a spokesman for FiT, but that is likely to change as the weather turns. He said FiT has 107 beds between its two shelters. That's down from 139 before the pandemic.
Chumas said FiT is working with other community organizations to develop a winter sheltering plan.