Tents came down and fences went up outside the Hillsborough County courthouse Friday as New Hampshire State Police oversaw the clearing of dozens of people from courthouse lawns.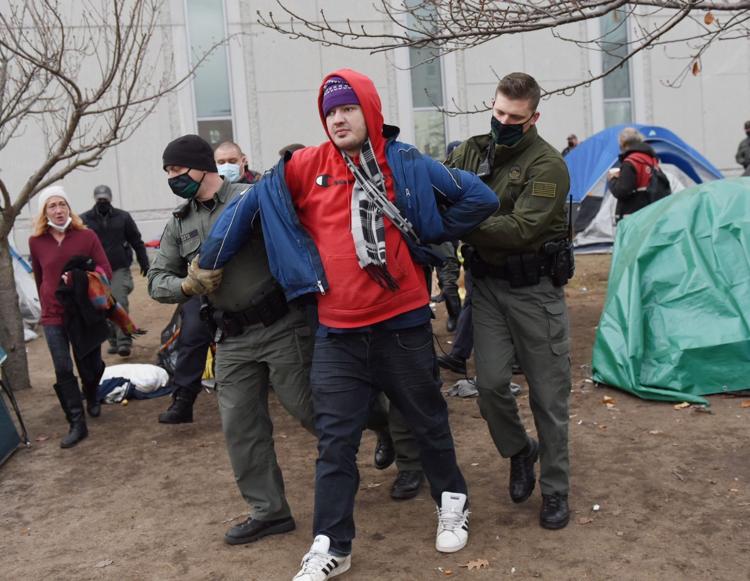 The effort began shortly after daylight, and by 10:30 a.m. all but about four of the couple of dozen tents on the north lawn were gone.
Some of the homeless who had lived in the tents milled around. Others left with what they could carry.
"They will kick us out of everywhere. There is nowhere to go," said Manny, 23, who said he grew up in Hooksett.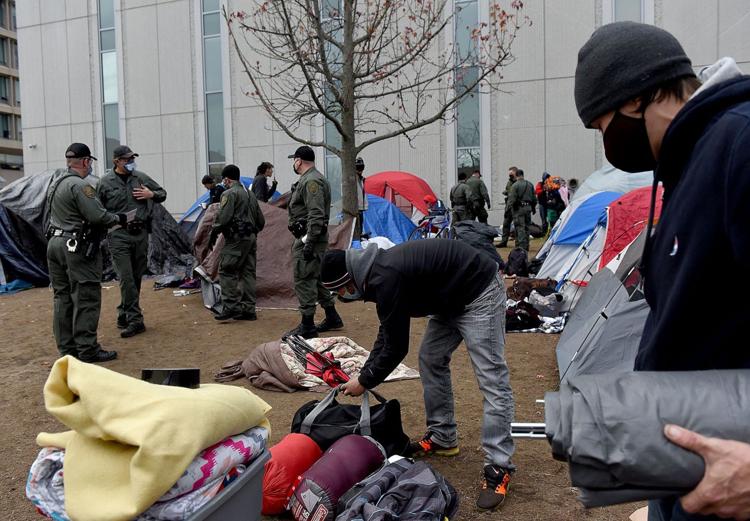 The move appears to signal the end of a five-day standoff that has gone on since Monday, the deadline state officials set for dozens of homeless people to leave the state property.
People have been living on the two lawns since the summer.
"This isn't right. Something more permanent needs to be done," said Bobby Kean, 39, who is from Rochester and has been living on the lawns for three months.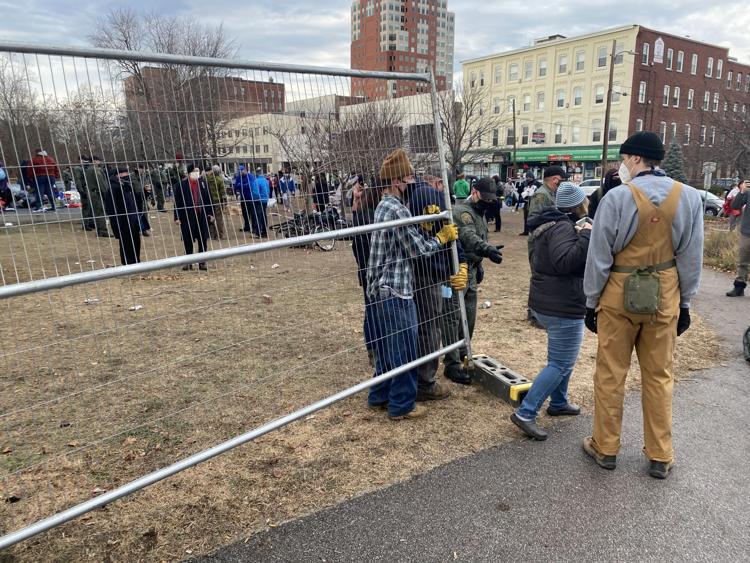 About a dozen troopers stood by, passed out trash bags and encouraged people to gather their belongings. Early on, they grabbed the arms of one man and escorted him to an ambulance.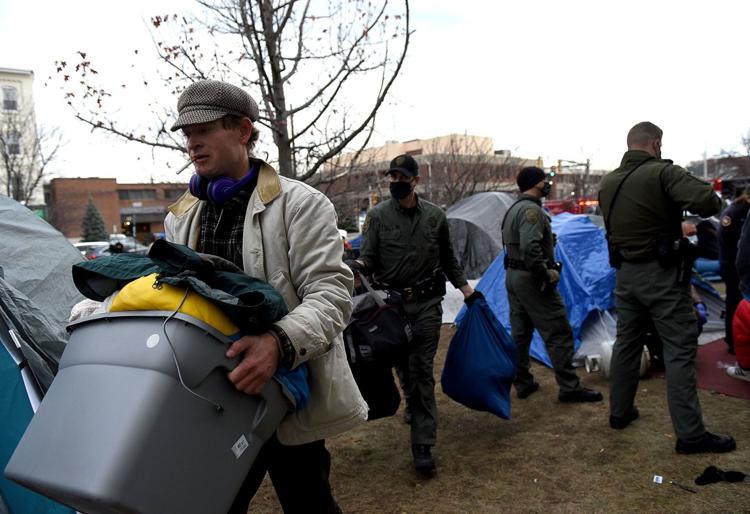 Most left voluntarily. At times a few campers shouted. One cried quietly.
But the arrival of cleanup crews in biohazard suits aggravated some as they took razors to the tents. And passions grew when about a dozen state police cruisers drove down Merrimack Street.
State officials said the clearing began at 7 a.m. and two people who refused to leave were arrested and charged with criminal trespass. One assaulted two ambulance workers when placed in an ambulance. Another man, who city police identified as Joseph Castro Del Rio, of Watertown, Mass., was charged with criminal threatening and resisting arrest after police said he kicked in the general direction of two police officers.
Thirty-three people have "accepted services," the state's statement said. The statement stressed that local officials had requested the removal throughout the summer and fall.
A fence was up by 12:30 p.m.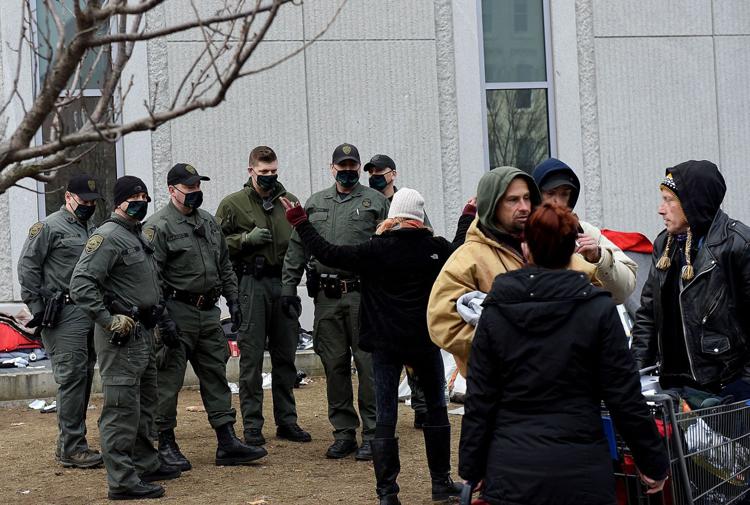 Homelessness has emerged as a point of conflict between the state's mayors and Gov. Chris Sununu.
Mayors have called on Sununu to update the state's plan for dealing with homelessness and asked for more funding.
Sununu has detailed the state and federal dollars devoted to homelessness and related issues, but he has been critical of Manchester city government.
On Thursday, he said Manchester officials have been brazen about their lack of cooperation with the state in addressing the matter.
During a press conference Friday afternoon, Manchester Mayor Joyce Craig said she marshaled city workers and nonprofit agencies once she realized what was afoot. The New Horizons shelter was placed 10 people in beds, she said, but the shelter is now full.
The city also reached out to Café 1269, which has up to 16 beds, and has plans to open another temporary emergency shelter throughout the winter.
Craig said the state's action forced people to move throughout the city, putting health and safety of city residents at risk during a pandemic.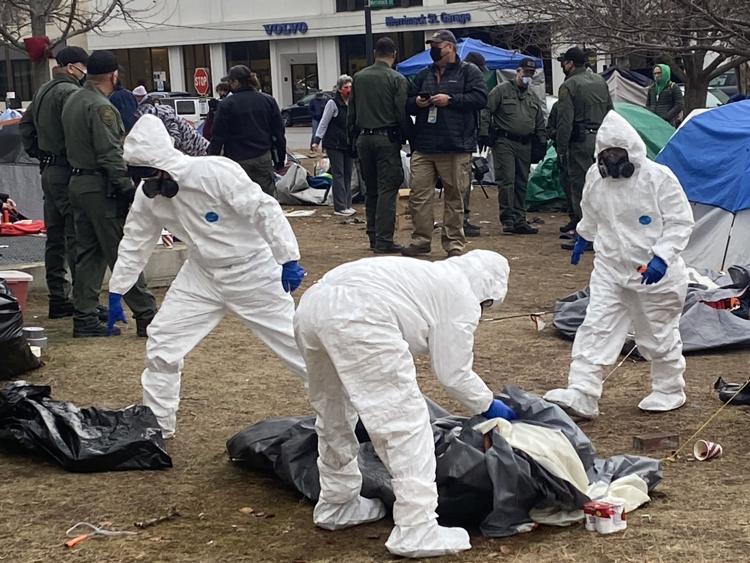 "This action from the state is inhumane, causing trauma to individuals with nowhere else to go," Craig said. "For some their possessions were destroyed. They were displaced from their caseworkers, directly impacting their mental health and well-being."
Fire Chief Dan Goonan said the city knows many of the homeless by name, and their individual health needs.
"We will try to reconnect with some of these folks who quickly dispersed when police showed up," he said.
The city's outreach team will work to provide shelter over the weekend and for more permanent housing solutions. Goonan estimated about 50 people were displaced.
"I'm very disappointed at the lack of communications," the chief said of the eviction process.
Maria Devlin, president of Families in Transition — New Horizons, said staff helped some of the homeless fill out applications for housing options. The organization has limited space due to the pandemic.
The state offered housing and resources on Thursday, but not on Friday, said William Rider, president and CEO, Mental Health Center of Greater Manchester.
"We were not aware about what was going to happen," he said.
Craig agreed better communication and coordination is needed.
"Right now this is playing out in Manchester, but it is a statewide issue and a statewide coordination plan is critical at this point," the mayor said during an interview.
Kean said part of him wants to stand and fight the effort, but he has a 22-month prison sentence hanging over his head if he gets arrested even for a minor crime.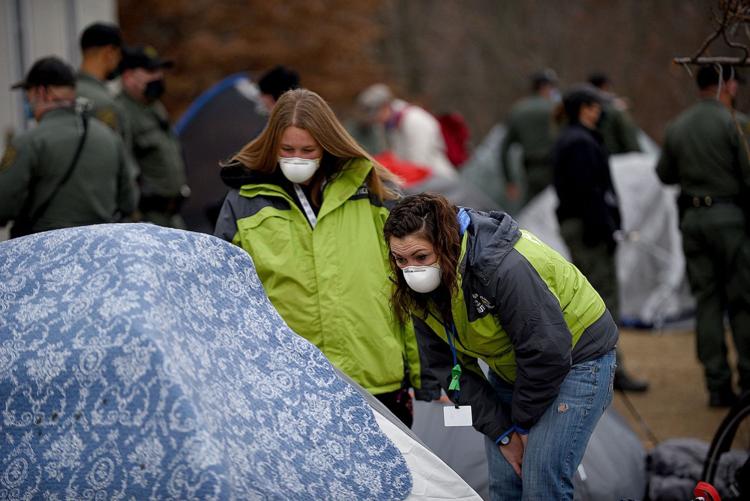 He wasn't sure where to go. He didn't sign up for one of the vacant beds at a Granite Recovery Centers house in Derry on Thursday because he said he's not ready to go into drug treatment.
He'd rather stay in a tent until he is.
"I don't want to waste a bed on someone who is ready," he said.
Another camper, Wayne Woods, 40, said Granite Recovery is outside Hillsborough County, and he would violate his parole if he moved outside the county.
State health and human services officials were in Veterans Park. They referred a reporter to a department spokesman.
Goonan said state police troopers are expected to keep an eye on the courthouse into Saturday morning.