When Grace Griffin was growing up in Rye, a looming presentation in front of her class could send her into a panic attack.
Now Griffin, a 19-year-old freshman at the University of New Hampshire, is sharing her experience with social anxiety disorder to help other young people struggling with similar conditions. She's written a book and recently served as a judge for a statewide student writing contest to raise awareness of mental illness.
"I just think that mental health is a conversation that everyone should be having, and not be afraid to talk about," she said in a recent interview at a Durham coffee shop.
Poised and articulate, Griffin has come a long way from the anxiety-ridden, perfection-driven middle schooler she used to be.
Back then, she dreaded school, she said. "Having to raise my hand in class, I'd feel deathly sick," she said. "My arms would go numb. There would literally be sweat rolling down my sides."
She spent hours on her assignments, stressing about getting something wrong. And having to speak in front of the class would trigger headaches, nausea and a racing heartbeat.
It only got worse in high school, she said. "There was more participation required. There were more people I felt like I had to impress.
"I started begging my parents to let me drop out," she said. "Every day was a struggle."
Her parents, she said, "didn't understand," attributing her worsening anxiety to adolescence and normal teenage angst.
It wasn't. After a "complete meltdown" in the car one day, Griffin convinced her mother to take her to a therapist. And that's when she was diagnosed with social anxiety disorder. She was 14.
The diagnosis didn't resolve her condition, but it did help, Griffin said. "It was just reassuring to know that I wasn't making it up in my head," she said.
After a rough freshman year, things improved. The therapy was helping, and her teachers and guidance counselor at Portsmouth High School put together a plan to help alleviate her anxiety over class assignments.
Then, junior year, the school allowed Griffin to take half of her classes online through a dual enrollment program that enabled her to earn college credits while meeting her high school requirements. Halfway through her senior year, she had finished all her online classes.
That's when she decided to use her free time to write a book about her experience. She called it "Creating Happy: How I Survived High School with Social Anxiety Disorder." "The original goal was to help someone else," she said. "But I feel like I kind of helped myself further by putting all the feelings into words."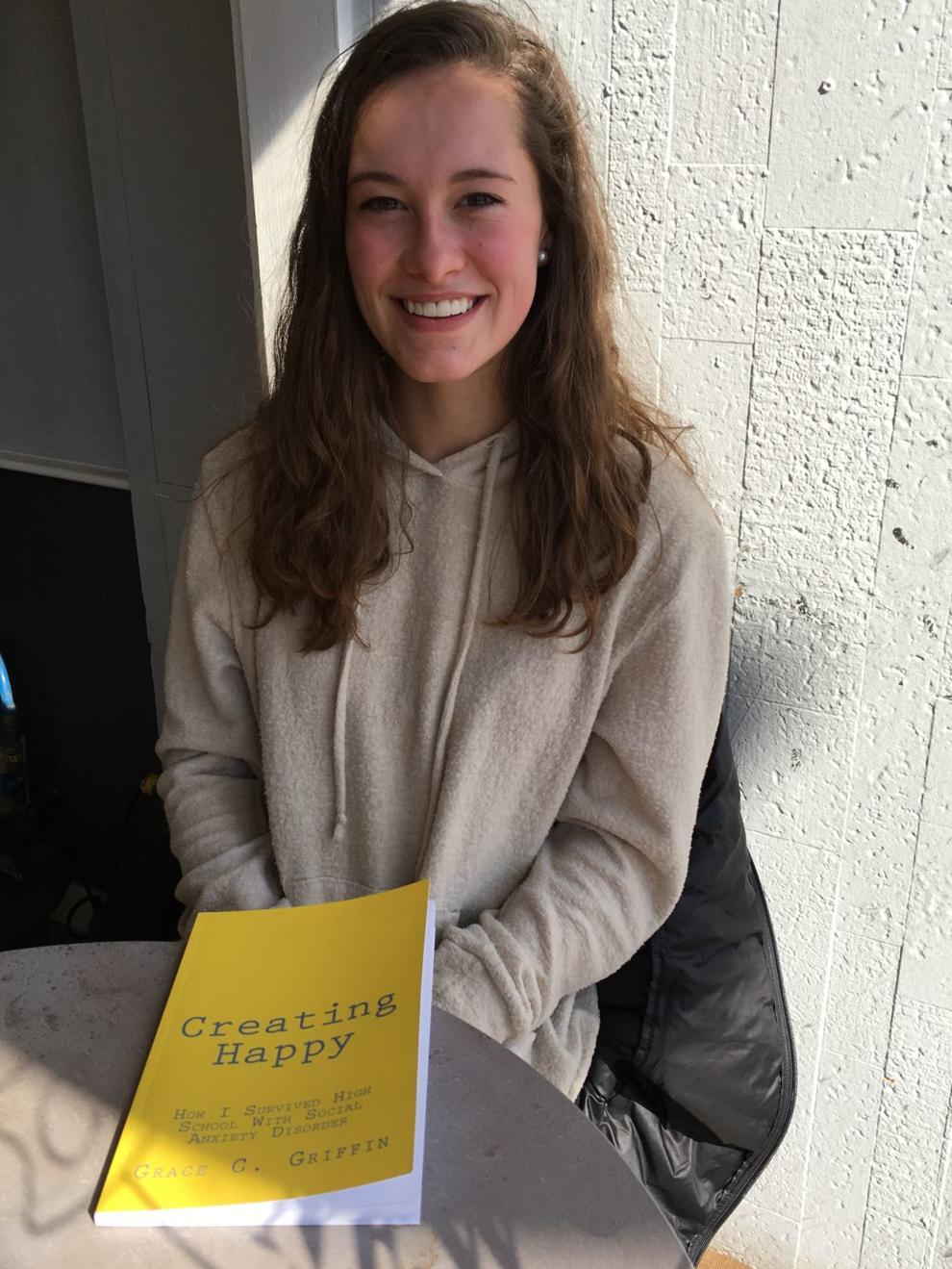 So, what makes her happy? "My friends, my horse and my family," she said.
From an early age, Griffin found her passion in horseback riding. "My mom would buy me a doll, and I would throw a hissy fit because I didn't want a doll," she said. "I wanted a horse."
Grace is now the proud owner of Owen, a 12-year-old thoroughbred ex-racehorse she keeps at a stable in Exeter. They've helped each other overcome challenges, she said.
"When I bought him, he was very anxious about sounds. If you rang a bell, he would just take off running," she said. "I kind of had to put my own anxiety aside and help him with his anxiety, which kind of unconsciously helped me."
And Owen senses when she's having a tough day, Griffin said. The day after she broke up with her high school boyfriend, she was crying while she was riding her horse, and Owen kept trying to buck her off. "He was basically saying, get over it; you have me," she said with a grin.
It's what she loves about horses, she said, "the unspoken communication."
"For me, talking with people, making small talk with someone, is exhausting. Or being with a group of people for too long, I just need to be by myself."
With horses, she said, "We don't really have to talk to them. We can kind of just exist together. I feel like it's good for the soul."
In "Creating Happy," Griffin uses humor and candid self-reflection to describe the near-crippling anxiety that plagued her school years. She offers suggestions of songs that can help. And she gives practical advice about overcoming such mental health challenges, including:
• Surround yourself with people who know your worth and show you the love you deserve.
• Find a hobby/passion that you love with your whole heart.
• Choose your friends wisely.
• Learn to love and accept yourself.
• Do one thing a day that scares you.
Since she published her book last summer, Griffin has posted inspirational quotes or messages on social media. And she's gotten some heartwarming responses, including one from a young girl who told her she'd been afraid to join a club at school. "She read the book and joined the club the next day," she said.
When Dellie Champagne, the community engagement coordinator at the New Hampshire Children's Behavioral Health Collaborative, heard there was a UNH student who had written a book about anxiety, she reached out to Griffin and the two met for coffee.
Champagne said she was "smitten" with Griffin and her positive approach to mental health awareness. She asked her to judge the Magnify Voices youth writing contest she was organizing.
It's important to listen to young people about their mental health challenges, Champagne said. "The student voice is so powerful," she said. "They're telling us what they need, and we have to hear them."
Griffin said she was impressed with the quality of the students' submissions to the writing contest and the clarity of their observations. "They have the mindset that I wish I'd had," she said. "They understand that there's something wrong, something going on with them, but they're still thinking positively."
What does she wish someone had told 14-year-old Grace five years ago when she was struggling? "Probably that it's hard right now, but it's just a day in your whole life that's difficult," she said.
Griffin said she's worked hard to develop the confidence she has now. She still prefers hanging out with a few friends, or riding her horse, to going to a college party. And she still gets nervous when she has to give a presentation, or is in unfamiliar situations. "It's definitely still there, but I've learned how to manage it to the point where I can function as a human being in daily life," she said.
Griffin is majoring in psychology; she wants to become a therapist and work with horses or dogs in a therapeutic setting. She works at a Newington farm that offers equine-facilitated psychotherapy and her dream is to one day have a farm and therapy practice of her own.
For now, Griffin is determined to keep stepping outside her comfort zone to help other young people with mental health conditions. "I just want people to not be afraid to talk about their feelings," she said. "And if they're not OK, to voice that to people that love them.
"Cause everyone deserves to be happy."