THE WORLD'S first orchestra created by and for musicians with mental health challenges will make its New Hampshire debut in May. And for one gifted violinist, it's more than a concert — it's a homecoming.
Jessica Stuart, 34, was born and raised in Concord. She started playing the violin at an early age, and was playing in the Northeast Youth Symphony by the time she was 11. She made all-state in high school and later performed with the Southern Tier Symphony in upstate New York.
But during years of struggling with addiction and mental illness, she put aside the instrument she loved. "At the time, I didn't feel like I was even capable of playing anymore," she said. "My heart was nowhere near in it."
Then in 2014, while living in Burlington, Vt., Stuart walked into a rehearsal for the Me2/Orchestra, and found there "a safe place where I could be who I was," she recalled.
Now her gift is back and her life is full; she works as a peer support specialist at a community mental health center and for Concord's mobile crisis response team. And she shares her story to show others that recovery, fulfillment, even joy, is possible.
Stuart was diagnosed with anxiety and depression as a young teen. In her mid-20s, she was diagnosed with bipolar II disorder, a condition marked by short periods of sleeplessness, impulsivity and scattered thoughts, followed by long periods of severe depression, she said.
"From a very young age, I just remember never feeling OK about myself," she said. "I just felt there was something wrong with me, and I would do anything to try to escape that feeling."
"For a while, violin was that escape, and I got a lot of praise and it was great."
She hid her inner turmoil, she said. "Even though I was suffering inside, it was something I had to hide," she said. "You don't talk about that; you don't let anyone see how bad things are. You just put on a happy face and go forward."
When Stuart went to college, she started abusing alcohol. And for a while, "that was the escape, until it wasn't, until it stopped working," she said. "And then you're just left with misery."
She left school and fell more deeply into addiction, using alcohol and cocaine. She got sober for a time in her mid-20s, but relapsed after three years. She tried detox several times.
It was her physician who noticed the violin tattoos on Stuart's back and told her about the Me2/Orchestra in 2014. "I was skeptical," she said.
It wasn't what she expected. "From the minute I walked in, everyone looked so normal," she said.
And one by one, folks shared their stories: a teacher, a scientist, a judge. "So that's the first time that I felt like my experience, being who I really was, mattered, and it was valued," she said.
In high school, Stuart was driven to excel, practicing her violin for five or six hours a day. When she showed up for her first Me2 rehearsal, she hadn't played in years — and it didn't matter. "I quickly got the hint that it was OK that I wasn't perfect," she said. "That if I made mistakes, it was fine."
"I can have a bad day and show up and not be able to play a note, and that's OK," she said.
There are no auditions for Me2. "You just do the best you can," Stuart said.
In May 2016, Stuart was working as a bank teller in Burlington when "someone walked into the bank, presented a weapon and passed me a note."
"I tumbled out of control really fast with that," she said. "I knew where it was heading. I knew how bad it would get."
But she also knew she had to ask for help; it's what some call "the point of surrender," she said. She got into a treatment program in Vermont, a state with a hub-and-spoke program for people with substance use disorders. She has been sober since Aug. 2, 2016.
After a break from Me2 during treatment, Stuart returned to the orchestra and was welcomed with compassion and acceptance when she disclosed her substance use disorder, she said. "I firmly believe from that point on, the orchestra shaped where I am today," she said.
Stuart calls it her "wheel of wellness," the supports on which she's built her life, including her family, the orchestra, her work and her recovery program. "I'm one of the lucky ones," she says.
She's gone back to school and plans to become a licensed alcohol and drug counselor. And she serves on Me2's board of directors.
Caroline Whiddon is executive director of the Me2/Orchestra; her husband, Ronald Braunstein, who has conducted orchestras around the world, is its conductor. They started the first orchestra in 2011 in Burlington and created a second in Boston three years later. Each orchestra has about 50 members.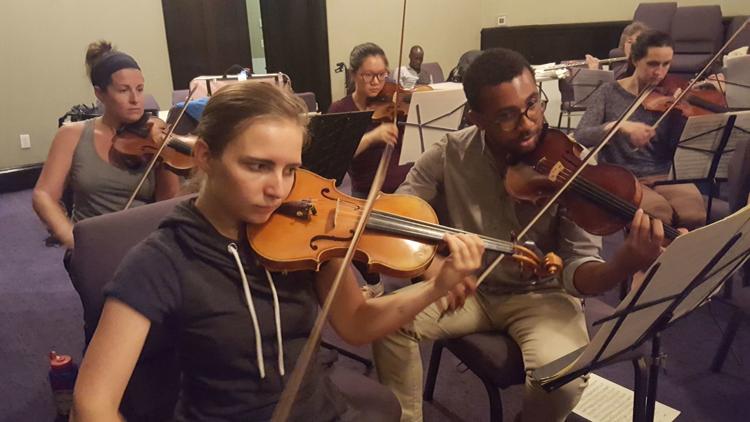 Whiddon said she has watched Stuart's transformation. "As she has gained her footing as a peer counselor, she just has become the most articulate and enthusiastic spokesperson for our work," she said.
"Me2 is stronger because of people like Jessica," Whiddon said. "She sets such a great example for all of us."
Whiddon was diagnosed with depression and anxiety disorder after college; her husband has bipolar disorder. They chose their orchestra's name because Braunstein found that when he confided in other musicians about his mental illness, they often replied: "Me too."
The orchestra's name predates the viral hashtag that became a social movement for sexual abuse survivors. And Whiddon said they decided to keep it, in part because a documentary about the group, "Orchestrating Change," that has been in the works for three years is set to debut this spring.
Whiddon said she hopes the film will bring awareness and support for expanding Me2; she's in "constant dialogue" with a half dozen other cities interested in creating their own orchestras, she said.
Not everyone in the orchestra has a mental illness; some musicians have family members or another connection and want to be supportive, Whiddon said. They've performed at prisons, recovery centers and youth detention centers; at each concert, some of the musicians share their stories.
It's making music with a mission, Whiddon said. "For some people, this is a new identity," she said. "If you've been on disability and you're unable to work and really seeking a way to feel as though you're contributing to society, this orchestra can be a lifeline."
"We're surrounded by these warriors," Whiddon said. "They have been to the darkness and they're coming out on the other side, and it's tremendous."
When Stuart decided to move back to Concord in 2017, a deciding factor was knowing she could transfer from the Burlington orchestra to the Boston group, she said. "I did not want to leave behind the orchestra; it was such a vital part of my life," she said. With Boston Me2, she said, "I just joined a new family."
Music is no longer a source of stress for her, Stuart said. "It just comes from a place of pleasure, and it comes from just wanting to be a part of something greater than me, which is the orchestra," she said, "wanting to share the joy it brings me."
"And at the same time, what the orchestra has given me is this ability and this drive to maybe reach out to other musicians who are living with the same stuff that I do, who have given up their instruments, or who feel ashamed that they're not as good as they used to be."
Her message to others: "We can recover. We can thrive. We are valued members of society. We can give back. We can help others. We can be successful, and not despite illnesses or addiction ... but because of them.
"Because it gives you an inner strength; it gives you empathy; it gives you a way of seeing things that other people wouldn't be able to see."
Riverbend Community Mental Health is presenting the Me2/Orchestra in concert at 4 p.m. May 19 at Concord High School — Jessica Stuart's alma mater.
Stuart said what she loves about Me2 is "just the ability to be in a space that's OK, and moreover to have a purpose after suffering for so long, for living in silence, for being stigmatized for years."
"It's this inclusive environment that shows people that they're valued, and not just because they're musicians, but they're valued because of their illness, and because of their ability ... to stand up and say: I live with this and I still have a purpose," she said. "I live with this and I'm a musician."