Brandon Chartier lost everything he cherished to the "demons" of his addiction. Now strong and sober, he's committed to helping others find their own path to recovery.
Chartier, 36, is part of Harbor Homes Recovery Corps, a new AmeriCorps program targeting the state's opioid epidemic. He's one of about 20 individuals who will spend the next year serving as recovery coaches at non-profit organizations from Nashua to Berlin.
"If you have somebody helping you and supporting you, it makes this process a lot better and you have a better chance of success," said Chartier, who lives in Concord.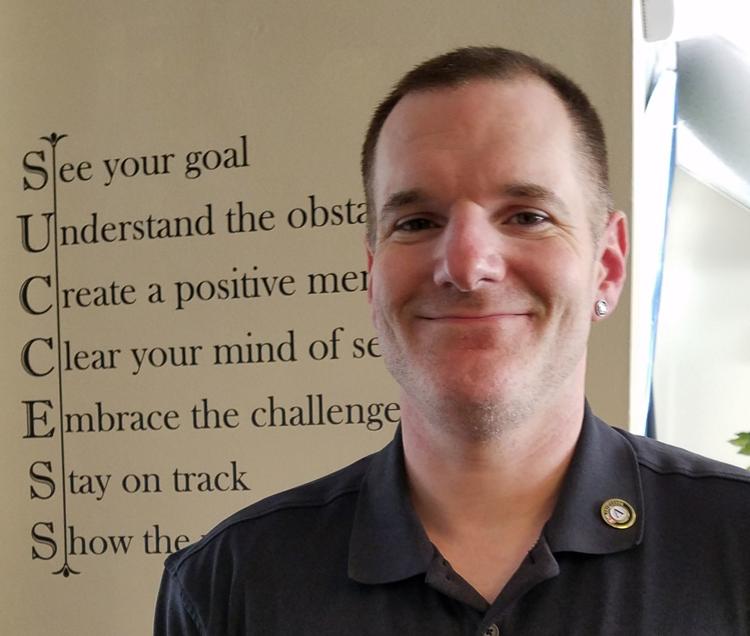 The new program is a partnership among Harbor Homes, which has been on the front lines of the drug epidemic for years, the Corporation for National and Community Service and Volunteer NH.
Erin Segaloff was hired last November as program director for the Recovery Corps, bringing a wealth of experience to her new state and position. She ran a drug court in North Carolina and has a master's degree in public administration.
Segaloff said she's found that all the Recovery Corps members recruited so far are passionate about doing this work. "They're really excited and just really motivated to be able to help," she said.
Some, like Chartier, are in recovery themselves "and wanted to give back," Segaloff said. Others are looking for a career change. And she said, "We had one candidate who just had seen friends falling and really wanted to do something to help with the crisis."
Recovery Corps workers, who receive a monthly stipend of $1,144, will serve at nonprofit recovery organizations around the state, connecting clients with supportive services such as transportation, housing, child care and employment. They also will get the on-the-job training and supervision they need to become Certified Recovery Support Workers (CRSWs), and at the end of their year of service, they'll be eligible to take a test for that certification, Segaloff said.
Vanessa Talasazan, chief strategy officer at Harbor Homes, said the grant was designed to address the state's need for qualified, trained recovery workers. "There is such a huge shortage of recovery folks that can do this work," she said. "We were trying to come up with a way to give folks who wanted to do this work something more than just 'here's your one year of service.'"
When they complete the program, Recovery Corps members also will be eligible for nearly $6,000 in education credit that they can use to pay off existing student loans or put toward furthering their education. And Segaloff said many colleges offer discounted tuition for someone who has served in AmeriCorps.
Chartier said he started experimenting with substances even before he got to high school. He used mostly alcohol and marijuana until a motorcycle crash led to "a full-blown dependency on opiates," he said.
That's when he started using prescription Percocet; he soon moved on to OxyContin and eventually ended up an IV heroin user.
He lost his home, vehicles and other possessions, and finally even sold his prized red Ferrari motorcycle, to pay for his drug habit. "That's how crazy substance use can be," he said. "You're quite willing to give up virtually anything."
Chartier got arrested for drug possession when he was 25 and spent the next seven years in and out of jail and parole. It was a sympathetic parole officer who got him into a drug court program in the fall of 2017. "He made it treatment instead of punitive, and that was a huge deal for me," he said.
Chartier has been clean and sober for more than a year and is about to graduate from drug court. He got married two years ago and has three stepchildren.
Becoming a dad prompted him to take a parenting class at the Greater Tilton Area Family Resource Center, and that's where he heard about Recovery Corps.
Michelle Lennon is executive director at the Tilton center, a recovery community organization affiliated with Harbor Homes. She said she was thrilled to learn she'd be getting one of the new recruits, who turned out to be Chartier. She's hoping to be able to keep Chartier on as an employee when his year of service is up, Lennon said.
Lennon said her Family Resource Center provides individualized, customized supports for clients to help them maintain recovery, and Chartier will be trained in all aspects of that work. "Ultimately, our job is to work ourselves out of a job," she said, "and to bless people on their way out the door as they go on to live their healthy, happy lives without us."
Caitlyn Searle, 28, will be serving at North Country Serenity Center in Littleton for her Recovery Corps assignment. A native of Bath, she developed a substance use disorder when she was 21 and ended up dropping out of college after two years. Since then, she said, "It's been a long road."
She's been in six inpatient treatment centers and three outpatient programs, "but I think I gained a little bit out of each one," she said.
Searle, who has been in recovery for three months, said she believes her own experience with addiction and recovery will help her support others. "They really need to want it for themselves and have the willingness to make the change first," she said. "But just being there to support them, and loving them where they're at, has helped me a lot."
She's hoping to use the AmeriCorps educational benefit to pay off some student loans and finish her college degree. "I definitely see the need for more people to help support and help others find recovery," she said.
Chartier said he also plans to take advantage of the education credit to further his education and become a licensed alcohol and drug counselor. He said he wants to share his story and help others find their own path to recovery.
For him, this work is not about making money, he said. "So much of my life I was willing to throw away because of substance use, and I know how powerful that slavery is," he said. "If I can make a difference in others' lives by breaking those chains and helping them find success and stay sober, it will mean a lot more."