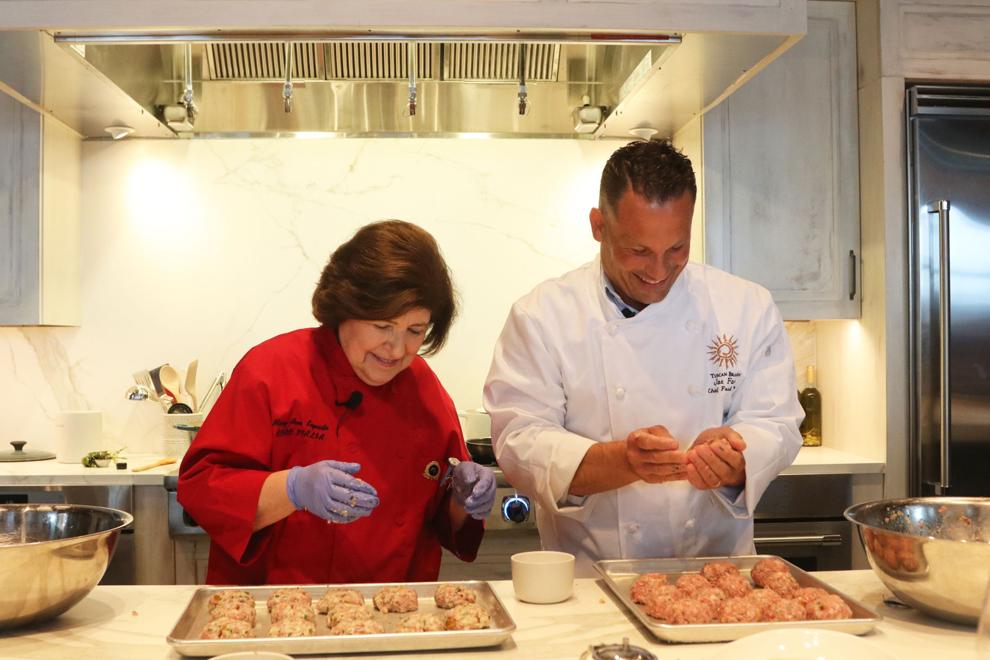 Developers and VIPs celebrated the grand opening of a significant portion of the North and South Village sections of the 170-acre mixed-use Tuscan Village on the former Rockingham Park land in Salem.
Before a ribbon-cutting ceremony and a 500-person 5K road race Saturday morning, Gov. Chris Sununu, state Sen. Chuck Morse (R-Salem) and Tuscan Brands CEO Joe Faro remarked on the progress that has been made so far on one of the state's largest mixed-use developments, located at the gateway to the state from Massachusetts.
"Everyone has a vision, but to see it all the way through and to see it through one of the biggest economic health crises this country and the state has ever faced, is absolutely phenomenal," Sununu said.
Faro said it all began in 2009 when he sat in the office of Salem Town Planner Ross Moldoff, who helped guide him through the planning process. He thanked Moldoff, Berkshire Bank for financing the project and countless others who "took a chance on a vision."
"It's 99.9% Joe, because he has the vision," Moldoff said Saturday.
Hundreds of people gathered, many to participate in the road race, with several members of the town Board of Selectmen and Planning Board present.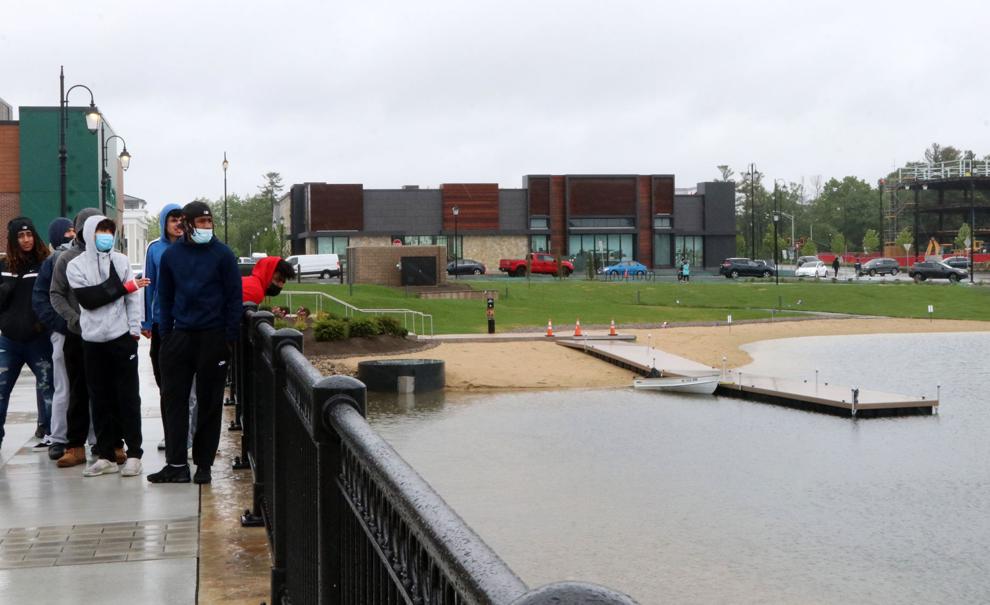 Work in progress
While Tuscan Village is years away from being complete, the progress so far has included dozens of retail buildings in the South Village, including Old Navy, Ulta Beauty, Pottery Barn, LL Bean, the new Tuscan Market location with a Williams Sonoma attached, and an artificial lake that serves as a backdrop to a newly completed beer garden and hundreds of apartment units.
Over the past two years, developers have added a Market Basket, HomeSense, Sierra Trading Post and Starbucks in the Demoulas-owned parcel of the North Village. As of earlier this spring, most of the 30 newly built condominium homes in "The Villas" section of the North Village have been sold.
Pressed Cafe opened in a standalone building on Wednesday.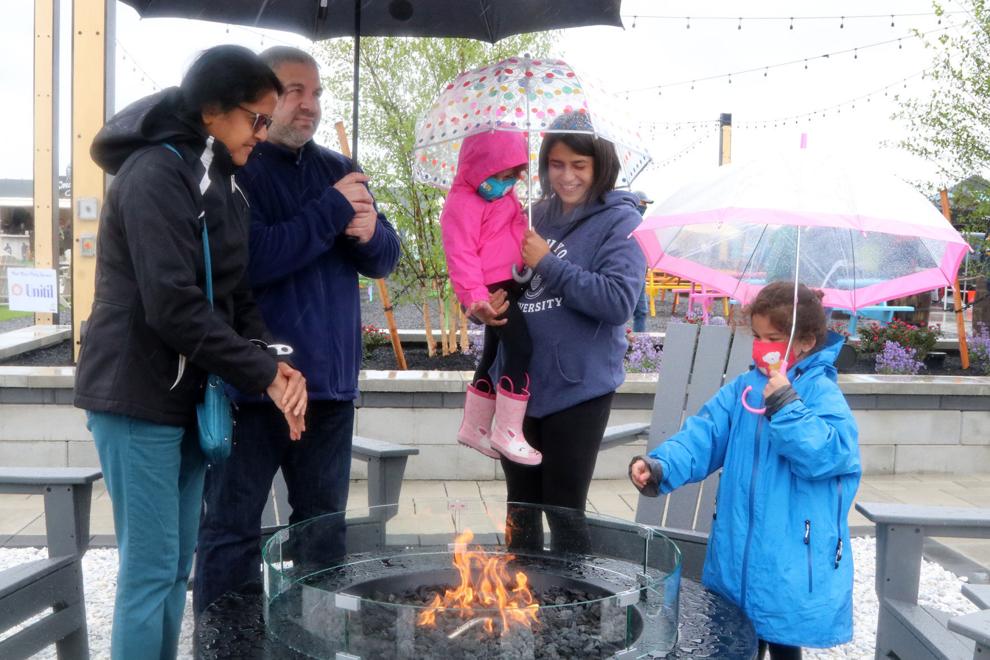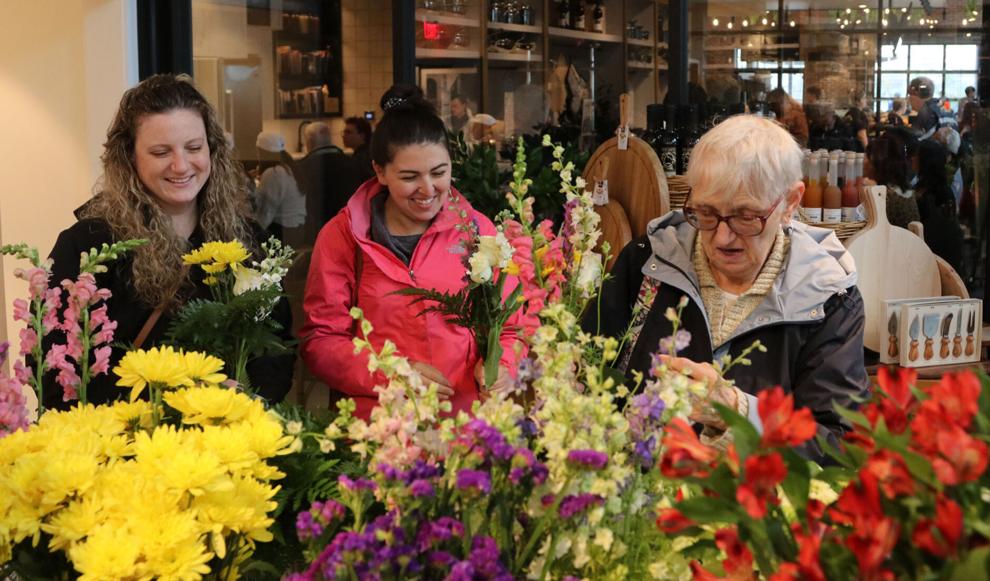 What started as a pie-in-the-sky concept for Salem Director of Municipal Services Roy Sorenson has since become a challenging but rewarding daily demand on his time.
"Five years ago, when you looked at this, and just the size of it, and you throw a pandemic in the mix, it's just been amazing," said Sorenson.
Sorenson said he likes seeing the town improved through this development.
"It's quite a bustling site already, and we aren't even fully open," Faro said Wednesday.
Faro said they're building a Chick-Fil-A, outfitting the interiors of an Arhaus, and framing a Mass General Brigham facility.
"I actually signed the top beam not too long ago," Faro said. He hopes to make an announcement on office tenants for an 867,000-square-foot life science campus by next year.
Hotels, housing coming
In the Central Village section, crews recently broke ground on the Artisan Hotel, which will include 165 hotel units, 91 residential units, the Tuscan Kitchen restaurant on the ground floor, 50,000 square feet of retail, a sixth-floor rooftop bar and a 25,000-square-foot lawn wedding venue.
After that, the development will see two additional office-over-retail buildings across the street from the hotel, plus a 230-luxury-unit apartment building to be built by The Hanover Company to form the downtown heart of the development. That building requires town Planning Board approval. Construction is expected to start in the fall.
The Planning Board recently reviewed plans for another 260-unit apartment building at 4-5 Tuscan Blvd. to be developed by Dolben Co., which also developed the Corsa apartments in the first phase of the development. Faro hopes to have that project approved at the board's June 8 meeting, break ground in the fall and begin occupancy before the end of 2022.
So far, residential units in the project have been market or luxury units, but Faro said he has presented plans for 98 workforce housing units on Main Street.
While Faro has sold some parcels to sub-developers such as Hanover, Dolben and Demoulas, his real estate company maintains architectural oversight on all buildings in the development.
Change is bittersweet
Many residents and former racetrack enthusiasts have witnessed a rapid transformation of what was the historic Rockingham Park horse racetrack.
For Lynne Snierson, a former spokesperson for the park and previously a Boston Herald sports reporter who covered the races in the 1980s, the metamorphosis is bittersweet.
"Things change, situations change, times change," Snierson said. "So you take the best of what was here and you move forward."
She's heartened that developers plan to enshrine elements of the park's history. A photographic mural can already be found inside a Klemm's Mobil gas station convenience store that opened in the development last year. A plaque explaining the history of the park and a bronze statue of famed racehorse Seabiscuit are also planned.
When complete, the entire development is expected to have 3.8 million square feet of retail, residential and office building space, which will cost developers over $1 billion to build.