OK, I hear you — those who groan and whine about this and that about the Manchester Veterans hospital and the less-than pleasant experiences. I have no reason to doubt the authenticity of most complaints, as I have had a few myself.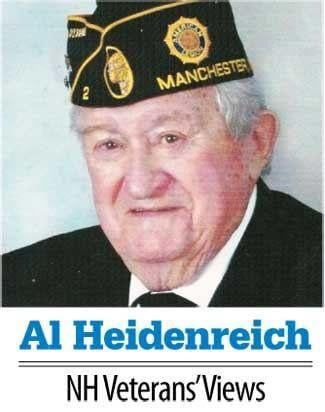 However, as I sit and compose my thoughts in putting together my two-fingered essay, it has dawned on me that most of these issues are history and, especially in my instances, have had satisfactory conclusions.
I admit that the telephone system can be nightmarish at times but I have been assured that is a priority work in progress. As I honestly reflect on my 10-plus years of treatment for a variety of items, I will come up with an A+ rating with a special hoorah for the pleasant and caring attitude! Top shelf!
Room for improvement? Absolutely, and they appear to me to be working hard at it. A big "thank you" to ALL up on the hill! You've come a long way, baby!
In keeping with this week's subject matter regarding VA and its program offerings, I don't know how many were aware of the National American Legion Auxiliary efforts to offer veterans help and support in craft-related assistance and instruction. (I was not.) So check out the Manchester facility creative arts program, which has been available for the last couple of years and has aided in the physical and emotional needs of New Hampshire vets. The ultimate mission is to help these men and women recover from and cope with their issues on their long road back. The more I learn about this undertaking, the more excited I get, but to do it justice would take a full column at the minimum so I encourage anyone interested to call the Manchester VA at 624-4366, extension-6672 or your local American Legion post Auxiliary officer.
A veteran's personal view (or two): We don't need more laws. Just enforce those we already have. 2. Want to vote? You need a valid NH driver's license or non driver's proof of residency. 3. Defund police? OK, next time you need help, call a protester.
Finally, I had the honor of attending a beautiful ceremony at Pine Grove Cemetery on Monday and renewing friendships with a great West Side family. I will remember it as Hirschmann Strong!